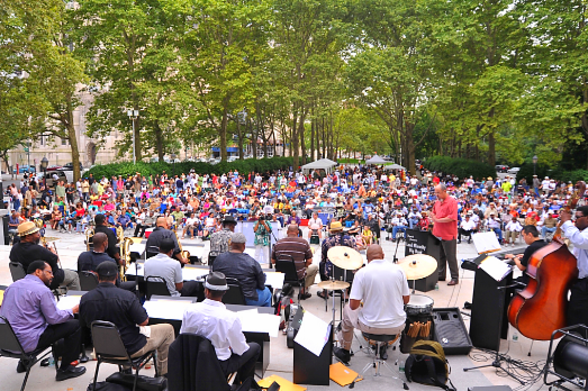 From horseracing to hot air balloons, and from musical performances to mouthwatering barbecue, summer in New York State is filled with fun activities and events! Explore a new genre of music or experience tasty new dishes at one of the many festivals happening this summer. Here are just a few of the best events to check out in New York State this August.

Phoenicia Festival of the Voice (Catskills)

Credit: Phoenicia Festival of the Voice
Celebrating its 10th anniversary, the Phoenicia Festival of the Voice presents musical performances honoring the African-American culture. The celebration kicks off with the "10-Year Gala—Decade of Opera Favorites," featuring fan-favorite arias from "Madama Butterfly," "La bohème," and more. Throughout the festival, attend lectures, experience impressive operas, listen to culturally connected songs, and participate in music workshops. The three-day festival wraps up with a closing gala that features performances from a range of genres including classical, jazz, Broadway, and rock. Stay for the dance party with DJ Skoob E that night. August 2–4; Phoenicia; $25–35 general admission
Annual Antique Boat Show and Auction (Thousand Islands-Seaway)

Credit: The Antique Boat Museum
Stop by the Antique Boat Museum in Clayton to see the museum's extensive collection of rare and antique boats at the 55th Annual Antique Boat Show and Auction. This year's special celebration features the 1927 Baby Gar SNAIL and the 1928 Baby Gar CICADA. Walk aboard "La Duchesse" for a tour, take a ride on a sailboat, or try rowing a skiff yourself. Interested in purchasing an antique boat? Make a bid at the auction on Saturday, August 3 at 1 pm. End the nautical weekend watching a parade along the waterfront. August 2–4; Clayton; Free, some activities have a fee
Spiedie Fest and Balloon Rally Expo (Central New York)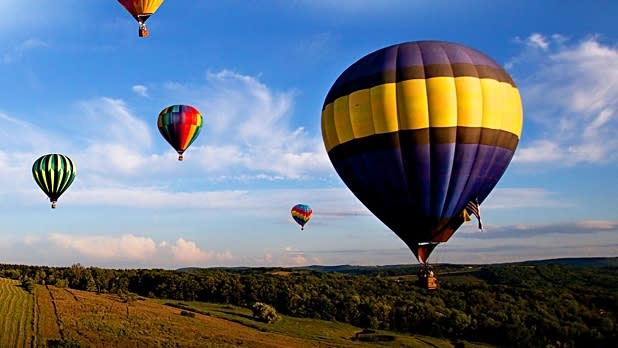 Venture up into the sky in a hot air balloon at the 35th annual Spiedie Fest and Balloon Rally Expo! Spiedie sandwiches are to Binghamton what cheesesteaks are to Philadelphia. Richly seasoned cubes of chicken, pork, lamb, veal, venison (you get the picture), are grilled to perfection and served in a bun, on salads, or straight off the skewer. Decide which recipe tastes the best as you try different versions throughout the weekend. Get ready to listen to a variety of music from artists including Hunter Hayes, Kansas, Starship featuring Mickey Thomas, and more! Also, don't forget to grab a bite to eat, browse handmade crafts and manufactured goods at the vendor booths, and check out the antique cars and trucks on display. August 2–4; Binghamton; Admission is free at the gate on Friday; Admission Saturday and Sunday is $5 (children 8 and under are free); Daily admission does not include concert access
Lucille Ball Comedy Festival (Chautauqua-Allegheny)

Credit: Courtesy of National Comedy Center
"I Love Lucy" fans unite! Celebrate the comedic arts and the work of several comedians at the Lucille Ball Comedy Festival—held in Lucille's hometown, Jamestown. Featuring more than 50 events and 30 artists, the festival is guaranteed to put a smile on your face. Sebastian Maniscalco, John Mulaney, and Brian Regan are just some of the comedians you can see throughout the festival. August 7–11; Jamestown; Tickets for admission to the festival range from $12.50–25.50; Tickets for dual admission to the festival and the Lucy-Desi Museum range from $18.50–30. Prices for individual shows vary.
Lake George Music Festival (Adirondacks)

Credit: Lake George Music Festival
Listen to chamber music and orchestral pieces alongside the calming waters of Lake George. Daily concerts, informational talks, open rehearsals, and public receptions will be held at various locations throughout the Lake George region. The "Late Night Concert" on Saturday, August 17 takes place right on Lake George, aboard the Minne-Ha-Ha. Members of the Metropolitan Opera Orchestra and the Philadelphia Orchestra, among others, are some of the talented artists who will perform at the festival. August 11–23; Lake George; Daily concerts range from $15–30; Festival pass is $199.  
Hudson Valley Ribfest and Grillsdale (Hudson Valley)
Get the napkins ready! Taste some of the best barbeque food you've ever had at the 15th Annual Hudson Valley Ribfest. Enjoy your food as you listen to live music, and watch as teams compete to be named the barbecue contest winner. Some of the additional food offered includes roasted corn, hamburgers, hot dogs, and French fries. August 16–18; New Paltz; General admission is $7 (children 12 and under are free). For even more 'cue in a picturesque hillside setting, hit up Grillsdale, featuring grilled dishes from many of the Hudson Valley's best-known chefs, as well as live music, a craft beer tap truck, and more, on Saturday, August 24 at Roeliff Jansen Park in Hillsdale. Grillsdale tickets are $25–85.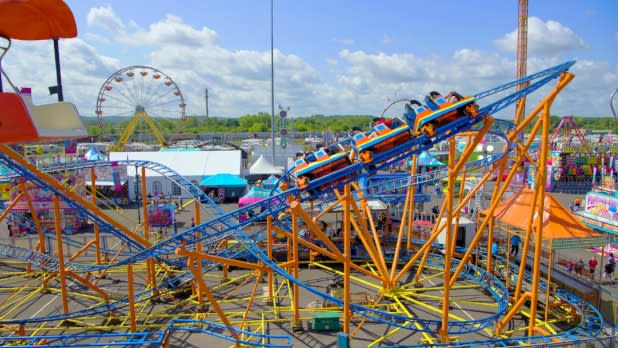 Where can you try fried Oreos, ride thrilling roller coasters, and listen to incredible music? The Great New York State Fair! Sample New York State chocolate milk or locally made Dinosaur Bar-B-Que as you watch pig races, play carnival games, and browse New York State–made products. Also, don't miss the famous butter sculpture in the dairy building! End the day with a free concert that's included with your fair ticket. This year's lineup includes Gavin DeGraw, The Roots, and Bad Company, among others. August 21–September 2; Syracuse; Regular daily admission tickets are $10 every day except for opening day, August 21 ($1 admission), Thursdays, August 22 and 29 ($3), and September 2 ($1); Children 12 and under are free every day.
Travers Day at Saratoga Race Course (Capital-Saratoga)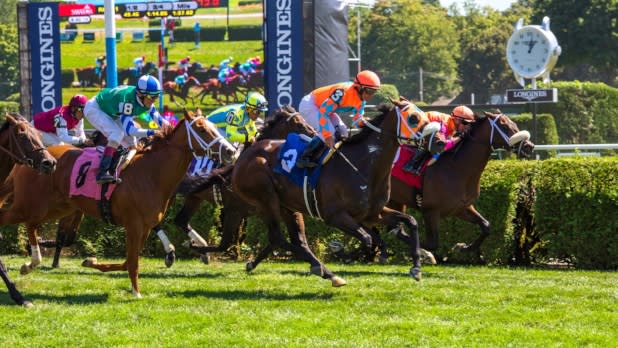 Watch the Thoroughbred horses run the mile and a quarter track at the Saratoga Race Course on Travers Day! The 150th Runhappy Travers, the biggest race of the season, is considered Saratoga's "Midsummer Derby," with $1.25 million in prize money on the line. Pack a cooler and picnic or grab a burger, ice cream, and more at the track. Gates open at 7 am. August 24; Saratoga Springs; Grandstand Admission: $10 in advance, $15 at the gate (children 12 and under are free with adult). Clubhouse Admission: $25.
Head to Bridgehampton to watch one of the largest outdoor horse shows in the United States, located on 65 acres of showgrounds. With experienced equestrians from across the world, the competition is stiff! The Classic is also home to on-site shops, an expansive list of food options, and daily kids' activities. Finish out the week watching the Hampton Classic Grand Prix. August 25–September 1; Bridgehampton; Daily general admission is $10 per person (children under six are free) or $20 a carload; Kids are free on Saturday; seniors are free Tuesday–Thursday.
National Buffalo Wing Festival (Greater Niagara)

Credit: Visit Buffalo Niagara
Bring your appetite to the 18th National Buffalo Wing Festival at Sahlen Field in Buffalo! Decide which flavor you like best after taste-testing wings made by restaurants from across the country—and even a few international entries. Some of this year's participating restaurants include Anchor Bar, 716 Food and Sport, and Doc Sullivans. Enjoy live music throughout the festival, and watch the United States Wing Eating Championship at 5 pm on Sunday, September 1. August 31–September 1; Buffalo; Admission is $5 per day (children under eight are free); Tickets are available at the gate; Food tickets are $1 each, and must be purchased at the festival. They are used to purchase all food items.

Experience Harlem's rich cultural history during Harlem Week! In its 45th year, Harlem Week features 45 Harlem icons, and more than 100 events during the month-long celebration. From live jazz performances and concerts to a farmers market and soul food, you'll be immersed in the community's culture. This year's theme, "Our Local History Creates a Global Impact," highlights Harlem's historical significance. Visit the iconic Apollo Theater on August 15 to see "Apollo Uptown Hall: Harlem's Culture—Past. Present. Future," featuring leaders from local arts organizations. With Harlem Restaurant Week running from August 19–September 1, taste the flavors of the neighborhood at one of the participating eateries. July 28–August 24; New York; Free; Free admission, but RSVP required for August 15 Apollo Theater showing
Don't forget to share your summer vacation with us! Share New York State pictures on Instagram and Twitter with #FindWhatYouLoveNY and tag us on Facebook!