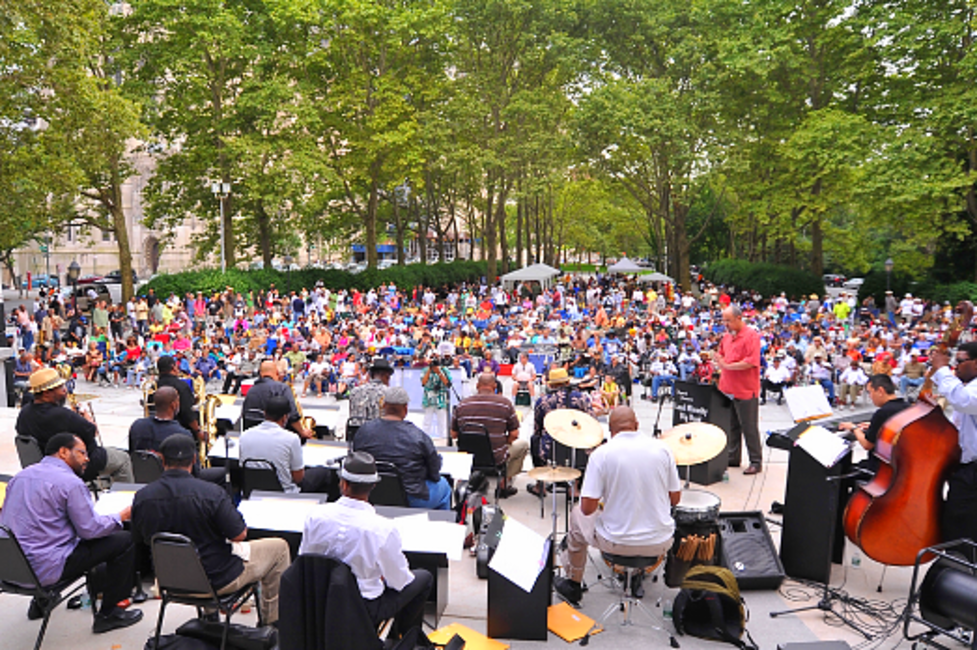 Instead of dwelling on the fact that summer's end is in sight, rejoice that there is still a full month left to savor! The weather isn't the only thing heating up. From boats and balloons to beverages, New York spends all of August finding reasons to celebrate. See below for some of the best festivals and events that you should take advantage of before it's time to go back to school!

Harlem Week started off as Harlem Day back in 1974, but was such a smash hit that it grew and kept on growing. Now, the "week" has turned into a month-long celebration of Harlem's diverse culture and history with hundreds of events. This includes a film festival, fashion shows, auto shows, a 5K run, street fairs, live music, and some of the most incredible food you'll find in one place. Families will be happy to learn there's a mini-festival within the festival just for children. The NYC Children's Festival on August 18 features a parade, exhibits, games, arts and crafts, live music, dancing, and more. This year's Harlem Week has a theme: "Women Transforming Our World: Past, Present, & Future," with a special emphasis on recognizing the LGBTQ community. July 29–August 25; New York; Free

 Credit: Dan Swack
All jokes aside, this summer is a big deal for folks who are serious about comedy (or anyone who likes to laugh). The 27th annual Lucille Ball Comedy Festival coincides with the opening of Jamestown's brand-new National Comedy Center. The festival hosts more than 40 comedians including Lily Tomlin, Amy Schumer, Saturday Night Live legends Dan Aykroyd, Laraine Newman, and more. In addition to the live standup, the festival includes an intro to improv comedy, interactive classes, panel discussions, and a '50s-themed masquerade ball with its own "I Love Lucy" costume contest. Even if you can't make the festival, don't miss a stop at the 37,000-square-foot National Comedy Center opening August 1, with more than 50 exhibits all about the history and art of comedy—plus fake pie fights! August 1–4; Jamestown; Ticket prices vary by event
Antique Boat Show and Auction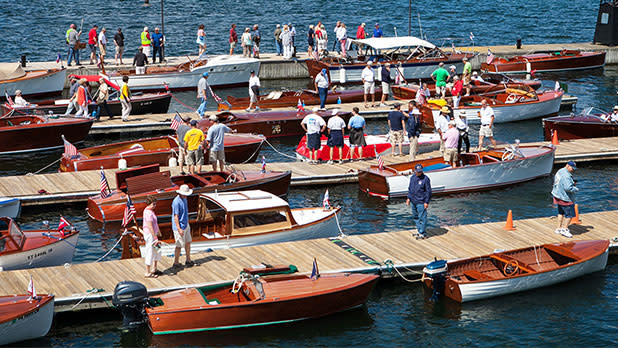 It's perfect boating weather, and high time you make it out to see the longest-running antique boat show in North America at Clayton's Antique Boat Museum. Browse more than 100 gorgeous boats on display on land and in the water, take walk-through tours and grow your expertise in boating workshops. There are crafts and games for kids, as well as skiff and sailboat rides for the whole family. The Boat Show includes a marketplace where you can shop everything from nautical-themed jewelry to boat parts and accessories. On Sunday, sit down for a catered brunch before you watch the annual parade of water boats as they make their way from the Museum to the Clayton waterfront downtown. August 3–5; Clayton
Spiedie Fest & Balloon Rally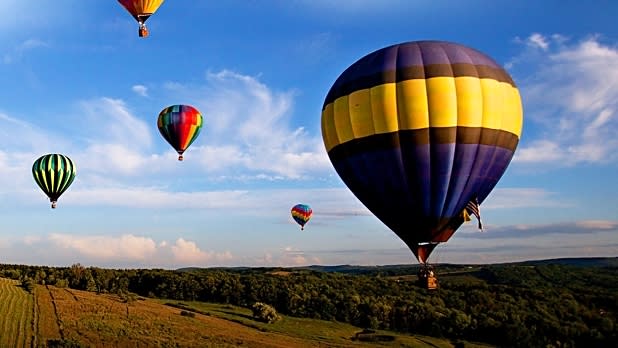 For those of you who are unfamiliar, a Spiedie is the Binghamton specialty of marinated, skewered, and grilled meat served in a hoagie roll or on Italian bread. What wings are to Buffalo, Spiedies are to Binghamton. In fact, the sandwich is so beloved that what started as a neighborhood rivalry over who cooked the best version turned into a decades-old tradition. We're not quite sure why the initial festival in 1985 included hot air balloons, but hey, you need something to watch while your hands are full of sandwich! Today, the festival draws in around 100,000 annual attendees and features more than 20 hot air balloons, live music, a silent auction, and a car show. And of course, there's the spiedie contest, judged by local media personalities. There are also a number of special events for kids, including a traveling petting zoo, midway rides, and a mobile glassworking demo hailing from Corning. If you don't mind the splurge, you can ride in a hot air balloon for $200 a person, or you can wait to watch all the balloons land, re-inflate, and illuminate the night in the customary Hot Air Balloon Night Glow. August 3–5; Binghamton; Tickets $30 until August 2. Tickets will not be sold after August 2 at 6 pm and are not sold at gates of the festival.
America's Grape Country Wine Festival
Did you know that Lake Erie is home to some of the nation's most robust grape agriculture? If not, here is one delicious way to find out. Wineries, breweries, distilleries, farmers, local artisans, and food vendors come together for two full days of sipping and sampling in the heart of grape country. There will be a nice showing of liquors, ciders, and beer for those non-winos among you, plus live music, engaging food and wine seminars, cooking demos, a classic car show, and food trucks serving up fresh, delicious eats. The whole shebang starts with a kickoff bash on Friday night, but begins in earnest the next day. Show up with your entry ticket and receive a commemorative wine glass, tote bag, and guide to all the vendors. August 3–5; Dunkirk; Ticket prices vary
9th Annual Phoenicia International Festival of the Voice
This is one siren song you should follow. The Annual Phoenicia International Festival of the Voice is a weekend festival of vocal music performances, with this year's theme being: "Sirens of the Voice." As such, you can expect to lose yourself in the enchanting beauty of mostly (but not entirely) female voices in an array of different genres. There will be gospel accompanied by a jazz ensemble, tragic and romantic opera performances, as well as Broadway hits that we dare you not to sing along to under your breath. August 3–5; Phoenicia; Ticket prices vary by event
Adirondack Craft Beverage Festival

Credit: Adirondack Coast Visitors Bureau
The festival formerly known as the Plattsburgh Brewfest is back at the gorgeous Elfs Farm Winery as the Adirondack Craft Beverage Festival. Why the new name? Because the festival was never just about beer, but instead is a celebration of all handcrafted beverages. That includes wine, cider, spirits, soda, coffee, kombucha, and more. Your $35 general admission ticket grants you entrance, up to 15 tastings of your choice, and a commemorative tasting glass. If you spend the extra $40 for the VIP pass, you get early entrance, 15 beverage tastings, a special VIP hour with exclusive beer and cider tastings and catered food, a commemorative glass and T-shirt, and a vote on who will win "Best Local Brewer." FYI, proceeds from the festival go to a non-profit dedicated to helping families of police officers fallen in the line of duty, so you can feel pretty good about that buzz. Even though there are non-alcoholic options, note that this is a strictly 21 and over event. August 4; Plattsburgh; VIP $75, General Admission $35
New York Renaissance Faire

Credit: New York RenaissanceFaire/Deborah Grosmark
Calling all lords and ladies! Whether you're a lifelong fan of renaissance fairs—or you've just binge-watched all of Game of Thrones—travel back to the 16th century with the feast for the senses that is the annual New York Renaissance Faire. Actual knights in shining armor will joust, there'll be magicians, storytellers, poets, acrobats, and musicians performing all around the fairgrounds. Also stay alert for chance encounters with a few notable characters (hi, Robin Hood!). Bring along your coin purse to shop handmade pottery, jewelry, leather, metalwork, and more. Brave little ones are invited to help the Faerie Folk on their puzzle-solving quest, or train in the art of sword fighting. If you can, attend on a weekend with a special, extra magical theme, such as "Heroes & Villains" or "Marketplace." For the weekend of August 11–12, kids enter for free. August 4–September 30; Tuxedo; Adult $29.95, child $13, check the website for special dates and deals.
Summer Streets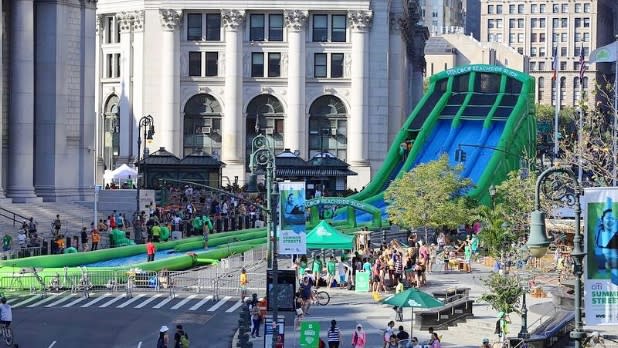 Every summer, pedestrians rule the streets of NYC—well, nearly seven miles of them. Park Avenue and connecting streets between the Brooklyn Bridge to Central Park are officially car-free between 7 am and 1 pm for the first three Saturdays in August. Picture inflatable water slides, pop-up dog parks, a rock-climbing wall, outdoor art exhibits, exercise classes, a zip line, and cooling misting stations right in the middle of the streets. Don't miss this chance to share something special with the community. The city is your oyster! August 4, August 11, and August 18; New York; Free
Erie County Fair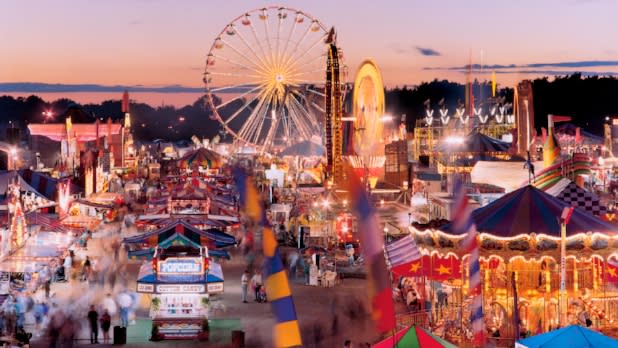 New York's largest county fair (and the country's third-largest!) draws in a whopping million attendees per year—it's that good. For 12 days you can watch live music, spin around on the midway rides, shop handmade arts and crafts, pet farm animals, and imbibe on local beer and wine if you're over age 21. You can also make tiny new friends in the butterfly exhibit and check out robotics demonstrations at the special "I-HUB" STEM exhibit. The fair houses its very own escape rooms, so see if you and your family can solve the puzzles—there's always something deliciously deep-fried around the corner to celebrate your success...or just your effort! August 8–18; Hamburg; Adults $10.00, seniors (60+) $7.00, children 12 and under free
Lake George Music Festival

Credit: David Warner
Lake George is scenic enough on its own to warrant a visit this summer, but add a music festival packed with world-class orchestras, vocalists, pianists, and more and you have an experience too beautiful to miss. For 10 days you can watch live performances of classic and new music in interesting and unique venues around town, such as an amphitheater, a historic church, or even aboard a Minne-Ha-Ha boat. Bring little ones to the children's concert, The Conductor's Spellbook, a story about finding a magic spell book told through a lively and entertaining orchestral performance. August 12–24; Lake George; Ticket prices vary
Travers Stakes and Festival at Saratoga Race Course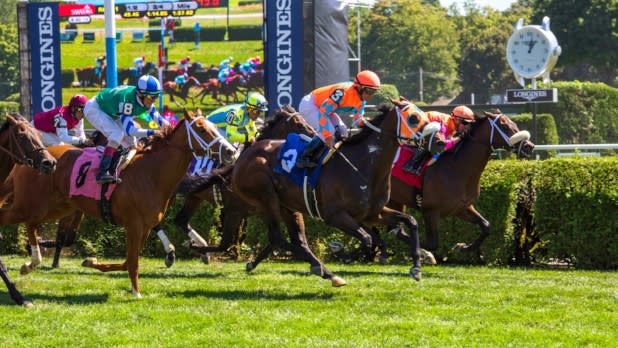 Hold on to your derby hats, the oldest major Thoroughbred race in America is fast approaching! Nicknamed the "Midsummer Derby," the 1.25 miles Travers Stakes has a purse of $1.25 million and has been one of the summer's hottest events since 1864. In fact, it's such a big deal in the racing and local community that the track holds a weeklong Travers Festival surrounding the big day, August 19–26. The festival includes events such as an ice cream eating contest (August 22), an annual wine tasting (August 24), New York Showcase Day—six stakes races run exclusively by New York-breds (August 24), the BIG race on August 25, plus more events to be announced. Don't miss the festivities, the excitement, and the most athletic three-year-olds you'll ever see (yes, they're horses, but it's still impressive!). Given the typical crowds, beware of heavy traffic and limited parking and aim to arrive early if you want to snag a spot. August 19–26; Saratoga Springs; Travers Stakes General/Grandstand Admission: $10, Clubhouse Admission: $25
The Great New York State Fair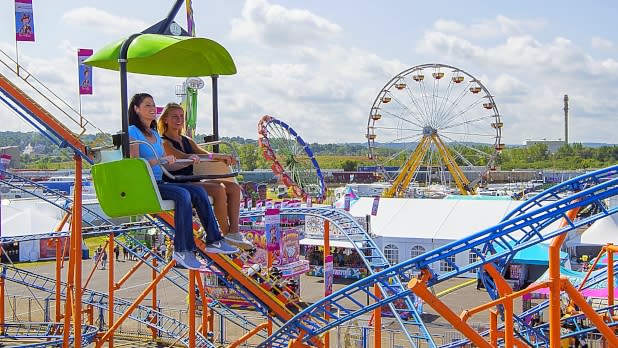 As the oldest and one of the largest state fairs in the country, the Great New York State Fair is an unmissable summer tradition that provides a concentrated sampling of everything the state has to offer. To start, the fair brings in seriously big-name headliners to perform live across six stages, names like Ludacris, Counting Crows, Blondie, Niall Horan, the Temptations, and so many more. Between the midway rides, the agricultural exhibits with live animals (and even live calf births!), butter sculptures, Pan-African, Iroquois Indian, and brand new Latino villages, there's enough to do that you might want to spend a few days exploring. This is all not to mention the hundreds of food options representing different areas of New York State, from produce to artisan jerkies, syrups, baked goods, fried treats, and sweets. So come hungry, wear comfortable shoes, and prepare to be wowed. August 22–September 3; Syracuse; Tickets are $10 except on Thursday, August 23 and 30 when admission is $3, and Opening Day, August 22 and Labor Day, September 3 when admission is just $1. Children 12 and under are free. Students 18 and under are free on Friday, August 31.
The 27th Annual Seafood Festival
Seafood is one of the best parts of summer and we will not be hearing arguments otherwise! Good thing we're not alone in our love of seafood—the Long Island Maritime Museum hosts an entire festival dedicated to it, supplied by two main sponsors, Blue Island Oyster Company and Claws Seafood Market, plus a number of other seafood trucks. Devour the freshest lobster rolls, oysters, crab, clams—you name it (there will be non-seafood options too!). In between courses, check out the arts and crafts fair or the children's activities, which include sand art, costumed pirates, and face painting. August 25–26; West Sayville; General Admission (at the gate) $10.00, children under 12 free
Don't forget to post photos of your New York adventures on Instagram and Twitter with #iSpyNY and tag us on Facebook!