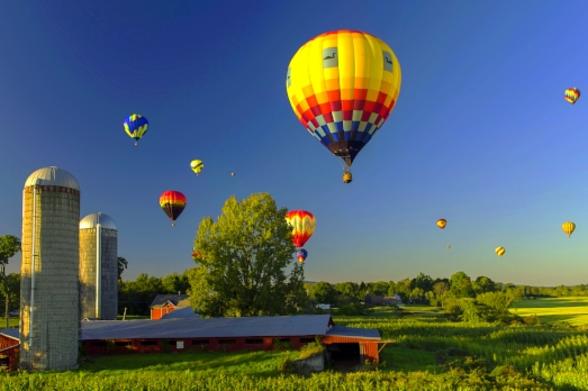 Summer may be coming to an end, but the fun continues at events throughout the month of September! Kick off the official start of fall in New York with festivals, food, and entertainment! Whether you'll be watching art come alive, sampling seasonal treats, or enjoying musical performances, consider some of our recommendations for the top things to do this September in New York State. 

Credit: John Haeger-NYS Fair
Enjoy the last few days of the Great New York State Fair! Try different types of delicious food from 40 food trucks at the Taste NY Food Truck Competition (pictured) on September 1 and 2 from 10 am to 7 pm. It's $3 for each sample and you can vote for your favorites! Some of this year's bites include deep-fried chicken riggies, garbage plate roll-ups, and loaded pulled pork tater tots. Haven't had your fill of fair rides and carnival games? In celebration of the final day of the fair on September 2, admission is $1 for adults, and all the rides in the Wade Shows Midway are $1 per ride (excluding the Broadway Skyliner). Stick around for concerts by The Roots on Sunday night and Gavin DeGraw on Monday night—free with your fair admission! Through September 2; Syracuse; Regular daily admission tickets are $10; Children 12 and under are free every day. College students with a current college ID are $1.
Harvest Festival at Bethel Woods (Catskills) 

Credit: Photo Courtesy of Bethel Woods Center for the Arts
Celebrate local talent and enjoy seasonal treats at the 21st Annual Harvest Festival at Bethel Woods. With events happening every Sunday throughout September, there are plenty of opportunities for you to join in the autumn festivities. More than 100 vendors will be on site offering local fruits and vegetables, craft and artisan products, food, beer, and more! Kids can use their imaginations in the creative learning tent and test their problem-solving skills wandering through corn and hay mazes. In addition to the weekly vendors and fall activities, each Sunday features a different partner or focus, including the Rosehaven Alpacas, Catskills Fiber Festival, and Sullivan 180. September 1, 8, 15, 22, 29; Bethel; Free admission; $3 parking fee. 
The 62nd Annual Niagara County Peach Festival at Academy Park in Lewiston features a peach taste-off and so much more. Take part in a 5K run, watch a parade, go on carnival rides, and take in live entertainment at this family-friendly, stone fruit-centric event. Stroll through the festival grounds, sampling peach shortcake made using fruit from nearby Bittner-Singer Orchards. See which children are named "Peach Blossom" and "Peach Fuzz" during pageants on Saturday, and find out who will be named "Peach Queen" on Sunday evening. Rusty Nickel, Terry Buchwald (a Tribute to Elvis), and 23 Skidoo are scheduled to perform at various times throughout the weekend. September 5–8; Lewiston; Free admission to enter the festival; Additional admission fee for carnival rides, shopping vendor booths, and carnival food. 
LUMA Projection Arts Festival (Central New York)

Credit: Van Zandbergen Photography
Experience a spectacular art show at the LUMA Projection Arts Festival in downtown Binghamton. Watch as art comes alive with the use of projectors, 3D animation, light, sound, and color. Buildings are transformed into creative masterpieces and stories are told using visual art. Some of this year's features include "Pandora's Box" by Maxin10sity, "One Giant Leap" by Favorite Color, and "The Awakening" by Light Harvest. LUMA not only acknowledges the impressive work of several talented artists—it also recognizes the incredible efforts of the Binghamton community to host a world-class-caliber event. September 6–7; Binghamton; Free admission; Some features require advanced purchase of a ticket. 
The World Surf League returns to Long Island for the first time since 2011 for the Longboard Classic. Head to Long Beach to watch some of the world's best surfers in action. Men and women Longboard Tour competitors will hit the water to test their skills, competing to earn points toward the World Longboard Championships. This year, the World Surf League launched a four-event circuit Longboard Tour, featuring events in Australia, Spain, and Long Island—in addition to the Taiwan Open World Longboard Championships. September 6–12; Long Beach. 
Hudson Valley Wine & Food Fest (Hudson Valley)

Credit: Hudson Valley Wine & Food Fest
Bring your appetite to the Hudson Valley Wine & Food Fest! Stop by the gourmet food vendors and food trucks to experience the region's best flavors. You can also learn how to make your own incredible dishes as you watch local chefs prepare culinary creations during live cooking demonstrations. Try craft beverages from several New York State wineries, cideries, and distilleries in attendance. Take an education seminar to learn all about wine—how to pair it with food, how to store it, and more! Prefer to drink beer? Not a problem! Sip some of the Hudson Valley's refreshing craft beers from Peekskill Brewery, Woodstock Brewing, Sloop Brewing Co., and Glenmere Brewing Company. September 7–8; Rhinebeck; Prices vary. 

Credit: Johnson Estate Winery
Stroll through the vineyards of the oldest estate winery in New York State at the Great Grape Walk. Johnson Estate Winery owner Fred Johnson will host the walks, offered three Sunday mornings in September. With a grape basket and clippers in hand, you'll be able to bring home some of the 13 different varieties of grapes grown on the vineyards. After the walk, sip the flavors of the vineyard in the tasting room. Children are welcome to join their parents on the 60-minute walk—Concord grape juice will be available for them to enjoy at the end. September 8, 15, 22; Westfield; $20 per person; Reservations recommended. 
Get ready for hundreds of unbelievable visual, musical, and performing arts shows at the Rochester Fringe Festival! Enjoy food and drinks at the Spiegelgarden, a relaxed lounge with outdoor games and art. Drawing more than 75,000 attendees to downtown Rochester, the Fringe Festival features award-winning theatrical performances, acoustic ensembles, comedy shows, and more in multiple venues throughout Rochester's East End. Bring the whole family to Kids Day on Saturday, September 21 for pumpkin and painting, chalk art, and more. September 10–21; Rochester; Tickets required for some shows.
Feast of San Gennaro (New York City) 
Get a taste of Italy at the 93rd Annual Feast of San Gennaro. With classic Italian foods such as sausage and pepper sandwiches, pizza, and meatballs, along with sweet treats like cannoli, torrone, and fried dough, there is something for all taste buds! Once you've indulged in your favorite foods, watch cooking demonstrations, browse craft vendors, and listen to live music along the streets of Little Italy. Don't forget to check out the annual cannoli-eating competition to see how many delicious Italian desserts are consumed. In addition to food and entertainment, kids can participate in a wide variety of crafts and games. September 12–22; Mulberry Street, Little Italy in Manhattan; Free admission.
Adirondack Balloon Festival (Adirondacks)

Credit: Will Cook
Watch as colorful hot air balloons fly over the mountains at the 47th Annual Adirondack Balloon Festival! Browse the craft fair, explore the insides of partially inflated balloons, and listen to live music throughout the festival. On Saturday night, be sure to watch the hot air balloons light up the night sky. Interested in taking a ride? Balloon ride prices vary depending on the pilot—the usual range is $195–225 per person. Ride reservations should be made directly with the pilots. September 19–22; Queensbury and Glens Falls; Free admission.
Clayton Jazz Festival (Thousand Islands-Seaway)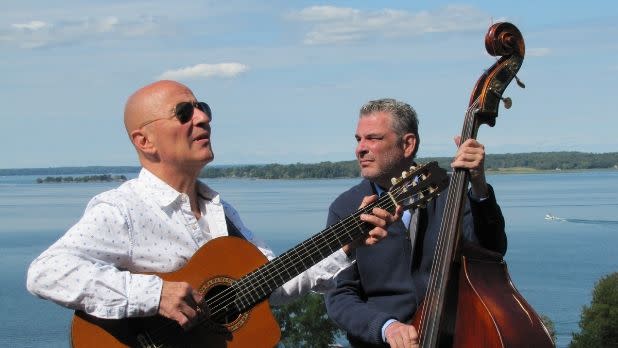 Listen to live jazz along the St. Lawrence River at the 6th Annual Clayton Jazz Festival. Various performances will be held throughout the charming river town, including shows at the Clayton Opera House, as well as local restaurants and businesses. This year's headliner is the Jerry Vivino Quartet, performing at 7:30 pm on Saturday, September 21 at the Clayton Opera House. You may recognize Vivino's name from his days playing alongside his brother Jimmy and drummer Max Weinberg on "Late Night with Conan O'Brien." September 20–22; Clayton; Free admission; Ticket prices for the headline act vary.
The Saratoga Giant Pumpkinfest 2019 (Capital-Saratoga)

Credit: Saratoga County Chamber of Commerce
It's the Saratoga Giant Pumpkinfest, Charlie Brown! Marvel at the biggest pumpkins you've ever seen at this lively event. Pumpkin growers from across the Northeast enter the fruits of their labor into a weigh-off to find out which pumpkin is the heaviest—several of last year's entries weighed more than 1,000 pounds! Try seasonal treats like cider donuts as you check out the impressive pumpkins. Be sure to stop by the Spa City Farmers' Market to browse local products, as it will also be held on site. There'll be plenty of kid-friendly activities too. September 29; Saratoga Springs, Free admission.
Don't forget to post photos of your New York adventures on Instagram and Twitter with #iSpyNY and #ILoveNY and tag us on Facebook!