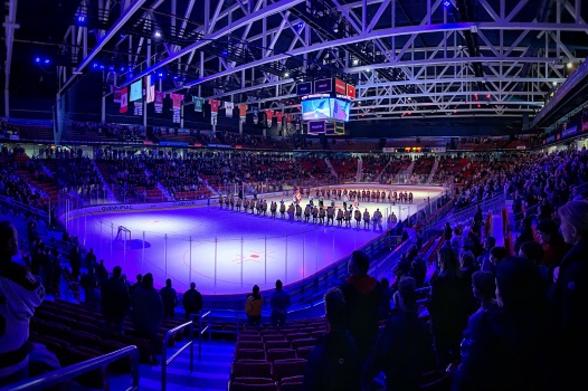 Credit: Olympic Regional Development Authority
Two-time Olympic host Lake Placid is no stranger to world-class winter sports competition, as this destination will host the Lake Placid 2023 FISU World University Games (January 12-22, 2023). This 11-day event will bring student athletes from around the world to compete in alpine and cross-country skiing, figure skating, ice hockey, snowboarding, and other winter sporting events. Competitions will also take place in neighboring Potsdam, Canton, Saranac Lake, and North Creek. Get your tickets today and read on to discover what else you can see and do around town and beyond while attending the games.
Masks are encouraged, but optional in most settings per New York State guidelines. Individual businesses or attractions may require mask wearing. Call ahead and check websites and social media to make sure attractions and amenities are open and available.
JUMP TO: Lake Placid | Saranac Lake | North Creek | Potsdam | Canton | More Adirondack Fun
Lake Placid
What To Do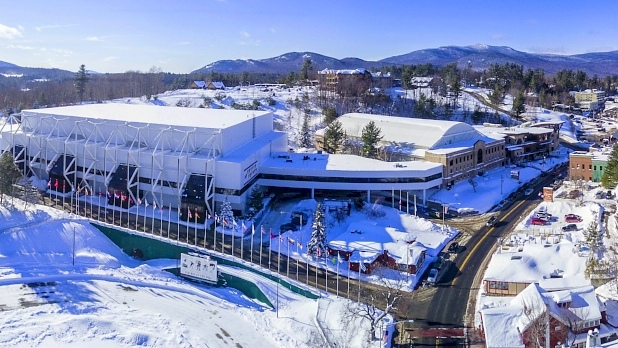 Delve into Olympic history at four venues that carry on the legacy of Lake Placid's time hosting the 1932 and 1980 winter games, including the Lake Placid Olympic Center (pictured). On January 12, the center will host the 2023 FISU World University Games opening ceremony at its ice skating rink, the famed site of the "Miracle on Ice" hockey game in which the U.S. men's team defeated the Soviet Union. (Note: The center will not have their ice available for public use until after the games.)
Feel like an Olympic tryout at Mt. Van Hoevenberg where visitors can partake in bobsled (pictured) and skeleton experiences on their state-of-the-art combined track, or go cross-country skiing on trails that originally opened for the 1980 Olympic Games. After your time outside, head indoors to the Mountain Pass Lodge, a social hub for getting a drink or hanging out with your friends.
During the games, the Olympic Jumping Complex (pictured) will operate their Skyride Gondola and Sky Flyer Zipline. Riding on the gondola will bring you closer to the center's sky jump launch. Get your thrills in on a seated zipline ride, that goes a cool 30 miles an hour.

Hit the slopes of Whiteface Mountain, a 1980 Olympic Games host site in Wilmington, for recreational skiing and riding. The resort's eight-passenger Cloudsplitter Gondola (pictured) carries passengers from the Main Base Lodge to the top of Little Whiteface in 15 minutes with great aerial views of the snowy landscape. (Note: Rides will not be available January 14-16, 2023.) Whiteface's Bear Den Learning Center caters to first-time skiers and snowboarders of all ages while their Adaptive Snowsports Program works with adults and children with disabilities who want to learn how to ski and snowboard.   
The Lake Placid Olympic Museum, which provides an inspiring and immersive experience in telling Olympic history, is getting ready to unveil its brand new facility with state-of-the-art interactive displays, 3D visualizations, experiential learning exhibits, and engaging displays and artifacts.
More Winter Fun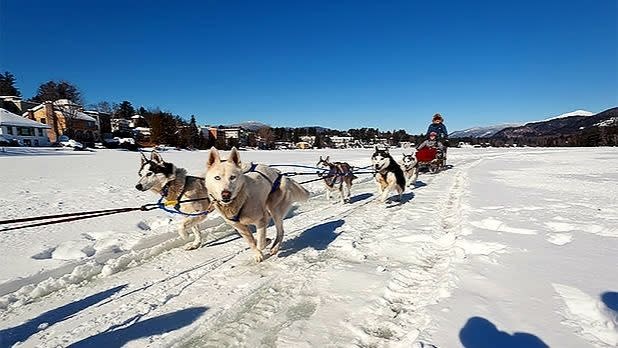 Experience the thrill of dog sledding with Thunder Dog Mountain Sled Tours (pictured), which heads out on Mirror Lake on half-mile loop rides. Jackrabbit Ski Trail is perfect for cross-country skiing, but if snowshoeing is more your speed, then make sure to hit up Brewster Peninsula Nature Trails, Algonquin Peak, and Mount Jo. Learn about a famous abolitionist at the John Brown Farm State Historic Site, which also has a trail network suitable for snowshoeing and cross-country skiing. For a truly magical experience, Country Dreams Farm offers horse-drawn sleigh rides on the snowy grounds of this historic site. For a unique winter hike, head over to High Falls Gorge in Wilmington to navigate your way through a narrow granite walled gorge with four spectacular waterfalls via sturdy steel bridges, walkways, and groomed walking trails. 
Where to Shop
There are many shops around Lake Placid for souvenirs, memorable finds, and winter gear. Lake Placid Ski & Board (pictured) carries winter clothing and rents out ski and snowboard equipment for men, women, and children. Find Adirondack-Lake Placid swag at Imagination Station, rustic furnishing and homewares at Adirondack Decorative Arts & Crafts, and candles and personal care products at Pure Ladi. Treat yourself to something sweet at the candy shop, A Pinch or a Pound. 
Where to Eat
Start your day off on a savory note with a plate of biscuits and gravy or eggs benedict at the breakfast club, etc or go the sweet route with scones or muffins at Bluesberry Bakery. Beer lovers can craft their own brewery tour of Lake Placid starting at Big Slide Brewery & Public House (pictured), where you can pair your pint with a delicious hearth oven pizza. Then head on over to Lake Placid Pub & Brewery, a fixture in town since 1996, before finishing up at Wood Boat Brewery, which brings a taste of the Thousand Islands to Lake Placid's Main Street at their Boat Tasting Room. If you're craving Italian, Caffe Rustica is a local favorite, and  Smoke Signals serves up creative and innovative barbecue. If it's views you're after, Top of the Park has gorgeous lake and mountain scenes. 
Where to Stay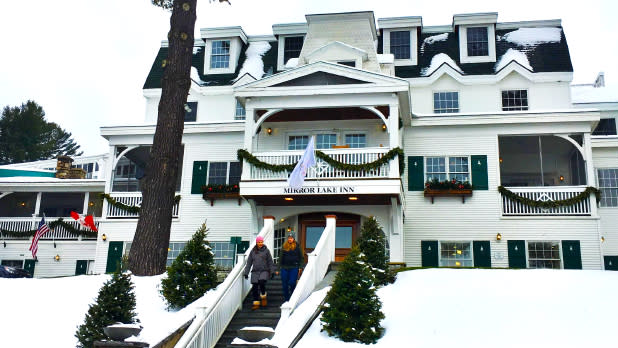 Go all out with your hotel accommodations in Lake Placid.  Rooms boasting breathtaking lake and mountain views, a luxury spa, and two waterfront restaurants make it easy to see why Mirror Lake Inn Resort & Spa (pictured), is rated No. 1 on TripAdvisor. It's quite fitting that a former Olympian-turned-developer founded  The Whiteface Lodge, a family-friendly resort with an outdoor ice skating rink, movie theater, game room, and bowling alley, plus a spa and a fitness center. The Grand Adirondack Hotel has given new life to a 1920s-era property with its lodging transporting back in time to an old-fashioned Adirondack camp. Located near Main Street, Placid Bay Hotel is a smart hotel with standard and lakeview rooms, plus two lakeside cottages that can accommodate up to six guests. If you're seeking more budget-friendly accommodations, and don't mind taking a bit of a drive, the Rooster Comb Inn in Keene Valley and ADK Trail Inn in Upper Jay are about 30 minutes away.
Saranac Lake
What to Do
Take the family out skiing and tubing on the gentle slopes at the Mt. Pisgah Recreation Center, a classic 'small town' Adirondack ski spot. Just outside the village, find 10 miles of trails for cross-country skiing or snowshoeing at Dewey Mountain Recreation Center, where twilight skiing is also offered. Get out of the cold and take a spin on the dreamy Adirondack Carousel (pictured), featuring a beautifully-carved menagerie of animals found within Adirondack Park—from a largemouth bass to a salamander. Housed within a pavilion, the carousel also holds a wheelchair chariot. History buffs can explore the first laboratory built in the U.S. for researching tuberculosis at the Saranac Laboratory & Museum while those with a taste for fine art can admire the works of local artists at the Adirondacks Artists Guild Gallery and Northwind Fine Arts Gallery.  
Where to Eat
Dining spots in Saranac Lake can appeal to many tastes. Origin Coffee Co - Saranac Lake draws in customers with specialty coffees and paninis. Blue Moon Cafe may be petite in size, but hearty with their breakfasts and bistro fare. Red Fox Restaurant serves Italian, steak, and seafood entrees while Bitters & Bones (pictured) puts out the vibe of a rustic Adirondack tavern with their craft beers and cocktails, plus an eclectic food menu. Stop by Blue Line Brewery for pub fare or have a friendly competition over a meal at Romano's Saranac Lanes, a bowling alley.
Where to Shop
From antique shops to outfitters, Saranac Lake's shopping districts are found within its charming Main Street (pictured) and throughout the village. The Village Mercantile has everything a person would need or want for living, or even staying, in the Adirondacks. Bear Essentials puts the "L" in "local merchandise" with designs created and produced by their employees. Music lovers and performers can spend much time at Ampersound, which carries instruments and other merchandise. 
Where to Stay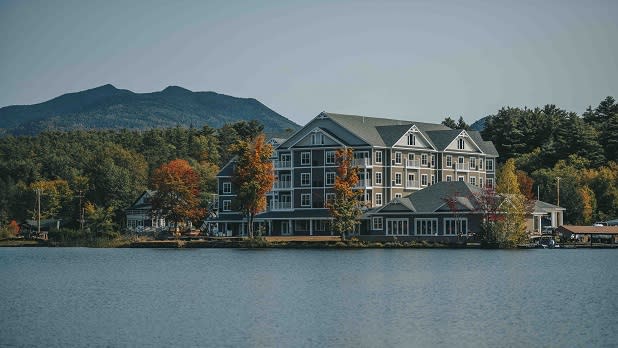 Immerse yourself in the natural beauty of the Adirondacks at Saranac Waterfront Lodge (pictured), nestled between the glistening Lake Flower and majestic mountains with the historic downtown just a short walk away. Relax over a meal at the lakeside restaurant and lounge before retreating to your spacious and comfortable room, which makes for the perfect home base for your winter adventures. The nearby Sara Placid Inn & Suites is filled with affordably priced rooms overlooking a pond and Lake Flower, while its suites treat guests to spectacular mountain views. 
North Creek
What to Do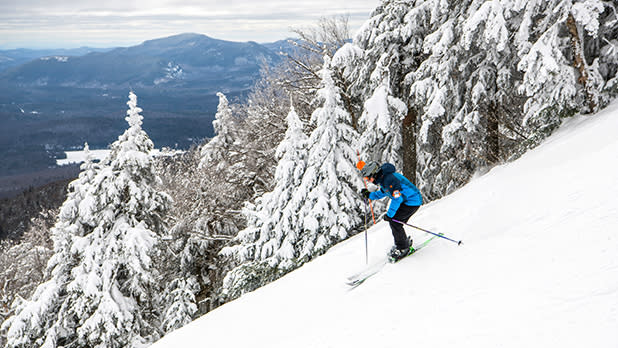 With 110 trails spread across four Adirondack Mountain peaks, a vertical drop of 2,547 feet, the longest gladed trail in the Northeast, and enough terrain to satisfy every level of skier, Gore Mountain (pictured) is the spot for alpine skiing and snowboarding in New York State. The North Creek Ski Bowl, a network of Nordic ski trails at the foot of Little Gore Mountain, serves up plenty of downhill and cross-country adventures that can be enjoyed day or night. The mountain will play host to a slew of thrilling competitions during the FISU World University Games, but will be open to the public for recreational skiing and riding. For fun off the mountain, stop by the North Creek Mosaic Project to see this 180-foot artistic mural that visually captures Adirondack wildlife and outdoor splendor. 
Where to Shop
Get a true country store experience at Hudson River Training Company, filled with rustic home furnishings and an extensive book selection relating to the Adirondacks. Barkeater Chocolates (pictured) sells delicious handcrafted truffles, caramels, peanut butter, and other confections to satisfy any sweet tooth.  H'ART Studio & Gallery not only sells fine arts and crafts, but even holds art classes if you want to tap into your creative side. 
Where to Eat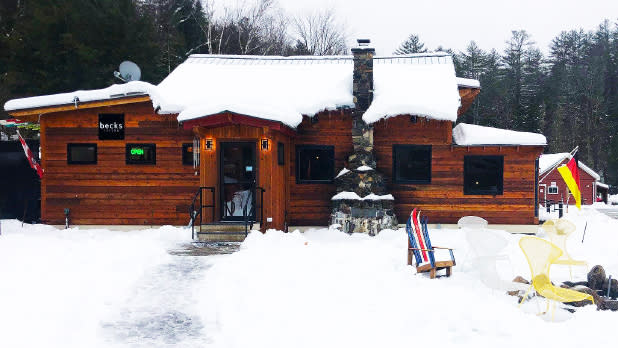 Fill your soul and your belly with a fully loaded breakfast burrito that's a favorite among the locals at Izzy's Market & Deli. This small ski town gets a jolt of big flavor at barVino, an upscale yet warm and welcoming wine bar with a health-centric, rustic chic menu that changes daily. The apres ski scene is hopping at becks TAVERN at Gore Mountain Lodge (pictured). After working up your appetite on Gore Mountain, the savory smell of bratwurst, schnitzel, and other German fare wafting from within will be sure to beckon you inside. Hey Days 267 is noted for their pizzas, especially their buffalo chicken version, and salads large enough to be meals.
Where to Stay
Enjoy rustic charm with all of the modern comforts at North Creek Lodge at Gore Mountain, which has newly-remodeled guestrooms with configurations ranging from single beds to family suites. The Adirondack-style details include log beds decked with cozy and warm comforters, along with a private bath, flat screen TV, and ample closet space. A complimentary breakfast is included.
Potsdam
What to Do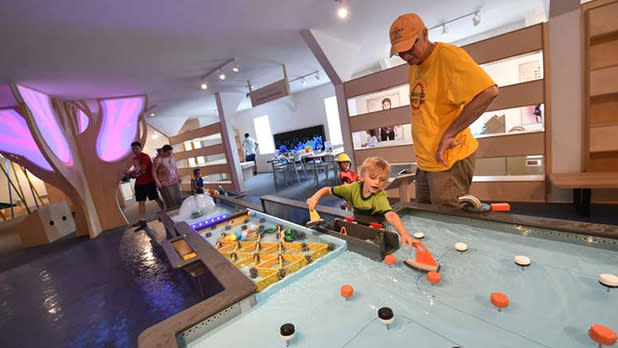 Lace up your skates and hit the ice at Pine Street Arena in Sandstoner Park or head out to Higley Flow State Park, where hiking trails double as cross-country skiing and snowshoeing in the winter. North Country Children's Museum (pictured) in downtown Potsdam has hands-on exhibits where youngsters can pretend to be scientists, engineers, and artists. Learn about the Civil War and other local history at the Potsdam Public Museum or explore works from the 20th and 21st centuries at the Art Museum at the State University of New York at Potsdam. 
Where to Shop
Shopping opportunities in Potsdam run through gift and hobby shops to specialty boutiques. The Adirondack Fragrance Farm (pictured) is a farm-to-fragrance company that's known for their assortment of scented candles and soaps while gourmet foods and all your cooking needs can ben found at Maple Run Emporium. 
Where to Eat
Foster the Plant Cafe is a plant-based vegan cafe with a focus on breakfast servings, smoothie bowls, and wraps. The cozy Thai Cuisine Restaurant prepares spring rolls, curries, stir frys, and soups. 3 Bears Gluten Free Bakery and Cafe has a breakfast and lunch menu and an array of cupcakes and other baked goods. Enjoy some comfort food at the Village Diner, get an order of locally-roasted java with a sweet treat from Jernabi Coffeehouse, and bite into some deep fried pizza rolls at Sergi's Italian Restaurant & Pizzeria. For a refined dining experience, head over to 1844 House. 
Where to Stay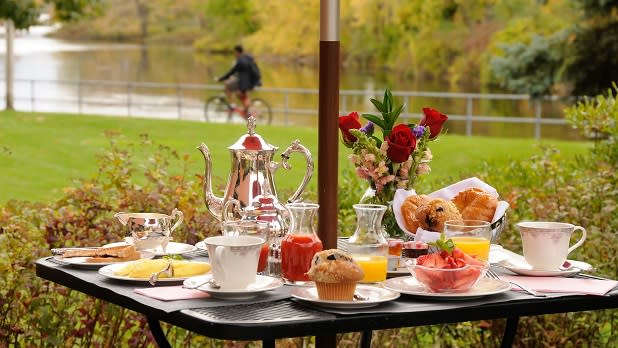 The Clarkson Inn is located in an elegant Victorian brick building, with British decor and furnishings that are just as grand. Your morning can start with a made-to-order gourmet breakfast (pictured), and perhaps indulge in a proper afternoon English tea service. The inn is also a short walk from Potsdam Public Museum and an hour drive to Titus Mountain. 
Canton
What to Do
TAUNY is a nonprofit organization dedicated to showcasing the folk culture and living traditions of the North Country. The TAUNY Center features exhibits, programs, and The North Country Folkstore, which carries regionally-made goods.
Where to Eat
Charge up for the day at Park Bros. Bagels & Coffee, which water bakes their bagels from scratch and gets rave reviews for their coffee, and just next door you can dig into some pasta or pizza at Little Italy. 
Where to Stay
Fairfield Inn & Suites by Marriott Canton features a fitness center and an indoor heated pool, and flexible work spaces. Guestrooms and suites extend to king and double queen beds with complimentary high-speed Internet access and free Wi-Fi throughout the hotel. A free continental and buffet and hot breakfast is also provided. 
More Adirondack Fun

Credit: Adirondack Coast Visitors Bureau
The "Grand Canyon of the Adirondacks" may be a hotbed for summer fun, but Ausable Chasm, located 50 minutes from Lake Placid, is just as awe-inspiring in the winter as snow kisses the high sandstone walls. Learn about the history of one of America's oldest natural attractions on a two-hour guided tour that brings you down into the Inner Sanctum of this  500-million-year-old wonder or go on a self-guided tour along the Rim Trail. All visitors must wear snowshoes or ice cleats for safety. 

Credit: Rick Grodin
Winter adventures await at The Wild Center in Tupper Lake, just 40 minutes outside Lake Placid. Explore the wild world of the Adirondacks on snowshoe trails, rise up into the treetops on a trail of bridges and platforms at the center's elevated pathway, Wild Walk, and marvel at the Wild Lights that transform the 115-acre campus into a winter wonderland as dazzling lights bathe the forest in a colorful glow. Learn from Indigenous voices by checking out "Ways of Knowing." Developed in partnership with the Akwesasne Cultural Center, The Six Nations Indian Museum, and the Native North American Travelling College, "Ways of Knowing" features four exhibits exploring the natural world, food, and art. The impressive Haudenosaunee Thanksgiving Address is a reinterpreted wetland exhibit through the lens of a Haudenosaunee greeting.
Just an hour north of Lake Placid, Titus Mountain Family Ski Center in Malone offers ski and snowboard lessons, a revamped tubing hill, and a new 550-foot conveyor lift. Best known for cross country and uphill skiing, this resort also offers nighttime skiing, which is included in the cost of a day lift pass. Rent a furnished and heated slope-side "skibana" for a personal hang out spot to warm up and relax between runs.
---
Share New York State adventures with us on TikTok, Instagram and Twitter with #ILoveNY and #iSpyNY, and tag us on Facebook!