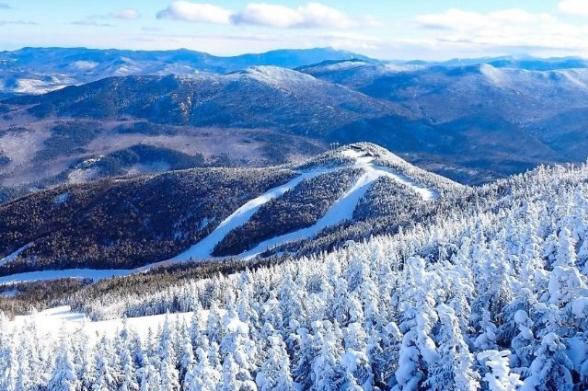 Winter is here and it's time to start planning your next adventure in New York State! Will you opt to head outdoors for snow-related activities like skiing the greatest vertical east of the Rockies or ziplining over snow-covered pines? For less extreme activities, explore world-famous museums, or get into the holiday spirit with a brilliant light show. Whatever you choose, take advantage of the winter wonderlands and check out these must-do winter activities throughout New York State! 
Remember to social distance and wear a mask as required by state guidelines. Call ahead and check websites and social media to make sure attractions are open and available.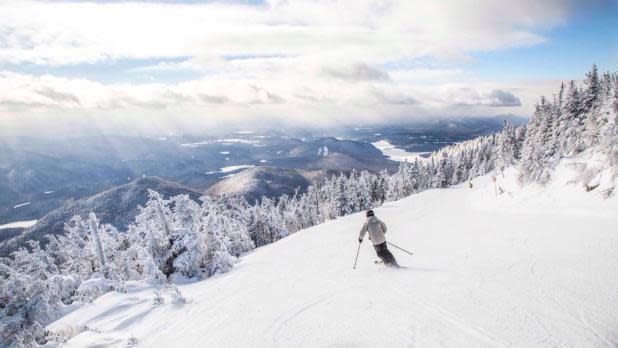 Credit: Whiteface Mountain
The skiing at Whiteface Mountain (pictured) in New York's Adirondacks is simply superlative. Offering the greatest vertical drop east of the Rocky Mountains, as well as terrain that is both family–and beginner-friendly, skiing and riding at Whiteface can be enjoyed by everyone. A newly renovated base lodge offers plenty of space for après-ski gatherings after a day out on the mountain. While visiting the Adirondacks, don't miss a stop at the Olympic Sports Complex in nearby Lake Placid, a two-time Winter Olympics host. Go cross-country skiing or experience the once-in-a-lifetime thrill of riding a bobsled.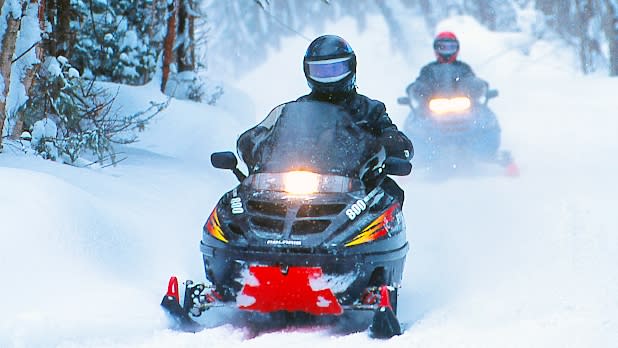 Discover the wintry landscape on a snowmobile as you glide along the more than 8,000 miles of snowmobile corridor trails that crisscross New York State. Head to the Adirondacks' Tug Hill area for hundreds of miles of heavily forested trails, as well as trailside restaurants and hotels that cater to the winter snowmobiling community. Discover the endless miles of snowmobiling this winter in New York State.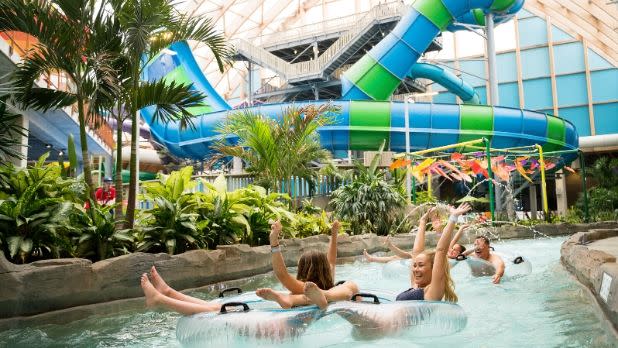 Credit: The Kartrite Resort & Indoor Waterpark
The Kartrite Resort & Indoor Waterpark (pictured) provides a tropical escape in the heart of winter. Fun for all ages, New York's largest indoor waterpark features five thrilling water rides for older kids and adults, a Jungle-themed lazy river, and plenty of attractions for little ones. The Kartrite Resort is also home to other indoor activities, such as the Playopolis Arcade, Van Winkle's bowling alley, the Scrapeskyer climbing wall, 3D gaming experiences, and more!

Credit: @vanderbiltmuseum on Instagram
Extensive galleries of marine life, natural history, cultural artifacts, and wild-animal habitats and dioramas, and a world-class planetarium can all be found in this Spanish-Revival mansion. The former home of William Kissam Vanderbilt II, great-grandson of Commodore Cornelius, the mansion and 43-acre estate is listed on the National Register of Historic Places. Recently renovated, the planetarium is one of the largest and most advanced in the United States!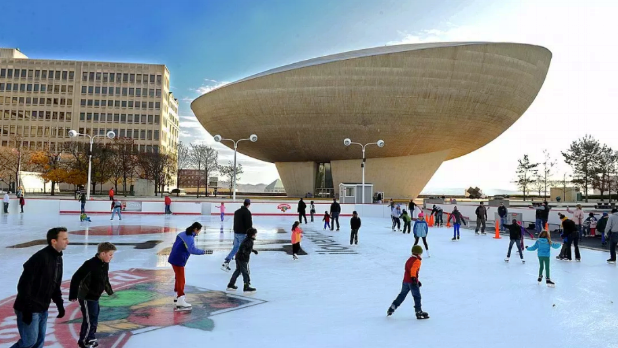 From December through to March, the reflecting pools outside the grand New York State Capitol building in Empire State Plaza transform into an ice skating rink. Every year, thousands of visitors enjoy free skating, a full-service snack bar, and a variety of events including the New York State Holiday Tree Lighting ceremony, live music, and entertainment. The rink is open Tuesday through Sunday and includes a skate lounge with lockers and available skate rentals.
Mush across the ice and snow on a dogsled (Various Regions)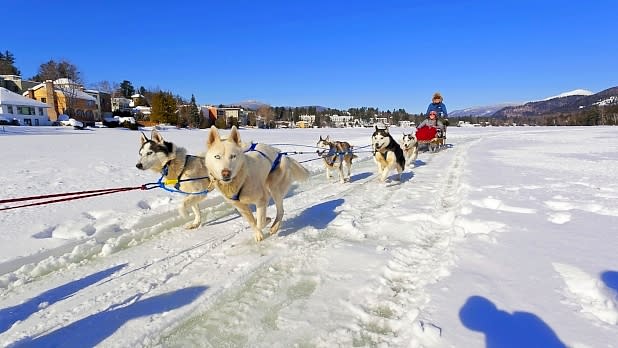 Dogsledding is one of the most unique winter activities available in New York State. Feel like you're soaring across the world when a team of specially-trained sled dogs carries you across the surface of a frozen lake or through snow-covered forested paths. Thunder Mountain Dog Sled Tours in the Adirondacks offer rides across the frozen surface of Mirror Lake in downtown Lake Placid. Call of the Wild Dog Sled Tours offers an "Alaskan experience in Northern New York," including multi-day excursions. 

The Corning Museum of Glass is a must-visit this winter. Offering live glass blowing demonstrations and make-your-own glass experiences, this hands-on museum brings the history of glass alive in exhibits such as Fire and Vine: The Story of Glass and Wine, In Sparkling Company: Glass and Social Life in Britain During the 1700s, and many more. Discover the 3,500-year-old history of glass right here in the Finger Lakes. After touring the exhibits, make your own special glassware to take home! 
Après-ski—even if you don't ski—at these cozy locations (Various Regions)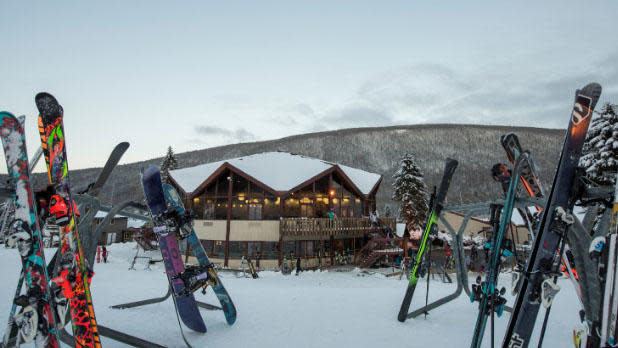 Luckily, there's no prerequisite to participate in après-ski festivities. You don't need to spend the day waiting in lift lines or hurling yourself down a steep slope in order to enjoy the atmosphere that prevails as the sun sets in ski towns across New York State. This winter, head to Becks Tavern next to Gore Mountain for German-inspired fare. Gore offers night skiing and cross-country skiing for those who prefer to leave their heels free. At Bristol Mountain (pictured) in the Finger Lakes, they'll host freestyle aerial championships, and some stellar après-ski festivities at Satellite Lounge this winter season. Hunter Mountain has a reputation for being a hot spot for winter fun, and the Jagerberg Beer Hall and Alpine Tavern at the base of the ski resort is a favorite après-ski spot for locals and visitors. 

Snowkiting (pictured) is winter's most exciting adventure sport you may not have heard of yet. Use the power of the wind to fly across snow-covered fields. NY Kite Center on Long Island offers intro classes for $200 that covers learning how to read the wind and fly, how to rig your kit, and stay safe. All gear is included in the lesson. 
Speaking of learning how to fly, the Cradle of Aviation Museum in Garden City is a must-visit. Discover the history of aviation and space flight in the place where so many airfields once stood that it became known as the "cradle of aviation." See over 75 air and spacecraft, including a Blue Angels aircraft, hot air balloons, the 13th Lunar Module, and an extensive Apollo artifact collection featuring spacecraft and more. 
Watch world-class winter competitions (Various Regions)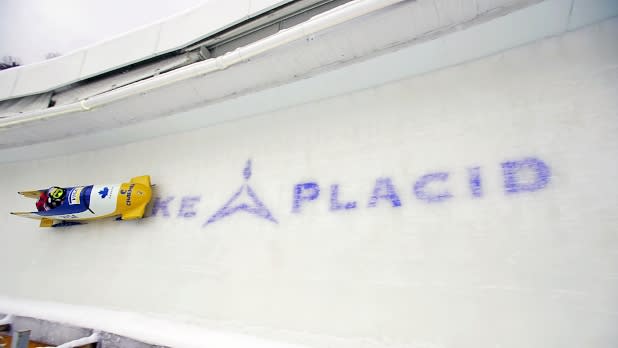 Whether you're keen to participate in an amateur sporting event or love watching world-class athletes race, winter in New York has a competitive side. The Adirondacks, home to Lake Placid, a two-time host of the Winter Olympics, offers a series of unique winter sports events this time of year at its Olympic Center and Museum. Or head to Central Park on February 5 2022 for the Central Park Winter Jam. Learn how to ski, go sledding, and more. 
Coast or Tube Down the Slopes (Various Regions)

At Holiday Valley (pictured), you can ski or snowboard, sure, but for a unique experience, go for a ride on the Sky Flyer Mountain Coaster! This rollercoaster-like ride through the woods is breathtaking in winter, first heading up the hill, then zigging and zagging down it on the rails, controlling the speed as you go. Children must be at least 3 years old and over 38 inches tall (without shoes) to ride with an adult, or at least 8 years old and 54 inches tall to ride alone. Another thrilling way to experience the rush of hurtling downhill in winter is snow tubing at Plattekill Mountain in the Catskills.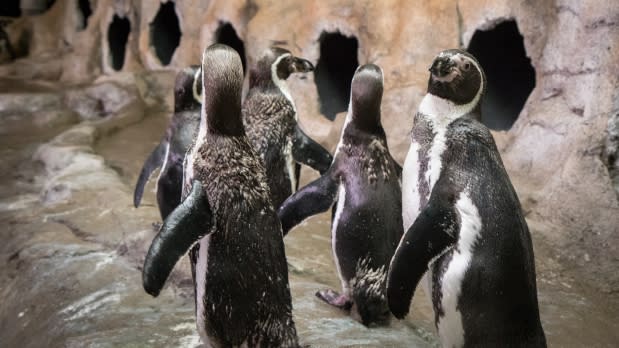 Meet the Humboldt penguins, slap high-fives with the seals, and get an up-close look at exotic fish and other sea life at this institution devoted to the rehabilitation and showcasing of marine animals. The Aquarium of Niagara offers special encounters with penguins and seals, as well as plenty of programs aimed at entertaining and educating the whole family about these lovable, colorful creatures. No trip to the Niagara Falls area is complete without a visit to see the eels, clownfish, and even a reef shark at this fun-filled aquarium.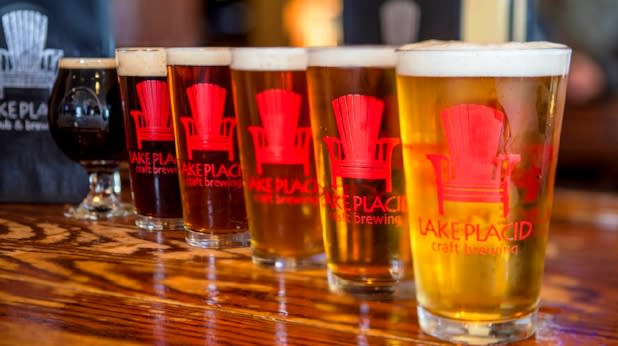 Credit: LPP & B
Craft brewing is a proud tradition with a long-standing history in New York State. Renowned for its creative blends of seasonal fruits and local ingredients, you'll find unique flavors around every corner. Visit Brewery Ommegang in Central New York for Belgian-inspired specialty and seasonal ales, such as the Game of Thrones-themed "For the Throne" golden ale co-fermented with Pinot Grigio and Viognier grape juices. At The Lake Placid Pub & Brewery, you'll find its flagship microbrew coined the "Ubu Ale", adorably named after a regular customer's chocolate labrador). For more amazing brewery experiences in New York State, see our guide here.
There's something to be said about a mountain that offers more skiable acreage than anywhere else in the state. Namely, what are you waiting for? Gore Mountain in North Creek boasts 110 trails across four mountains, offering ample terrain for beginner and intermediate, and expert skiers. It's one of those ski mountains where you might not ski the same trail twice in one day. The North Creek Ski Bowl at Gore Mountain is lit for nighttime alpine skiing and riding, as well as cross-country skiing. Warm-up in a yurt, then head back out for wintry fun.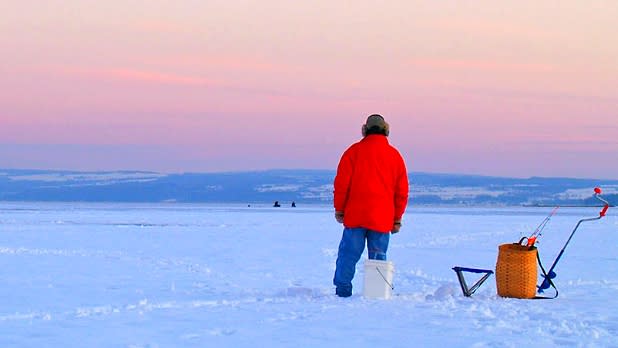 As Lake Ontario freezes it becomes an ice fishing village with fishing huts dotting the horizon. Other shanties, as they're called, pop up throughout the Finger Lakes, such as on Skaneateles Lake (pictured). Ice fishing season opens in December, and anglers stake their patch of ice to fish for panfish, perch, and pike. If you have always wanted to go ice fishing but didn't know where to start, book a trip with an ice fishing guide to walk you through the setup, tricks, and techniques you'll need to know, as well as provide you with all the gear you need. You'll still need to get a fishing permit yourself, however.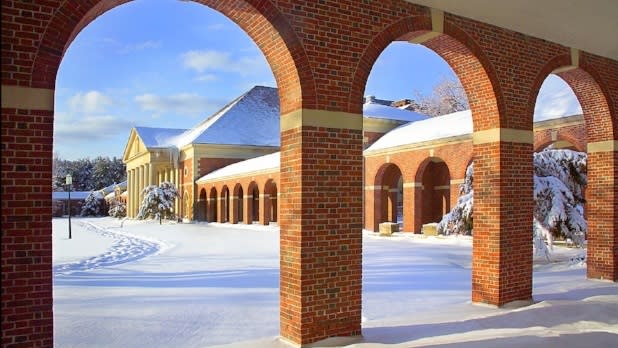 Winter in the Saratoga Spa State Park is a time of rare beauty when the National Historic Landmark opens for snowshoe and cross-country skiing explorations on 12 miles of trails. Find equipment rentals at the Park Office and experience this summer destination when winter's snow transforms the landscape. 
Hunter Mountain's New York Zipline Adventure Tour is a favorite adrenaline junkie sport any time of the year. Home to one of the longest, fastest, and highest zipline tours in North America, this is an adventure that's designed to take your breath away. The Summit SkyRider Tour and Mid-Mountain Tour are only offered from Thursday to Sunday. The SkyRider tour begins 600 feet above the ground, and riders can reach speeds up to 50 miles per hour. The tour covers nearly five miles of ziplines and takes about three hours, so dress warmly and bring goggles to protect your eyes from the cold air. The Mid-Mountain Tour offers a tamer experience, with six zip lines transporting fliers through the forest canopy, across four suspension bridges, and down one exciting rappel. See the Catskill Mountains as a bird would! Open on winter weekends. Mid-Mountain Tour is $99 per person and the SkyRider Tour is $139 per person. 
Explore secrets of ancient Egypt, the traditions of American Indian tribes, and more at museums across New York State (Various Regions)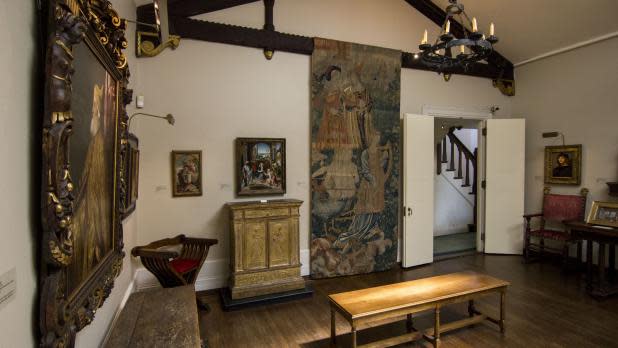 Dive into the rich culture and history, as well as interactive fun, offered at museums across New York State. From Old World masters found on museum walls in the Adirondacks to a 3,000-year-old mummy hiding out in the Capital Region, there are exciting exhibits to see this winter. Visit the Albany Institute of History and Art's Ancient Egypt exhibit to see artifacts including the mummy of Ankhefenmut, a priest and sculptor from the Ptolemaic Period. At the Hyde Collection Art Museum and Historic House (pictured) in the Adirondacks, the small-but-impressive permanent collection includes a Picasso, a Rubens, and a Rembrandt.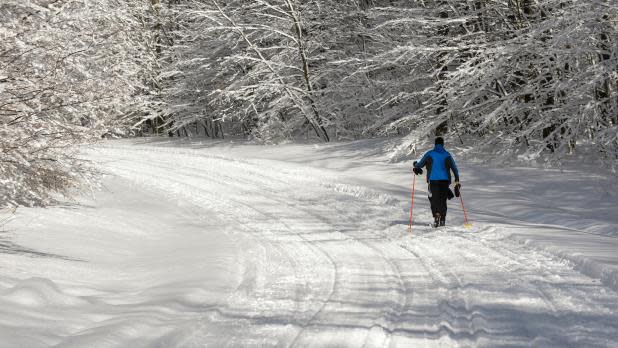 There are nearly 200 well-maintained places to go cross-country skiing in New York State. From Allegany State Park in Chautauqua-Allegheny to The Fields Sculpture Park at Omi in the Hudson Valley, discover the thrilling joy of gliding over snow-covered fields on Nordic skis. If you've never been cross-country skiing before, sign up for a lesson! At Lake Placid's Olympic Sports Complex, you can learn how to pace your skiing and chat with coaches who likely taught or skied with local Olympic biathletes. For a real New York State winter adventure, head to Central New York's Osceola Tug Hill X-C Ski/Mtn Biking Center to experience over 20 miles of groomed trails. The Tug Hill State Forest offers ample cross-country skiing trails, as well as waterfall features. Rentals are available at most ski centers, along with night skiing, and full moon ski parties!
Experience a Winter Carnival (Various Locations) 

These are not so much once-in-a-lifetime experiences as they are traditions that are meant to be enjoyed every year. One of the crowning events of the season is a 10-day extravaganza in the Adirondacks, the Saranac Lake Winter Carnival. Slated for February 4-13, this annual fete features fun for the whole family. Wander through the life-sized ice palace, see who can toss a cast-iron frying pan the farthest during the Women's Fry Pan Toss, and enjoy nightly entertainment at several venues throughout town. Syracuse Winterfest is a party where all ages are invited. Enjoy dozens of indoor and outdoor events, cook-offs and tastings, as well as dazzling fireworks. The 11 days of fun kick off on February 17. Long Island Winterfest offers seven weeks of wine and beer tasting, live music, art exhibitions, theatrical performances, and more. Or attend the month-long Lake George Winter Carnival (pictured) every weekend in February, and discover the variety of festivals and events that help make winter fun!
Go climbing (Various Regions) 
Credit: @basilt on Instagram
Whether you're looking for an ice climbing guide, or for new walls to conquer, there are plenty of destinations across New York State that offer climbing for all abilities. Book a guide and hit the 'Gunks (pictured) for a winter climbing 101 course and master the basics. If scaling icy rocks outside doesn't sound appealing, head to Niagara Climbing Center or the Hudson Valley's BC's Climbing Gym for indoor rock climbing.
Don't forget to post photos of your New York winter adventures on Instagram and Twitter with #iSpyNY and tag us on Facebook!