July is like the Saturday of summer; we're officially in the swing of warm-weather fun, but there's no stress about the season coming to an end anytime soon. Best of all, the month is packed with festivals, celebrations, fairs, and hot-dog-eating contests to make summer memorable. Read on to see the exciting events happening statewide that'll make you forget all about how much you're sweating.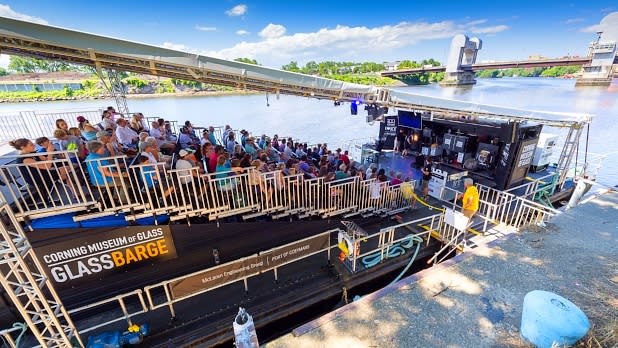 Way back in 1868, the Brooklyn Flint Glass Company packed up and moved to Corning via the New York Waterways. Today, the Corning Museum commemorates that journey, and the waterways' impact on New York's industries and culture, by sending a 30' x 80' canal barge carrying glassmaking equipment from Brooklyn to Corning, making pit stops at the ports along the way. During the month of July the barge will voyage from Little Falls to Tonawanda, stopping in Ilion, Rome, Sylvan Beach, Baldwinsville, Lyons, Fairport, Holley, and Lockport. Check their website to find out when and where to see glassblowing that will blow your mind (sorry). July 1 - July 31; Various locations; Free
Nathan's Famous 4th of July Hot Dog-Eating Contest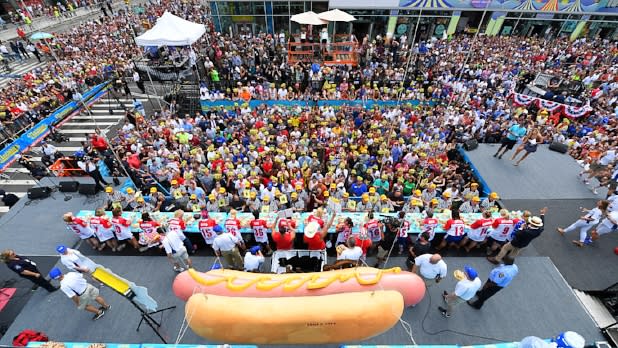 We are not recommending you attempt to eat 72 hot dogs (last year's record-breaking win), but we definitely recommend you join the spectators at Nathan's Famous 4th of July Hot-Dog-Eating Contest in Coney Island. Take part in the 46-year-old tradition of cheering on reigning champions or courageous underdog newcomers as they attempt this superhuman feat. See who will win the coveted Mustard Belt of glory—oh, and a $40,000 prize. Don't be surprised if you find yourself in line at Nathan's flagship restaurant waiting to get yourself a hot dog after the show. July 4; Coney Island; Free
Taste of Buffalo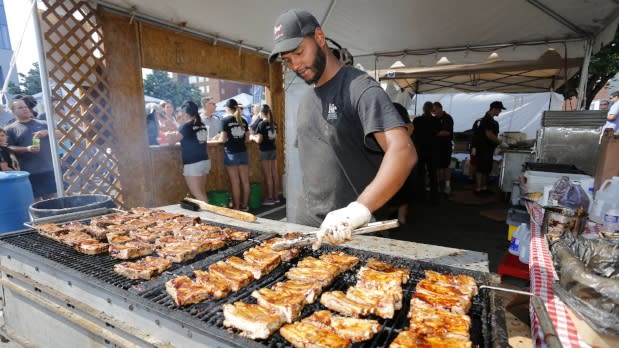 Welcome to Taste of Buffalo, the largest two-day food festival in the United States. That's probably enough information to get some of you planning your trip instantly, but if you need more details: the Taste is a 35-year-running, weekend-long festival smack dab in the middle of Downtown Buffalo dedicated to showcasing local food and entertainment. And it's free to get in! Plus, you can feel good about all the snacks and dishes you devour because a portion of the proceeds goes to giving high school seniors scholarships to pursue a degree in the culinary arts or hospitality. During munch breaks, kids can explore the KidZone for story-telling, scavenger hunt assignments, and a pop-up food exhibit courtesy of the Explore & More Children's Museum. As for food, whether you check out the vendors in advance and make a plan, or just play it by...belly, with all the options in American food, ethnic cuisine, street food, desserts, and more, we're sure you'll find something to your taste. July 7- July 8; Buffalo; Free entry
Nyack Famous Street Fair
Photo Credit: Pat Tita
You can't let the month slip by without at least one good street fair, and this is a famously great one. The Nyack Famous Street Fair features well over 300 exhibitors who carefully set up their handmade arts, crafts, collectibles, home décor, and knick-knacks—you name it, it's probably here. Local Nyack restaurants show up to serve their classic dishes in outdoor tents, but you'll also find all the sweet, sticky, fried fair foods you're looking for. Enjoy the live music at the Main Street gazebo, and let the kids loose on the variety of inflatable bounce houses in the Kid's Zone. July 8; Nyack; Free
Great South Bay Music Festival 2018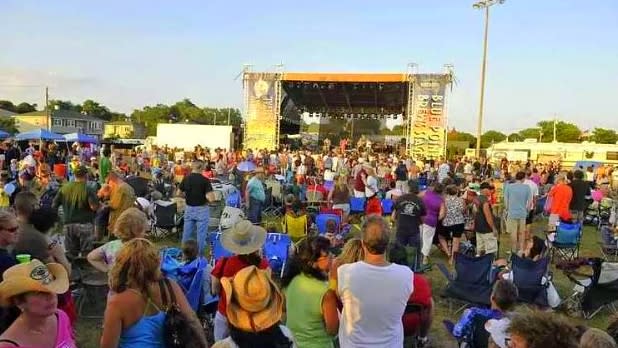 Take all that patriotic energy from the 4th of July and buy your tickets to Long Island's enormous "American Themed" Great South Bay Music Festival. Representing every genre of American music, from classic rock, to jazz, to folk, 60 artists will play across four stages. In addition to music, the festival includes a handmade arts and crafts component with its Great South Bay Artisan Market, as well as a food court with a diverse array of gourmet and international eats. Take your kids over to the KIDZONE to find all-day entertainment, including puppet shows, storytelling, decorative wall-painting, and a live Sunday performance by Disney's Imagination Movers. July 12 - July 15; Patchogue; Ticket prices vary
Woodsmen's Days
We know the lumberjack aesthetic rose to trendiness in recent years, but Tupper Lake has been celebrating its logging and lumberjacking heritage for decades. You can join in the fun by attending this year's Woodsmen's Days! The weekend-long festival is comprised of various logging sports and games, including tug-of-war, a chainsaw carving competition, and a "Dance Your Ax Off"-themed parade! The festivities are not just for Woodsmen (and Woodswomen)—kids can try out their skills on the Jr. Woodsmen's Obstacle Course, relay races, a Kids' Greased Pole competition, and more. You're not required to dress up in red plaid shirts and mini work boots but it would make for an adorable photo opp... July 14 - July 15; Tupper Lake; Free
Grey Fox Bluegrass Festival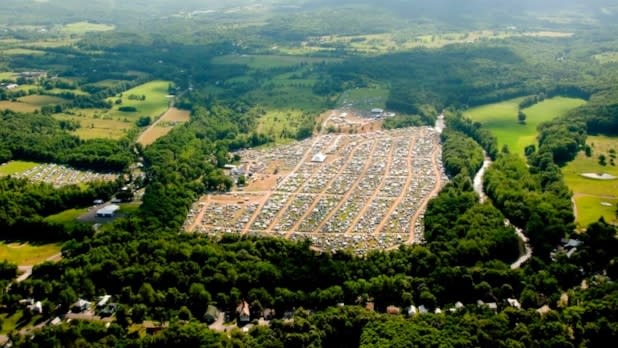 The best way to experience Bluegrass has to be outdoors, on a warm day, with the hand-clapping and foot-stomping of a large, happy crowd. That's exactly why you don't want to miss this year's Grey Fox Bluegrass Festival, one of the largest of its kind. You'll find performances from all the who's who in Bluegrass—more than 40 bands!—across six stages. Start your days with morning yoga or meditation, practice your instrument (if you play one) at one of the festival's workshops, and regain your energy by digging in at the local and foreign food stands. Check out the Family Stage for T-shirt tie-dying, clown performances, and arts and crafts—which even include making your own instrument! If your little one is eager to learn how to play and sing Bluegrass (and if you register in advance) you can also take advantage of the Grey Fox Bluegrass Academy for Kids. July 19 - July 22; Oak Hill; Single-day passes $80, full Fest with camping: $225, kids 12 and under free with ticketed adult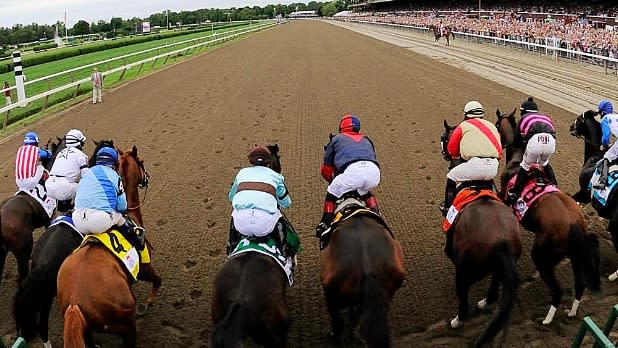 Saratogans (and horse-racing fans) know that it's not really summer yet until Saratoga Race Track Opening Day. So get ready for Friday, July 20, which kicks off 40 days of Thoroughbred-racing. Book single-seat tickets to watch from the Grandstand or Clubhouse, or just kick back on blankets or lawn chairs and watch the action from large TV screens around the grounds. Don't feel like packing a picnic? Grab something tasty from the many concession stands where you can find options like lobster rolls, mac n' cheese, Ben & Jerry's, and more. And they're off! July 20; Saratoga Springs; Grandstand Admission: $5 in advance, $7 at the gate (Children 12 and under are free with adult). Clubhouse Admission: $8 in advance, $10 at the gate
43rd Annual Great Wellsville Balloon Rally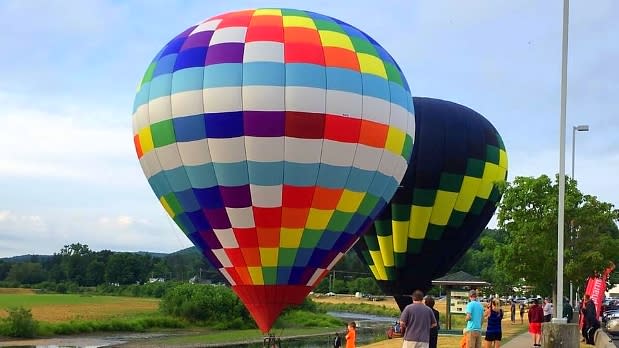 One of the biggest ballooning events in the country is about to celebrate its 43rd anniversary. Head to Island Park in Wellsville to take in the sight of more than 35 enormous hot air balloons filling the sky with color. You can take it easy just camping out and having a picnic, or you can "chase" your favorite balloon—as long as you don't collide with the official chase crews! While you grab snacks from the on-site food vendors and shop souvenirs from the Official Great Wellsville Balloon Rally store, kids can enjoy some more inflatable fun in bounce houses. Don't forget to bring your camera! July 20 - July 22; Wellsville; Free
Seneca Falls Convention Days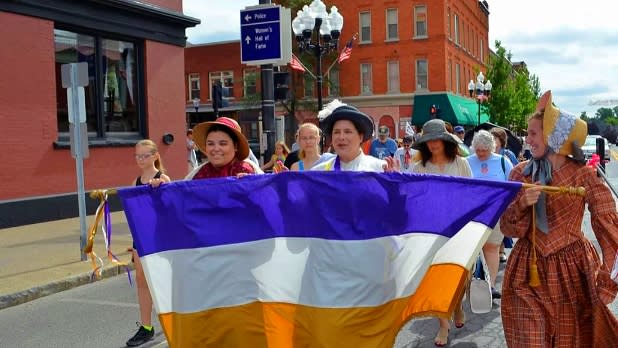 America's independence isn't the only event worthy of commemoration this month. 2018 marks the 101st anniversary of women winning the right to vote in New York, making it the only state east of the Mississippi to pass the amendment at the time. It's no wonder then that Seneca Falls, home of the nation's first women's rights convention, is the perfect place to celebrate. Every year the town organizes a weekend of festivities which include a community art project, storytime for children, walking tours, a Women's Suffrage Procession, and more. July 20 - July 22; Seneca Falls; Free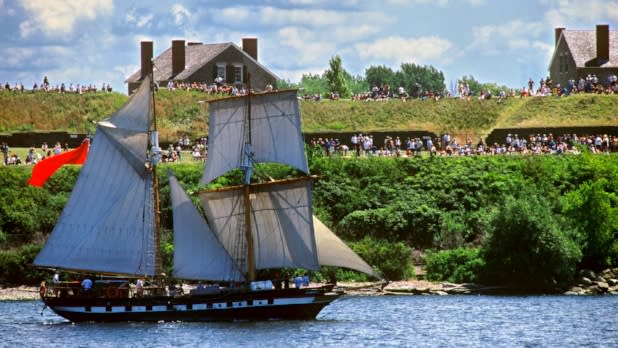 Fireworks and summer festivities are not just for 4th of July! The enormous Oswego Harborfest brings you four full days of family fun to round out the month. Come ready to rock out to music performances from more than 50 artists and shop from artisan craft vendors. With midway rides, a children's parade, magic shows, and crafts booths, kids have enough to do to stay entertained and delighted all weekend. The festival comes to a magnificent close with a fireworks display over the harbor. July 26 - July 29; Oswego; Free
Baseball Hall of Fame Induction Weekend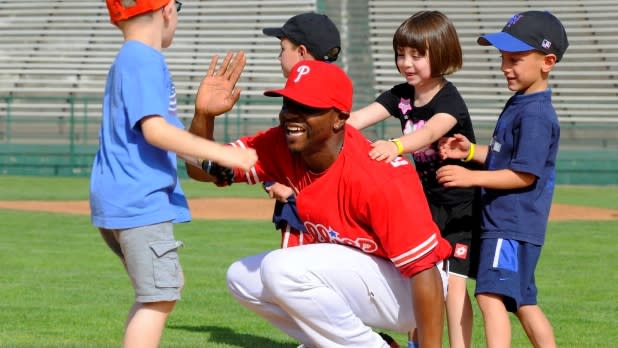 Be a part of baseball history this summer. Join dozens of Baseball Hall of Famers plus thousands of other fans in welcoming the year's new inductees Chipper Jones, Vladimir Guerrero, Jim Thome, Trevor Hoffman, Jack Morris, and Alan Trammell. Besides witnessing the induction ceremony, stay to watch an award presentation, the annual Parade of Legends, and roundtable discussions with the players. Cooperstown lodgings book up early, so if you're looking to stay the weekend, consider spending the nights in Albany—and place your reservations now for the next unforgettable baseball weekend in 2019! July 27 - July 30; Cooperstown; Free
Don't forget to share your summer vacation with us! Share New York State pictures on Instagram and Twitter with #ILoveNY and #iSpyNY and tag us on Facebook!