It's summertime and the living is easy! At least in New York State it is, because there are so many events and fun things to do that being bored is not an option. July is a month full of amazing outdoor festivals celebrating everything from music to food, culture, horse racing, the anniversary of the moon landing, and lumberjacking! Read on for inspiration on how to live your best summer.

The Canalway Challenge is an initiative by the Erie Canalway National Heritage Corridor that challenges folks of all fitness levels to run, walk, cycle, or paddle along the New York State Canal System and Canalway Trail, passing scenic and historic stops along the way. This year, as John Robinson, CEO of Our Ability, Inc, completes his 7th journey, he and his team are inviting people with disabilities to join them for the 1st Mile Challenge. Segments of the trail have accessible kayak launches and plenty of paved sections accessible for wheelchairs and hand cycles. Everyone can complete one mile and feel amazing, so come make yourself proud! July 1–10; Waterford; Free
Ellicottville's Summer Music Festival (Chautauqua-Allegheny)

Credit: Ellicottville Chamber of Commerce
Independence Day falls on a Thursday this year, which probably means your weekend is starting early. Head to Ellicottville for an amazing outdoor concert out on the lawn at the Holiday Valley resort. Don Felder, longtime guitarist in legendary rock band the Eagles, is this year's Saturday night headliner, with opener Caitlin Koch, the singing rugby coach on The X Factor, USA. On Sunday, the Buffalo Philharmonic plays booming renditions of the "1812 Overture" and "Stars and Stripes Forever" as the score for a mesmerizing fireworks display. July 5–7; Ellicottville; Ticket prices vary by day, children 12 and under free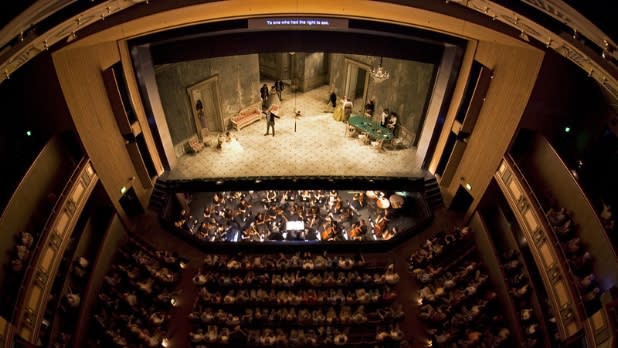 On the shores of "glimmering" Otsego Lake, the Alice Busch Opera Theater houses the annual Glimmerglass Festival, a month-long celebration of opera. Opera-lovers (or newbies!) can enjoy the powerful vocal performances in shows such as La traviata, The Ghost of Versailles, Show Boat, and more. On July 26, in a very special event, famous opera fan, Supreme Court Justice Ruth Bader Ginsburg, will participate in a program where young artists act out scenes of law and justice followed by her own commentary. It's sure to sell out fast, so buy your tickets now! July 6–28, select dates only; Cooperstown; Ticket prices vary
Saratoga Race Track Opening Day (Capital-Saratoga)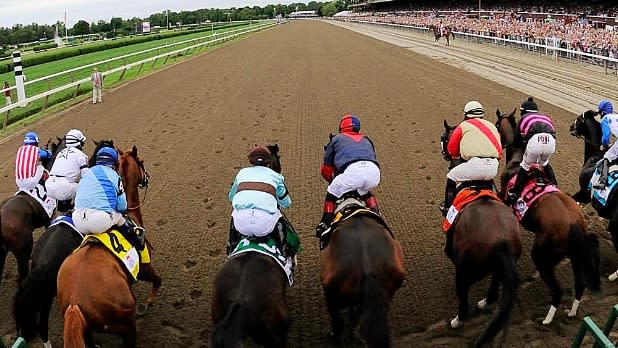 In Saratoga Springs, it doesn't truly feel like summer until racing season begins. Luckily, July 11 kicks off eight weeks of chances to get in on the excitement. Book single-seat tickets and watch from the grandstand or clubhouse, or bring a cooler and lawn chairs and relax around the grounds. They show everything happening on the race track on large TV screens so you'll still get to watch all the action. No need to pack a picnic; there are plenty of concession stands with options like lobster rolls, mac n' cheese, Ben & Jerry's, and more. July 11; Saratoga Springs; Grandstand Admission: $5 in advance, $7 at the gate (Children 12 and under are free with adult). Clubhouse Admission: $8 in advance, $10 at the gate
Woodsmen's Days (Adirondacks)
How much wood could a lumberjack chuck if a lumberjack could chuck wood? Come find out! Tupper Lake has a rich history of logging and lumberjacking dating back to the 1930s and a fun festival that celebrates it: the Woodsmen's Days. This jam-packed weekend includes chainsaw carving competitions, dinners, live music, games, a parade, and competitions like seeing who can climb a greased pole the fastest. The event is family-friendly, so kids can come to watch and even join in their own greased-pole competition! July 12–14; Tupper Lake; Free
The Cape Vincent French Festival (Thousand Islands-Seaway)
Bonjour, Francophiles! Don't miss out on Cape Vincent's 51st Annual French Festival Celebration, which commemorates this waterfront town's extensive ties to French history. The festival kicks off on Friday evening with a family block party and continues into Saturday and Sunday with French pastries on sale, hundreds of arts and craft vendors in the streets, train rides for the kiddos, puppet shows, magic shows, juggling performances, concerts, and a fireworks display Saturday night on the waterfront. Allons-y! July 12–14; Cape Vincent; Free
28th Annual Hudson Valley Hot-Air Balloon Festival (Hudson Valley)
Get carried up, up, and away at the 28th Annual Hudson Valley Hot-Air Balloon Festival! Besides enjoying live music, craft beverage tastings (for those 21+), hayrides, kids' activities, and food and crafts vendors, you can witness the magic of watching hundreds of balloons take off into the sky each day of the festival. Step it up a notch by booking a ride in a tethered balloon or even in a helicopter! Each day ends with a Majestic Hot-Air Balloon Illumination Moon Glow—when all the balloons are back on the ground, still inflated and lit up, glowing into the night. It's a beautiful ambiance. July 12–14; Rhinebeck; Advance tickets online $10, at the gate $14, children 3 and under free
Taste of Buffalo (Greater Niagara)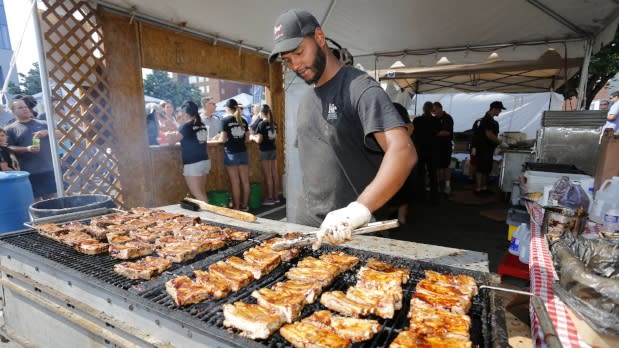 Get ready to eat your way through the country's largest two-day food festival. This decades-old, weekend-long festival is on a mission to provide a free and fun time for families and visitors to Buffalo. Food is the main component, but it's a feast for all the senses. There will be live music (bands, DJs, and karaoke) in three different entertainment tents, and an interactive KidZone area with a pop-up food play exhibit by the Explore & More Children's Museum. As for the food, try bites of soul food, cheesecake, seafood, pizza, tacos, hot dogs, donuts, pierogies, schnitzel, Indian food, ice cream, and so much more. Entry is totally free and all samples are between $1 and $5. July 13–14; Buffalo; Free entry
Corn Hill Art Festival (Finger Lakes)
This is actually not a festival all about corn but a celebration of the arts scene in Corn Hill, a neighborhood in Rochester. Across the area's nine picturesque, tree-lined streets, you can browse the work of more than 325 artists while musicians supply the soundtrack from four stages. (Adults can check out the beer and wine gardens to add a little oomph to their art appreciation.) Be sure to check out the Emerging Artist Expo to see the mind-boggling talent of local young artists. July 13–14; Rochester; Free
Grey Fox Bluegrass Festival (Catskills)

Credit: Dave Weiland, Grey Fox Staff Photographer
Take it from us, bluegrass was made for warm summer days. The Grey Fox Bluegrass Festival calls itself "A Who's Who of Bluegrass in the Catskill Mountains," and indeed it is one of the country's largest bluegrass festivals with nearly 40 artists and bands. Besides grooving to the music on six stages, enjoy fun activities and programs. Start each morning with yoga or meditation, dig into ethnic and regional fresh foods, and shop from craft vendors. The festival is dedicated to inspiring future generations of bluegrass musicians, so every year the Grey Fox Bluegrass Academy for Kids offers on-premise classes in banjo, bass, cello, dobro, fiddle, guitar, and mandolin for kids ages eight and up. If your little one is interested, you should definitely think about registering in advance. Finally, it turns out a bunch of bluegrass fans are also fantastic musicians, so show up one day earlier, on Wednesday, July 17, for an open-mic night showcasing their talent. July 18–21; Oak Hill; Ticket prices vary
Great South Bay Music Festival (Long Island)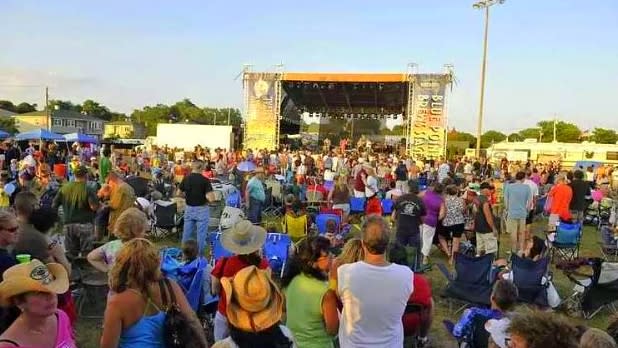 What is "American music"? It's so many different genres! Long Island's enormous four-day Great South Bay Music Festival provides the chance to immerse yourself in many diverse music cultures. Come watch more than 60 performers across four stages and treat your ears to classic rock, jazz, jam-bands, country, folk, zydeco, funk, and more. Plus, walk around the Artisan Market and shop handmade crafts, and munch on various cuisines at the food court. It's also known as THE "Family Friendly Music Fest" thanks to its KidZone with all-day entertainment for the little ones. July 18–21; Patchogue; Ticket prices vary
Free Youth Golf Day (Multiple Regions)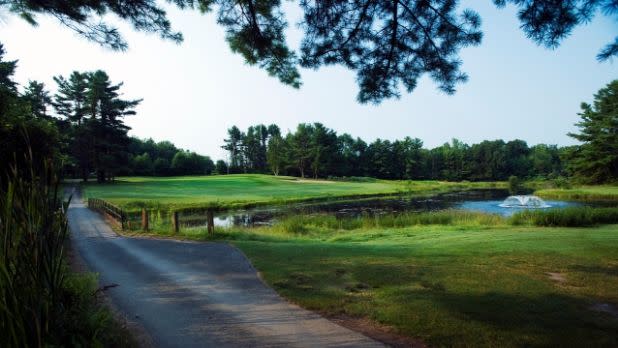 July 20 is Free Youth Golf Day! Kids ages 18 and under can play a round at any of the state's 28 New York State Parks golf courses (like Saratoga Spa State Park Golf Course, pictured) for free! Most of the courses let you book your tee times in advance online, here at this link. July 20; Multiple regions; Free
Apollo Moon Fest (Long Island)
Fifty years ago on July 20, Neil Armstrong took one small step for man and one giant leap for mankind as 600 million people watched. Come celebrate this incredible feat of human ingenuity at the Cradle of Aviation, home to the largest collection of Apollo artifacts on display. You'll get the chance to meet shuttle astronauts, watch the Apollo 11: First Steps Edition documentary, try VR experiences, launch a model rocket, peer through solar telescopes, and more. July 20; Garden City; $20 for adults and $15 for children ages 2–12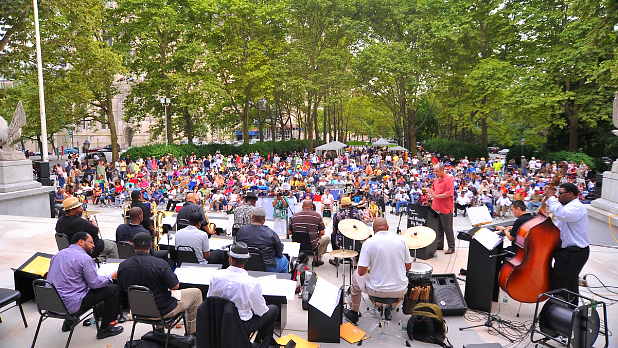 In 1974, the first Harlem Day was held, a celebration of the neighborhood culture. Then it grew into Harlem Week, and then essentially into Harlem month, though the name hasn't changed. Attend hundreds of events from film festivals to fashion shows. Roam through bustling street fairs, shop arts and crafts, hear live music, watch dancing, and devour NYC's tastiest morsels. There are kid-friendly parades, games, and exhibits so bring the whole family! July 28–August 24; New York; Free
Don't forget to share your summer vacation with us! Share New York State pictures on Instagram and Twitter with #FindWhatYouLoveNY and tag us on Facebook!