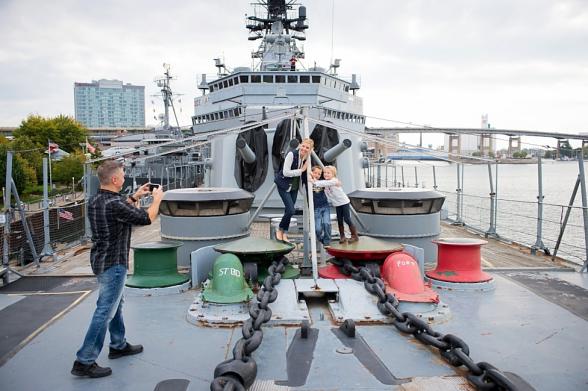 Meet Buffalo, New York's second-largest city—home to world-famous food, a legendary minor league baseball team, and tons of fun things for the whole family to do. Niagara Falls is just a short drive away, but it doesn't have to steal the spotlight! Buffalo is bursting with places to eat, explore, stroll, and even dig for treasures. Read on to see why your kids (and you) will fall in love.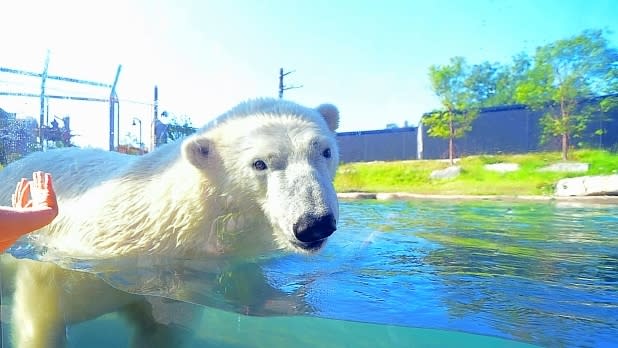 Buffalo boasts an incredible zoo with intricate habitats that keep its animals happy and healthy. Take your little ones to visit Luna the polar bear and the adorable fluffy white foxes in the "Arctic Edge" exhibit. The Delta Sonic Heritage Farm is a re-creation from the mid-1800s where kids can learn about the impact local wildlife has had on American history. The zoo's incredible M&T Bank Rainforest Falls exhibit exists inside an enormous greenhouse kept at tropical temperatures and includes a two-story waterfall and terrains modeled after Venezuela's Canaima National Park. Various monkey species, giant anteaters, ocelots, and armadillos are a few of the amazing creatures you'll find there. Ages 2–12 $10.95; 13–64 $13.95; seniors $11.95; 23 months and under free

Photographer: Buffalo Museum of Science 
The Buffalo Museum of Science wants you to "Rethink Extinct" by exploring their rare Elephant Bird Egg, which was mistaken as a replica until 2018. Go now to see this unique relic of the 1,100-pound flightless elephant bird which has been extinct for centuries. While you're there, you'll find tons of other fun and interactive displays to get kids psyched about science. From "Explore YOU," which features touch screens that illuminate the inner workings of the human body, to the new exhibit called "Golden Mummies of Egypt," which opens February 8, the museum is dedicated to explaining the world around us in innovative and engaging ways. Ages 2–17, seniors, students, and military $11.00; adults $14.00; museum members free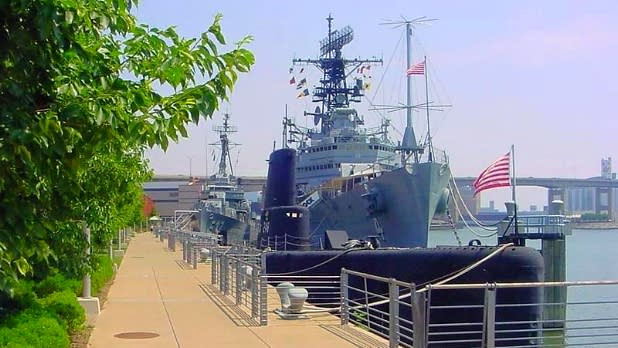 The city of Buffalo redeveloped its waterfront, transforming it into a destination for locals and tourists alike, and the result is spectacular. Families can rent paddle boats and kayaks to take out onto the water, eat at the waterfront restaurants, and snap selfies with the public art—such as current Instagram star, "Shark Girl" (a statue of a little girl in a sweet summer dress but with a shark's head!). Another treasure is the Grain Elevator Light Display. Every night at sundown, the facade of this enormous historic structure is illuminated with light shows, paying homage to the city's industrial heritage while setting the mood with gorgeous lighting for evening guests. Stay warm in heated geometric igloos that are sure to light up your night and create the perfect photo on Instagram! Don't forget to take a spin on the solar-powered vintage Buffalo Heritage Carousel for just $1! Next to the commercial area, families can board three decommissioned naval ships at the Buffalo and Erie County Naval & Military Park, including a WWII missile cruiser, U.S. destroyer, and a submarine.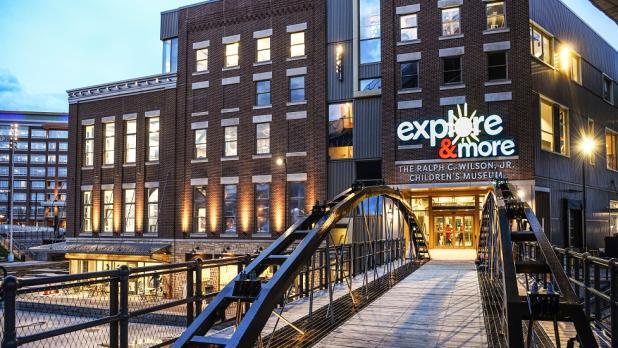 Speaking of Canalside, the new Explore & More—The Ralph C. Wilson, Jr. Children's Museum on the scenic waterfront is a must. This museum keeps the entertainment going for hours. Learn all about Buffalo's history with seven different play zones. Families can learn about Buffalo's waterways, sports teams, diversity, and invention contributions. Children can also learn how to grow plants, make their own experiments, and be creative in the art studio. Finish your fun visit at the rooftop terrace and check out the city skyline. $11 for children and adults, free for infants under 12 months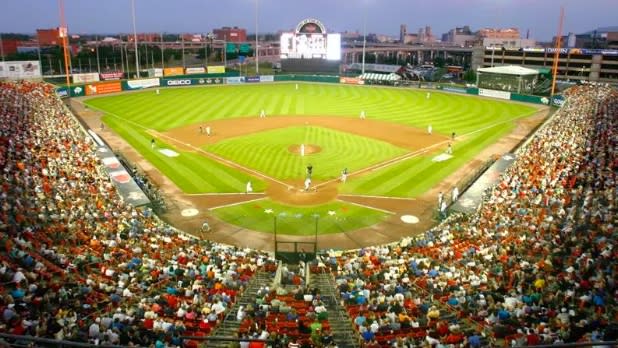 Take your family out to a Buffalo Bisons ballgame at Sahlen Field. The concession stands serve craft beer for adults and a number of unusual food options in addition to the classics, such as pierogi, pizza logs (a cross between pizza and egg roll—delicious), and gluten-free fare. The Bisons' season begins in April. General admission $11
Take a ride on the water side of Buffalo and see the city from a new angle. You and your family can choose from several options aboard the Miss Buffalo II, including the Landmark Cruise which offers a narrated story line to accompany the sights. Then there's the Buffalo Harbor cruise which takes you through Lake Erie, Niagara River, Buffalo River, and Black Rock Canal and passes Buffalo's original lighthouse built in 1833. The Historic Buffalo River Cruise is their longest-running trip and delves deep into the city's history. You'll learn from knowledgeable guides about how the city grew and prospered thanks to its waterways and pass by WWII warships and the Buffalo waterfront. $19–$22; children $14; ages 3 and under free

Photographer: Jim Bush Photography
Any kid who loves story time can appreciate the magic of seeing stories come to life through the Theatre of Youth's (TOY) original productions. TOY creates shows for all ages and even offers special shows that are "sensory-friendly," where the audience is welcome to move around in any way that feels comfortable to them. Here's your chance to share your love of theater with your young ones while also letting the actors deliver feel-good messages about family and friendship via entertainment. The actors often come out on stage post-performance to chat with the crowd. Their season for plays wraps up by mid-May, but they'll be offering drama classes for various age ranges starting February and throughout the spring. Tickets $15–$28
The Buffalo Wing Trail

Credit: Drew Brown, Eric Frick & Gene McCarthys
Whether you're visiting Buffalo solely for the chicken wings (we don't judge) or you're there for other attractions, take advantage of being in the home of this national culinary treasure. Take a foodie tour of the city by following the Buffalo Wing Trail, making stops at a dozen local favorite wing stops. The final selections were chosen by polling more than 86,000 followers on Facebook, before being approved by wing-aficionado and National Buffalo Wing Festival founder Drew Cerza. The trail includes options beyond the classic, such as blue cheese wings, hot wings, Sicilian wings, and even peanut butter and jelly wings! Prices vary
Welcome to an entire restaurant dedicated to a kid-friendly staple: grilled cheese. Buffalo Melting Point serves up a traditional grilled cheese with your choice of cheese for just $6, or the "Classic Grilled Cheese," simply American cheese on white bread for $1.99! Even if your kids are content with the simple stuff, they offer more sophisticated interpretations, such as brie, cheddar, Granny Smith apples, caramelized onions and a drizzle of honey, or provolone with capicola, roasted red onion, tomato, and basil pesto.

Credit: Dan Czuba and Kathrine Kuo Design
This is not a comedy about sports—this is the sport of comedy! Come one, come all to this legendary Buffalo performance that turns improv comedy into a competition. Two teams go head-to-head to "out-funny" each other in a contest moderated by a referee and scored by votes from the audience. This sport even has its own version of fouls—such as inappropriate suggestions—which result in the comedians having to wear a brown paper bag over their heads. The comedy matches are family-friendly, though they do offer 18+ shows after hours every Saturday night. $3–$12; children/students/seniors $3–$9

Photographer: Penn Dixie and Staff
Just a 16-minute drive from Buffalo, something exciting is waiting to be unearthed—literally! At Penn Dixie (which opens in April), the country's largest fossil park, you and your family can explore a whopping 54 acres of land that include nature trails, wetlands, and an enormous quarry rich with real fossils. Though different areas contain different types, most of the fossils are from Devonian era marine life and have been buried under layers of rock for the past 400 million years. The site is so replete with fossils—tens of thousands of them—that you're guaranteed to find something. A new area is excavated every spring to keep the options exciting. Trained staff can assist in your search, or you can simply dig in, get your hands dirty, and enjoy the thrill of this natural treasure hunt. On Saturdays and Sundays, the Center hosts guided collecting tours at regular admission prices. $12; seniors, military, and students with ID $11; children ages 3–17 $9