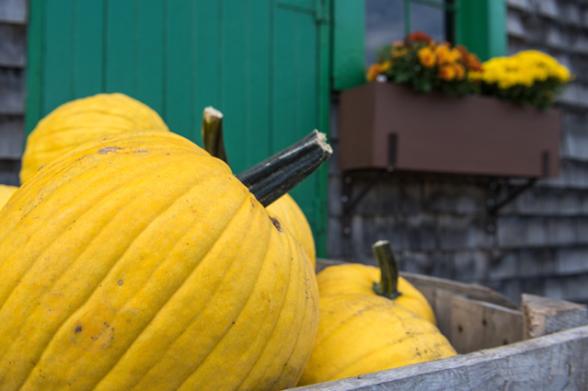 Why is New York in the fall so magical? The leaves change from deep green to dazzling shades of orange, red, and yellow. The warm air turns crisp and cool. The activities offer fall family fun for everyone, with apple picking and scenic drives, colorful hikes, and romantic small-town getaways. For many New Yorkers, fall is a favorite season—a time to get out the cozy sweaters and scarves and to explore the state's natural beauty, a time for change and new beginnings. Here are 10 things to make you fall in love with New York all over again. 
Masks are encouraged, but optional in most settings per New York State guidelines. Individual businesses or attractions may require mask wearing. Call ahead and check websites and social media to make sure attractions and amenities are open and available.
Updated 7/26/23
1. Apple and Pumpkin Picking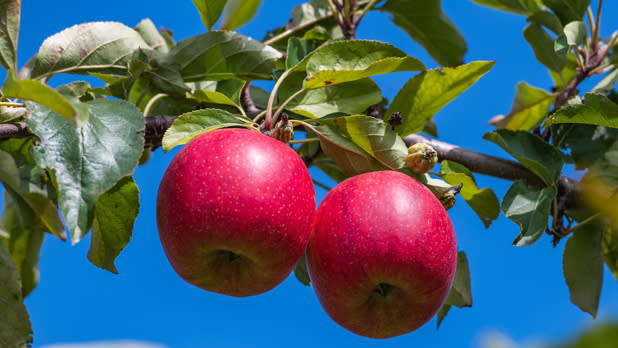 The perfect way to get into the fall spirit is to pick delicious apples right off the tree or find the biggest pumpkin for carving. Bite into crisp Jonamac, Gala, and  other varieties of apples at Woodside Orchards on Long Island. Spend the day at Beak & Skiff Apple Farm in the Finger Lakes and find the apple that meets your eye, from Ginger Gold to Fuji, or fill your sweet tooth at the Beak & Skiff Bakery while the children climb the Kids Treehouse and ride down the giant slides. Reserve your time slot to get your fall fill at Old McDonald's Farm in Thousand Islands-Seaway. Hop on a hayride, go for the green on the putting holes and lawn games, visit with over 200 friendly farm animals, and conclude your trip with a visit to the pumpkin patch! Indian Ladder Farms (pictured) in Capital-Saratoga offers over 40 varieties of apples from McIntosh to Macoun and a number of pumpkin patches throughout the farm. For the most up-to-date list of pick-your-own varieties, call Indian Ladder's hotline at 866-640-PICK.
2. Apple Cider Donuts
The only thing better than a regular donut is an apple cider donut! These fried delicacies are served on New York farms hot and fresh, and can be found throughout the state—especially in fall! The apple cider donuts at Golden Harvest Farms have been voted number one by Capital Region Living magazine most years, so grab them while they're hot (and made fresh every morning!). Pair your hard cider or apple wine with an apple cider donut at Fly Creek Cider Mill in Central New York, or enjoy different flavors of apple cider donuts at Wagers Cider Mill in the Finger Lakes, from classic to maple. If you're in New York City, pick up a dozen apple cider donuts from the Wilklow Orchards stand at Brooklyn's Fort Greene Park Greenmarket, Grand Army Greenmarket, or Borough Hall Greenmarket, or in Manhattan at the Union Square Greenmarket.
3. Craft Breweries, Cideries, and Wineries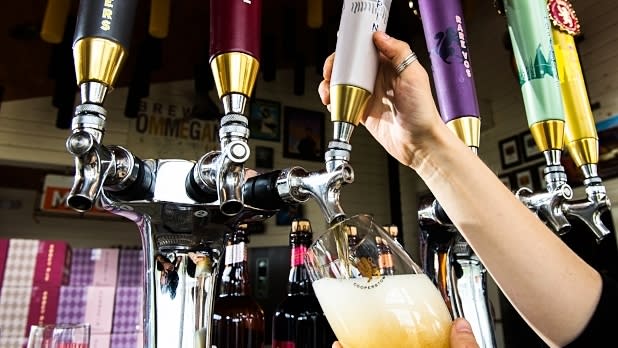 Enjoy a glass of wine or pint of beer or cider with your family or partner. Brewery Ommegang (pictured) in Central New York's Cooperstown is a BIG name in the craft brewery scene, and the cafe's chicken & waffles or Nashville mac & cheese are sure to please! Sip on a Tibbetts Point Porter or Seaway Citra IPA at Cape Vincent Brewing Company in the Thousand Islands-Seaway region, or a heavily hopped Hurricane Kitty IPA at Keegan's Ales in Kingston in the Hudson Valley. In the mood for a little bubbly? Grab a table on the outdoor patio at Sparkling Pointe Vineyards, an architectural beauty in the style of an elegant French country manor on the North Fork of Long Island. You can't go wrong with a wood-fired pizza, boneless wings, or beer cheese dip at Saratoga Springs' Druthers Brewing Company in Capital-Saratoga, and don't forget to wash it down with a cold one!
4. Fall Foliage Hikes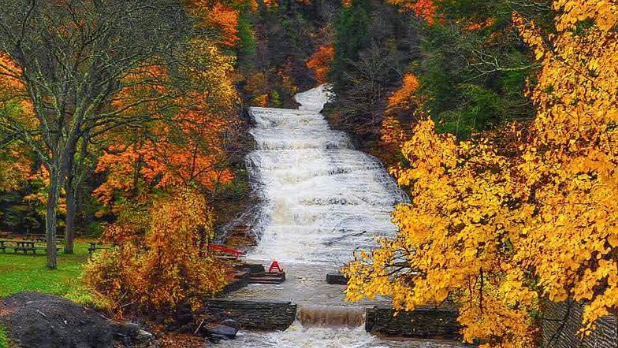 Take in the scenery on one of the many hikes and trails that New York State has to offer! From the Catskill Scenic Trail, which provides 26 miles of hiking, biking, and horseback riding in the Catskills to the Tupper Lake Triad in the Adirondacks, a three-mountain effort that's the perfect entry for new and inexperienced hikers, there are so many trails to explore. Immerse yourself in nature at the Panama Rocks Scenic Park in Chautauqua-Allegheny, or head to the Finger Lakes and admire 500 feet of cascades surrounded by red, orange, and yellow trees at Buttermilk Falls State Park (pictured) in Ithaca. Tuller Hill State Forest in the Finger Lakes spans over 2,000 acres decorated with ferns, lilies, clubmoss, and even orchids in the forest, making for the perfect hiking destination. Get ready to be amazed at Five Rivers Environmental Education Center, a living museum comprising over 450 acres of broad fields, towering forests, and tranquil wetlands in the Capital-Saratoga region. I LOVE NY publishes updated Fall Foliage Reports every Wednesday so you can keep tabs on the changing leaves!
5. Zipline Tours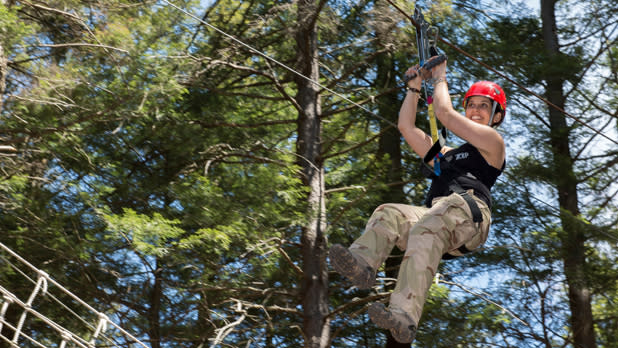 If you're feeling more adventurous, discover New York State's mesmerizing fall foliage from soaring new heights. Feel the autumn breeze on various ziplines as you make your way through 13 above-ground courses at the Holiday Valley Sky High Adventure Park in Ellicottville in the Chautauqua-Allegheny region, or fly 110 feet in the air between Buffalo's Historic GLF Silos at Buffalo RiverWorks in Greater Niagara. Bristol Mountain's Zipline Canopy Tour in the Finger Lakes features seven ziplines totaling over 5,000 feet, four heart-pounding bridges, two hikes, two off-road rides, and a final "leap of faith."  On Long Island check out WildPlay at Jones Beach, where you can zip the day away on a 700-foot oceanside zipline, explore 100 aerial adventure games, and leap into thin air on the 40-foot WTF (What's To Fear) jump!
6. Museums

Credit: Courtesy of Bethel Woods Center for the Arts
The 2023 Harvest Festival at Bethel Woods (pictured) in the Catskills connects the community to local farmers, vendors, and artisans while welcoming the fall season! The Festival, which is celebrating its 25th year, is held every Sunday from August 27 to October 1, and offers the perfect way to get into the fall spirit and shop local. Grab box lunches from the Crossroads Cafe at The Farmers' Museum in Central New York and picnic with the family, then stroll through the grounds and experience 19th-century rural village life through demonstrations and interpretive exhibits. In the Finger Lakes, step back in time at the Genesee Country Village & Museum and experience life in a 19th century American village, including the working brewery, blacksmith, pottery, tin shop, and farm animals.
7. Scenic Drives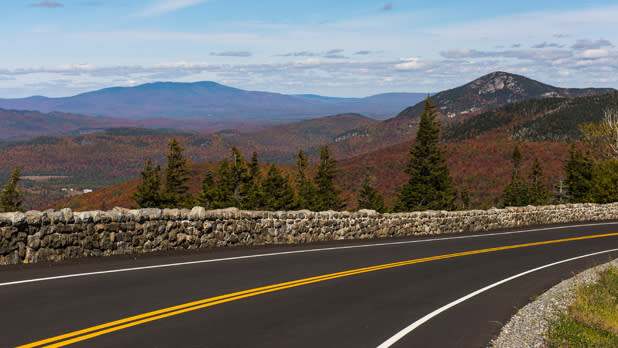 Hop in the car and go on a scenic drive surrounded by fall foliage! Whiteface Mountain Veteran's Memorial Highway (pictured) offers panoramic views of the Adirondack High Peaks, or drive through Harriman State Park to Bear Mountain on the Seven Lakes Drive in the Hudson Valley—an excellent spot for fall foliage viewing. Enjoy vistas, farmlands, and over 30,000 acres of nature preserves on the 88-mile Shawangunk Mountains Scenic Byway, a great outdoor escape in the Catskills. Take a trip from Southold to Orient Point on the North Fork Trail Scenic Byway, or go on a drive on a stretch of the Route 20 Scenic Byway, which runs through Capital-Saratoga, Central New York, and the Finger Lakes, offering rolling hills, abundant agriculture, deep history, and tranquil lakes. 
8. Corn Mazes

Credit: @rbkbagel on Instagram
Welcome the fall season by figuring your way out of the many corn mazes in New York State. Experience a five-acre corn maze during the day or at night (available select dates), or scare yourself in a haunted maze (October 21 and 28) at Fly Creek Valley Corn Maze (pictured) in Central New York. Get lost in the stalks at Engelke Farm just outside the Capital-Saratoga city of Troy, or reserve your tickets online and spend the day at Wickham Farms in the Finger Lakes, where you can pick between two corn mazes to explore. On Saturdays and Sundays until October 29, discover one of the longest-running corn mazes in the world at Long Acre Farms, also in the Finger Lakes. On Friday evenings, bring a flashlight and set out on the Moonlight Maze!
9. Haunted History

Things get eerie in fall! Whether you're a Halloween fan, history buff, or just looking to enjoy scenery, Sleepy Hollow Cemetery in the Hudson Valley offers guided walking tours on its 90-acre grounds. Walk the grounds of Fort Ontario State Historic Site, known for its paranormal activity, in the Thousand Islands-Seaway region. Get a private reading with a professional medium at Lily Dale Assembly in Chautauqua-Allegheny or take a divination class and learn about tarot cards, astrology, and more at the "world's largest center for the religion of spiritualism." Featured on Ghost Hunters and Most Terrifying Places in America, the Winery at Marjim Manor in Greater Niagara has a roster of ghosts that make regular appearances. Reserve their ghost hunt tour or other paranormal event. 
10. Small-town Romantic Getaways

Credit: Ayesha Thomas
The cool air, colorful leaves, and cozy atmosphere of fall in New York makes it the ideal time to experience the state's charming small towns. Take a romantic getaway to historic Rhinebeck in the Hudson Valley and stay at Mirbeau, which features a world-class spa and upscale dining at Willow by Charlie Palmer. For a getaway with a historic angle and to celebrate more than 100 years since the passage of the 19th Amendment, visit Seneca Falls, home to the Women's Rights National Historical Park. Looking for a relaxed, unique getaway? The quaint former spa town of Sharon Springs in Central New York features a historic main street with B&Bs and shops including the farm-inspired home goods store Beekman 1802 (pictured).