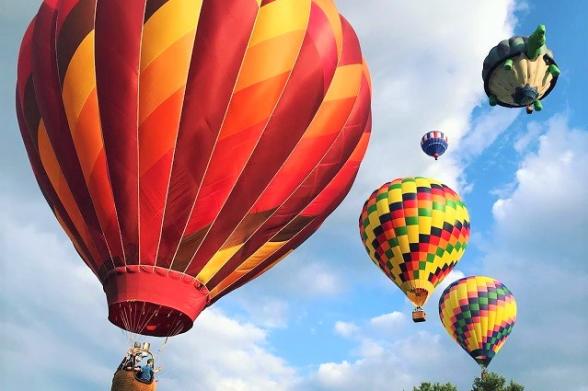 Credit: @eggypan on Instagram
Get ready for an exciting August in New York State. With a plethora of great events, celebrating everything from antique boats to interplanetary starships, food to comedy, and everything New York State, you're sure to find something you love!
Remember to social distance and wear a mask as required by state guidelines. Call ahead and check websites and social media to make sure attractions are open and available.
Through Aug. 21

Credit: Marta Zielinska
Now through August 21, NYC Restaurant Week, which is celebrating its 30th anniversary, lets you explore the five boroughs through specially priced prix-fixe menus at hundreds of participating restaurants. You can dive in to a 2-course lunch or 3-course dinner starting at $30.
Aug. 3-7
A laugh-filled celebration of all things comedy is coming to Lucille Ball's hometown of Jamestown for the annual Lucille Ball Comedy Festival! Each year, the festival brings together over 15,000 comedy fans from nearly every state in the country to share laughter at dozens of venues throughout the city, including the National Comedy Center and the Lucille Ball Desi Arnaz Museum. This year's festival, headlined by comics Jeff Foxworthy and Margaret Cho, also features more than 50 live events and artists, including the Legends of SNL show starring David Spade, Kevin Nealon, and Rob Schneider.
Aug. 5-7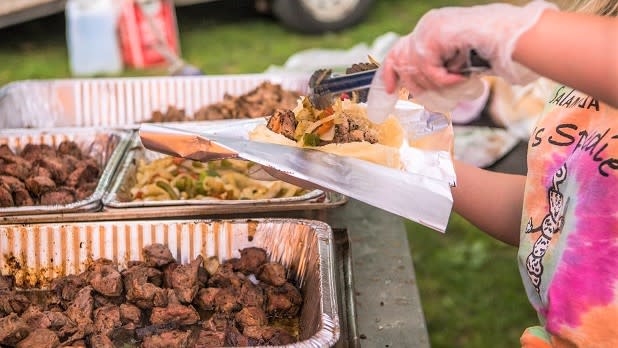 Have you ever enjoyed a spiedie? This Greater Binghamton-area treat, consisting of cubes of marinated, skewered, and grilled meat served on soft Italian bread is so delicious it's celebrated every year with a huge festival and hot air balloon rally! This year's Annual Spiedie Fest and Balloon Rally takes place August 5-7 in Binghamton's Otsiningo Park. It's a weekend packed with food, fun, cooking contests, and more than 50 hot air balloons, plus live entertainment including Lou Gramm of Foreigner, Brian Kelley of Florida George Line, and Gary LeVox of Rascal Flatts.
Aug. 5-7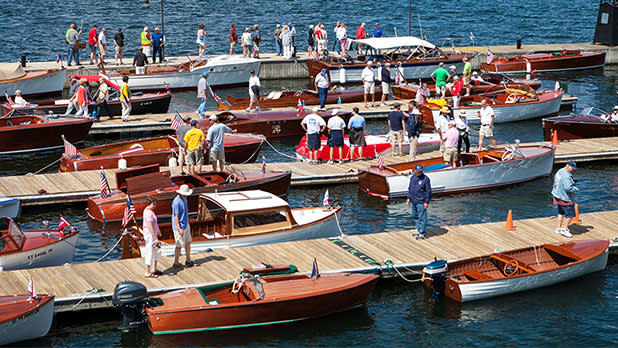 Celebrate the design, craftsmanship, engineering, and beauty of antique, historic, and classic boats and engines of all makes and models at the 58th Annual Antique Boat Show and Auction, August 5-7 at the Antique Boat Museum in Clayton. The event features historic boats and motors of all makes, models, and ages from across the United States and Canada! This year, attendees can mark Chris Craft's 100th anniversary, discover a "Queen of the River" and "Best on the River," as well as enjoy a reception on Saturday and a brunch on Sunday.
Aug. 6-7
Westhampton Beach's premier summer art show, the 49th Annual Mary O. Fritchie Juried Fine Arts & Craft Show, August 6-7, features dozens of artists specializing in artisan jewelry, oils, acrylics, pastels, watercolors, mixed media, wood and metal sculpture, and photography. All featured artists are chosen through a competitive selection process.
Aug. 12-21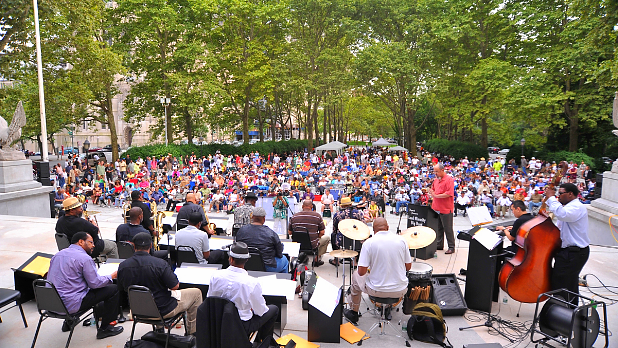 Celebrate the best of Harlem, including its rich African-American, African, Caribbean, Hispanic, and European history, as well as its arts, culture, religion, business, entertainment, and sports during the 48th Annual Harlem Week, August 12-21. This year's lineup of virtual and live events includes daily dance parties, a free SummerStage concert honoring the forefathers of hip-hop, a jazz performance on Central Park's Great Hill, a 5K run and walk, an outdoor film festival, and more. It all culminates with Harlem Day, the largest and last day of the weeklong celebration, featuring three stages of entertainment, a dance party, back-to-school fashion show, musical performances, hundreds of food vendors, games, and more.
Aug. 13
You're invited to come on down to the Peconic Riverfront for the most family fun event of the season, the Riverhead Cardboard Boat Race, taking place on August 13. Cheer on the contestants or sign up to race in various categories including Youth Regatta, Grand National Regatta, Yacht Club Regatta, and Outlaw Race. Special awards will be presented for the categories Best Spirit, Titanic Sinking, Best Constructed, Most Creative, Commandeer's Choice, People's Choice, and Best Captain! Also, there will be games, activities, vendors, and more!
August 13-14
Take your taste buds on a culinary journey and sample some of Ellicottville's most delectable foods at Taste of Ellicottville, taking place August 13-14! This outdoor event is fun for the whole family as Ellicottville's restaurants set up shop on the street to serve up some of their signature dishes. 
Aug. 14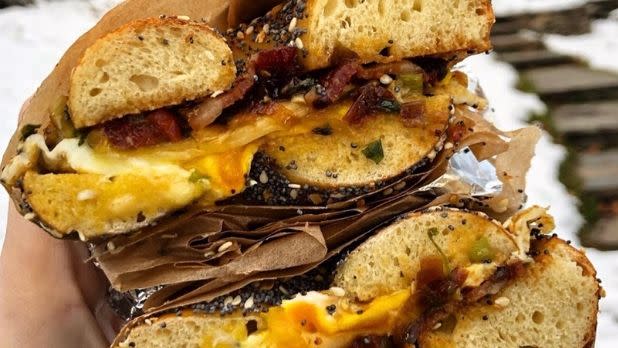 "The Bagel Capital" of New York State is inviting you to stroll down Bagel Boulevard, view the original prototype of a 1960s-era bagel making machine, and test your bagel rolling, throwing, and stacking skills at the Bagel Festival in the Catskills Village of Monticello. This year's festival features live music and entertainment, over 100 local artisans, crafters, and food vendors lining Bagel Boulevard; and plenty of fun and games for the kids. Best of all, admission is free!
Aug. 17
Get a taste of the Empire State's best eats at the New York State Food Festival, August 17 at the Empire State Plaza in Albany. The festival features the popular Empire State Plaza Farmers Market with dozens of food trucks and vendors. The fun really kicks into high gear at 5:00 p.m. when the stage is set for a live entertainment event with a headlining performance by country music's Eli Young Band.
Aug. 18-21
Held in multiple locations, clubs, cafes, restaurants, performing arts centers, and parks, the Hudson Valley Jazz Festival celebrates its 13th season August 18-21 with a focus on local talent. Featured performers this year include the Hudson Valley Jazz Sextet with Joe and Gabriele Tranchina, Ed Littman, J. Brunka, Steve Rubin and Bob Magnuson, the Kaya Nicole Jazz Trio, Rave Tesar with Jeff Ciampa and Frank Pagano, Gus Mancini & the Sonic Soul Orkestra, The Teri Roiger Trio with John Menegon & Matt Garrity, Neil Alexander Group, The Steve Raleigh Jazz Band, Stanley Jordan, and more.
Aug. 19-21
Star Trek fans from around the world will be beaming down to the Star Trek: The Original Set Tour in Ticonderoga August 19-21 for Trekonderoga 2022! This fan favorite event features a fun, relaxed atmosphere where Trekkies can take a tour of the most accurate recreation of the sets from the original series, attend celebrity guest talks, and more. Panels and presentations will cover a wide range of pop-culture topics, and the weekend also includes a scale-model contest, trivia panels, a cosplay contest, and appearances by Star Trek: The Next Generation stars who will be appearing in a live on-stage presentation, and will be available for autographs, photo ops, set tours, and bridge chats.
Aug. 24 – Sept. 5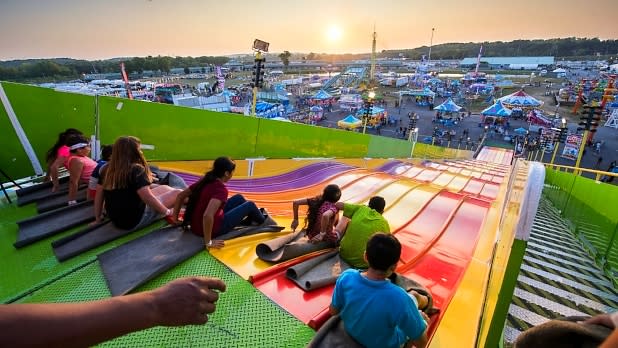 Come one, come all! A jam-packed 13-day celebration of delicious food, eye-opening exhibits, captivating entertainment, and great fun is coming to Syracuse August 24 – September 5 at the Great New York State Fair. The fair boasts more than 375 acres of animals, exhibits, and displays, plus games of skill and midway rides. You'll enjoy performances from some of the biggest names in entertainment, including TLC, Tesla, Foreigner, Night Ranger, Gin Blossoms, and City Girls.
Aug. 26-28
The Charlie Parker Jazz Festival is back for its 30th year as New York City salutes the legendary saxophonist with a vibrant and free three-day celebration of live jazz. Veteran jazz musicians and the next generation of artists will take the stage at Harlem's historic Marcus Garvey Park and Tompkins Square Park in the East Village  — Parker's old stomping grounds. This year's lineup includes jazz singer and her big band Jazzmeia and Her Noble Force, Brooklyn-born tap dancer Calvin Booker On Tap & Friends, American trumpeter and composer Terence Blanchard featuring the E-Collective and Turtle Island Quartet, and more. 
Aug. 27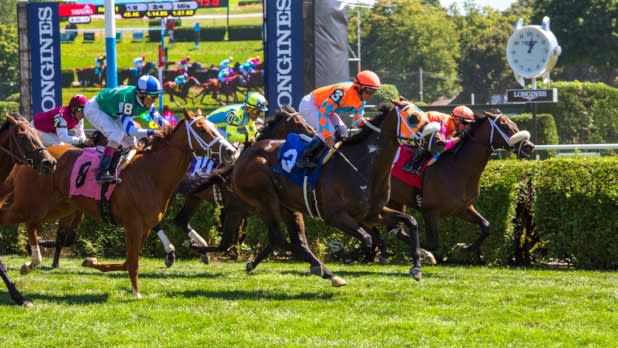 Head to Saratoga for the most popular event during the entire summer racing meet – the legendary Grade 1, $1 million Travers Stakes! Only the most exceptional 3-year-old horses compete in the race, which dates back to 1864 and is one of the oldest stakes races in the country. Nicknamed the "Mid-Summer Derby," the Travers is traditionally the highlight of the summer racing season.
Aug. 27-28
You're invited to Buffalo, August 27-28, to explore the beloved Elmwood Village at one of the city's top events –  the Elmwood Avenue Festival of the Arts. Browse the art of hundreds of local and national vendors, dig in to some great food, and enjoy live music, dance, entertainment, and plenty of special activities for the whole family! 
---
Don't forget to post photos of your New York adventures on Instagram and Twitter with #iSpyNY and tag us on Facebook!