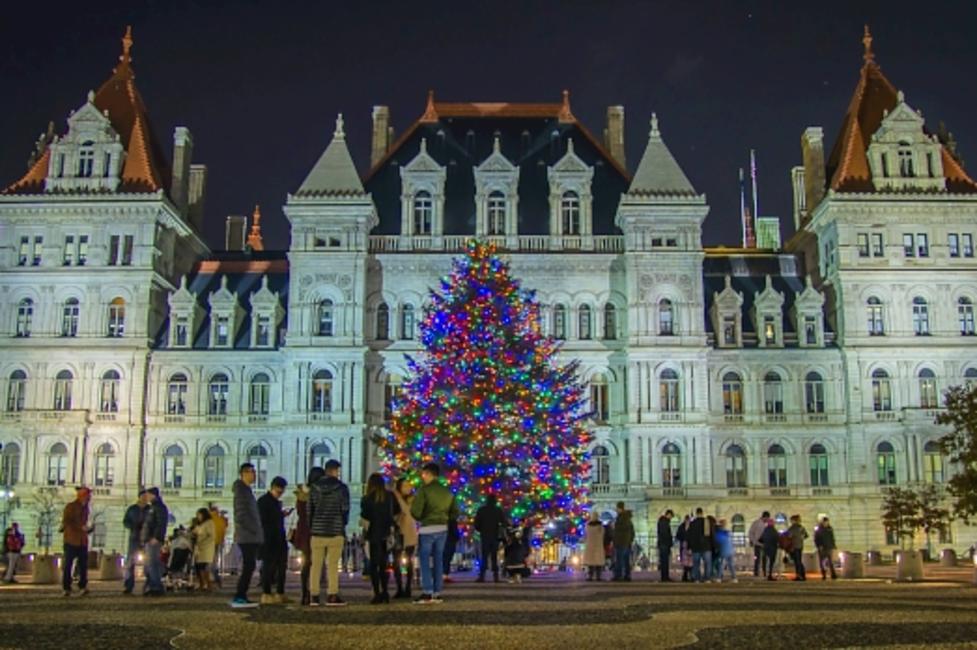 Nevermind the chilly weather, December is filled with enough cheer to keep you feeling warm. All over the state, New York whips up their jolliest, most festive ways of enjoying the holidays. Read on to find out where to meet Santa, how to celebrate Christmas traditions of yore, and which new experiences to try for your most memorable holiday season yet!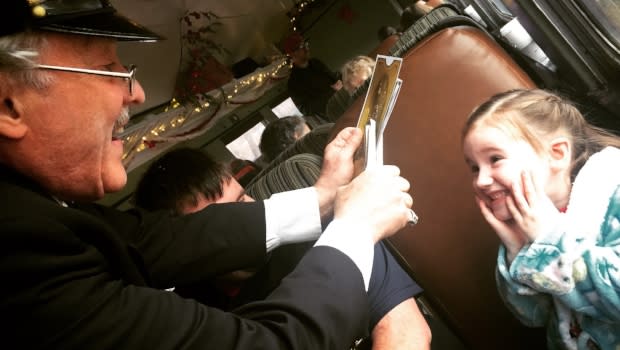 All aboard the Polar Express! An actual golden ticket will grant you passage on this magical journey through the Catskill Mountains to the North Pole. On the ride, you'll be served hot chocolate and fresh baked cookies, while characters from the story perform and lead the passengers in Christmas carols. You'll feel like you're in a storybook seated inside warm vintage train cars as the beautiful (hopefully snowy!) scenery passes by. Once you reach the North Pole, Santa and his elves hop on the train to greet the travelers and hand out a special Christmas gift, a keepsake silver sleigh bell. Now–December 23; Kingston; Adults $40–49, children (ages 2–12) $32–39, children under 2 free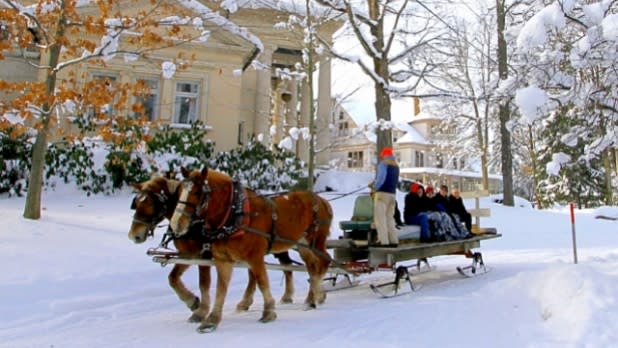 The Chautauqua Institution transforms into the wondrous Winter Village for the month of December, packed with activities to do, delicious things to eat, and a certain big-bellied, jolly someone to meet. There will be horse-drawn carriage and sleigh rides, holiday gift shopping, snowshoeing, holiday movies, and concerts—not to mention the unbearably cute Reindog Parade (a parade of dogs in holiday costumes, where do we sign up?). Little ones can enjoy one-on-one time with Santa while adults enjoy wine and beer tastings. See their website for the full schedule breakout. November 23–December 31; Chautauqua; Free
Frosty Fest (Hudson Valley)

Credit: Magic Moon Farm Inc.
The Headless Horseman Hayrides and Haunted Houses hit the ball out of the park when it comes to creating immersive experiences for Halloween, and now they're turning their theatrical creative energy towards Christmas! Their new holiday light spectacular is pure family fun, with a range of unique experiences. Take a stroll through Candy Cane Lane or hop on a hayride through Frosty's Enchanted Forest. There will be familiar Christmas characters waiting to greet you as well as delicious holiday treats. November 23–December 23; Ulster Park; Online: children under 12 months free, children 12 and under $9.95, adults $12.95, one dollar more if you buy on site.

Credit: NYC & Company, Inc. 
Experience the magic of New York City during the holidays in miniature scale at the New York Botanical Garden's Holiday Train Show in the Bronx. 175 iconic New York landmarks are shrunk down to train-set size, including the Brooklyn Bridge, the Statue of Liberty, and One World Trade Center. Your admission ticket includes entrance to the Rock Garden if you want to see some of the lovely winter plants and trees as well. The Botanical Garden hosts events during the season so check their website for updates on their family-friendly film series and sing-along performances. Now–January 21

Credit: Ruby Foote
If you're looking for more fun and inventive ways to enjoy the holiday, head to the largest living history museum in the Catskills. You can step into 68 different buildings and chat with costumed interpreters as they go about their day tending livestock, baking bread, working in the blacksmith's shop, or even playing baseball (as it was played back in the 19th century!). During December, the villagers put up Victorian decorations and begin their Yuletide festivities. There will be a town dance, caroling with the community, gift-giving, and special appearances by Santa's pre-Coca Cola iteration, St. Nick! Through December 16 you can take a 90-minute guided walking tour of the village and dig in at the delicious and hearty Yuletide Buffet. November 30–December 16; Mumford; Tour Pricing $25 General Admission, $2 off discount for general public on Sunday, December 2.
Charles Dickens Christmas (Long Island / Finger Lakes)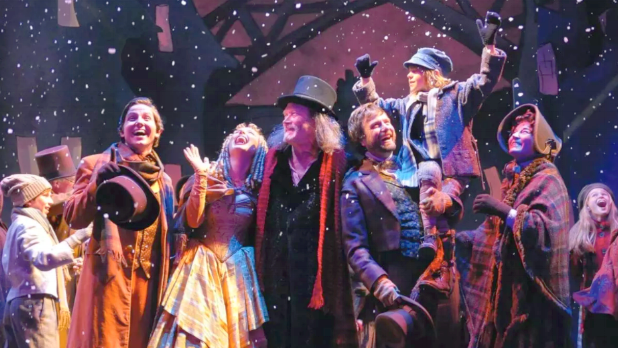 A Christmas Carol comes to life in two very special Charles Dickens Christmas celebrations. The Long Island Village of Port Jefferson will hold its 23rd Annual Charles Dickens Festival at the beginning of the month. The streets fill with folks in Dickens-era garb, and recognizable characters from the story, such as Father Christmas, chimney sweeps, and good ol' Scrooge. Guests can go ice skating at the Village Center and enjoy the sweet sounds of—you guessed it—Christmas caroling. There will also be Nutcracker performances, magic shows, and live music. From the day after Thanksgiving through December 23, the town of Skaneateles celebrates the classic tale and its author with festivities held every weekend for its Dickens Christmas. Take horse and wagon rides through the village, meet characters from the book, and cheer on the annual "World's Smallest Christmas Parade," a procession led by Charles Dickens that covers a total of four blocks. Their website has a schedule of events, including caroling, children's story-reading, and interactive performances. December 1–2; Port Jefferson; November 29–December 23; Skaneateles
2018 Christmas Parade & Fireworks (Thousand Islands-Seaway)

Credit: Horizon Aerial Media
Start the month off with a bang. Downtown Clayton holds events throughout the day on December 1, including a homemade cookie sale where you can stock up on treats, horse and carriage rides, a festival of trees, and a juried craft show to find the perfect gift for everyone on your list. Santa will be hanging out and available to hear holiday wishes at the Clayton Opera House and the Thousand Islands Winery will hold its Kris Kringle Holiday Market for more merry shopping. After the sun goes down, the parade begins, with floats adorned in glowing Christmas lights, drumlines, music, and dancing. The celebration wraps up with a gorgeous fireworks display that lights up the night sky. December 1; Clayton; Free
Empire State Plaza Holiday Tree Lighting (Capital-Saratoga)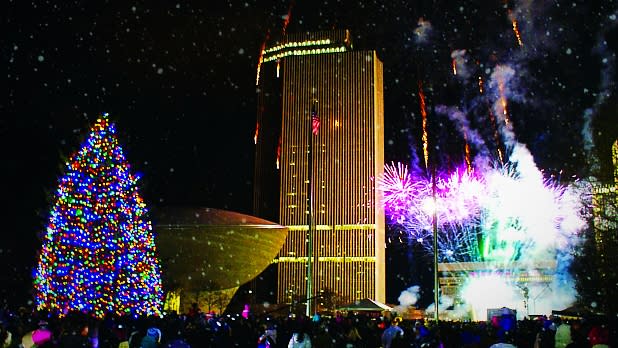 Albany's Empire State Plaza gets an extra dose of festiveness in early December. On the same fun-filled day you can explore the New York State Museum's 5th Annual Taste NY Holiday Market (free entry) for made-in-NY chocolates, treats, baked goods, craft beer, wine, and spirits, as well as cooking demos. Check out the Great Train Extravaganza ($7 for adults, and free for kids under 12) to peruse hundreds of model train sets, exhibitions, and vendors. Then, witness the giant Christmas tree light up in all its twinkling glory in the Empire State Plaza, followed by a grand finale of fireworks. Holidays officially made! December 2; Albany; Prices vary by activity
Downtown Ithaca Ice Festival (Finger Lakes)

Credit: Downtown Ithaca Alliance
Head to Ithaca for one of the coolest festivals of the season. Downtown Ithaca's annual Ice Festival makes the most of the cold temperatures by hosting the nation's best ice carvers in a three-round, three-day competition. You'll get to see mind-boggling ice sculptures take shape, as well as partake in a silent disco, order up a drink at outdoor ice bars, and witness live fire-dancing. On Saturday, ice-admirers can warm up at the 8th-annual Chowder Cook-Off. Sample steaming hot chowder from more than 20 local restaurants, in traditional creative gourmet flavors. You might literally feel hot and cold, but you'll love every minute of this fun weekend. December 6–8; Ithaca; Free
Candlelight Evening at the Farmers' Museum (Central NY)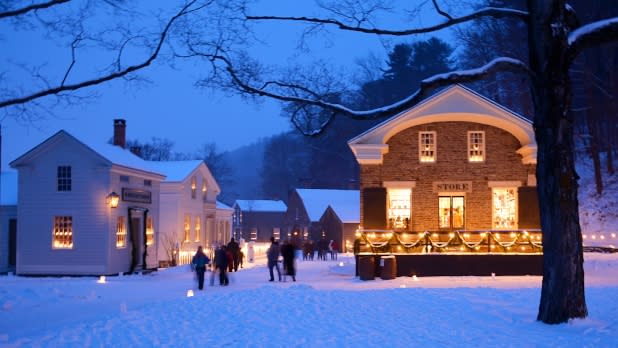 If you love history and the holidays (or if you don't love history, we're confident this will change your mind!), discover how festivities might have looked and felt in 1845. The Farmers' Museum is one of the oldest living history museums where visitors can see how people lived and worked in the late 19th century. For the holidays, the whole village gets decked out in greenery and candles. Horse-drawn wagons with jingle bells will transport you through the streets—and time! There will be children's stories read aloud in the schoolhouse, complimentary rides on the Empire State Carousel, live music and caroling, and hot food and drinks. December 8; Cooperstown; Adults (13–64): $12, seniors (65+): $10.50, juniors (7–12): $6, children (6 and younger) free
Luge World Cup (Adirondacks)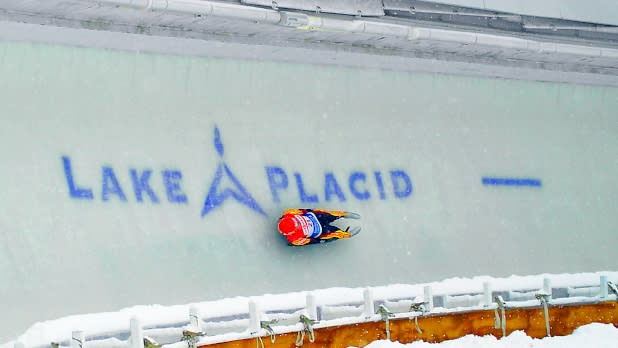 Strap in for one of the most exciting winter events of the season, the Luge World Cup! The town of Lake Placid, which served as home to not one but two Winter Olympic Games, hosts the event in its magnificent Olympic Sports Complex. There will be four events, consisting of men's and women's singles, doubles, and the team relay. You won't ever forget the sight of world-class athletes shooting around the track at incredible speeds. Wear your red, white, and blues and cheer on team USA! December 14–16; Lake Placid; Adult 1-Day: $12 online, $16 at gate, juniors/seniors 1-Day: $6 online, $10 at gate. Adult 2-Day: $20 online, $26 at gate, juniors/seniors 2-Day: $10 online, $16 at gate, 6 & under: free
Share photos of your New York adventures on Instagram and Twitter with #ILoveNY and #iSpyNY and tag us on Facebook!