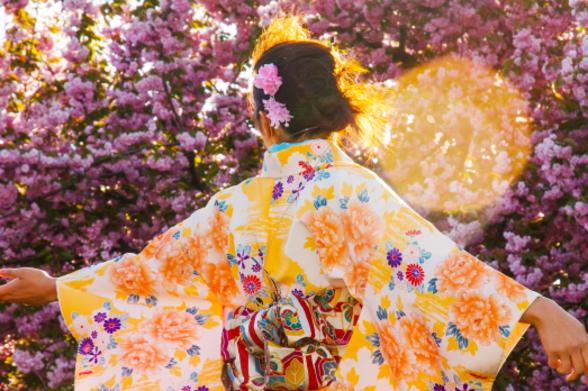 Welcome back, spring! Now that warmer weather is here (more or less), it's time to take advantage of it and hit some events! Savor all the things you missed over the winter, from fresh flowers to trout fishing to farm visits and more. Read on for memory-making events, festivals, and celebrations, as well as Easter bunny encounters and 24 hours straight of musical performance, to welcome in springtime in New York!

Credit: Bass Guitar played at Woodstock by Jack Casady of Jefferson Airplane. Lent by Jack Casady; Photo by The Museum at Bethel Woods
The Museum at Bethel Woods is officially reopened and in the midst of celebrating the 50th anniversary of the legendary Woodstock Festival. Throughout the month you can go check out their special exhibit, We Are Golden: Reflections on the 50th Anniversary of The Woodstock Festival & Aspirations for a Peaceful Future, featuring a collection of items from the festival such as guitars, lyric sheets, photographs, and more. The exhibit offers an inspirational and nostalgic exploration of the desires of youth in the 1960s and the roots of modern activism. Bethel; all month-long; Adults $17–19.69, Youth 6–18 $8–10, Children 5 and under free.
Trout Fishing Season Opening Day (Adirondacks and Catskills)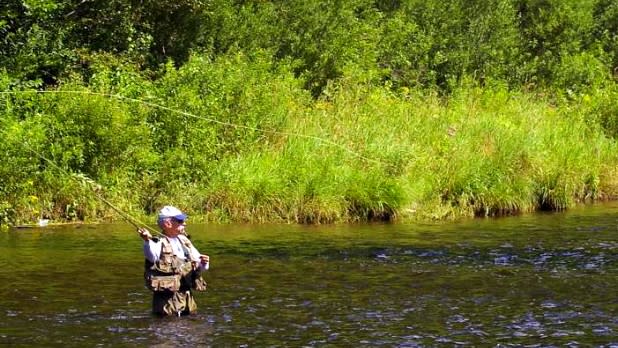 Flowers aren't the only things to return in the spring—it's trout season again! Trout fishing officially begins on April 1 (assuming the ice has melted), so fishing enthusiasts can finally come out of hibernation and head for waters flush with Rainbow, Brook, Brown, and Lake Trout. The Adirondacks have plenty of hot spots, such as the West Branch of the Ausable River and the waterfalls in the Chateauguay River. If you're a newbie, head further downstate to check out the Trout Tales celebration at Spillian in the Catskills April 26–28. An expert fly fisher will guide you through the streams, and the festival culminates in a trout feast and story-telling contest on Saturday night Various locations; April 1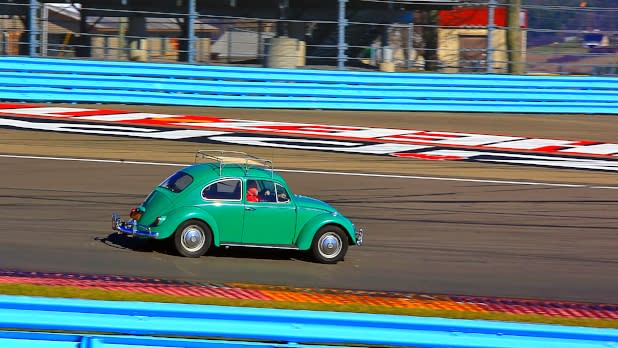 Rev up that engine and get ready to put the pedal to the metal. Every April, the world-famous race track, Watkins Glen International, holds its opening weekend with a special treat. Anyone with a valid driver's license can drive three laps around the very same track that has hosted 20 consecutive years of Formula One U.S. Grand Prix races. It's a rare chance to experience the course from the driver's seat and feel like a superstar. Your ticket to drive is just $25 and all proceeds go to the R.A.C.E. (Racing and Community Enrichment) Foundation. Watkins Glen; April 5–7; $25
Hudson Valley Farm & Flea (Hudson Valley)
Makers, musical performers, farmers, and vintage collectors come together for the amazing Hudson Valley Farm & Flea. Designer and entrepreneur Laurie Perrone started the event to shine a spotlight on crafts, produce, and talent that are "Made in America." Come for a curated collection of local artisans, farm-fresh foods, live music and theater performances, vintage flea markets, and more. It's a true sampling of the Hudson Valley spirit. Newburgh; April 6; General entry $5, kids 12 and under free
Wine and dine your taste buds at this year's Buffalo Wine Festival. 30 local wineries will be there to share their samples. Cleanse your palate in between tastings with sweet and savory munchies from participating food vendors, and shop the artisan crafts and commercial products featured by select vendors. Book an afternoon or evening tasting session, which includes a keepsake tote bag and wine glass along with samplings from all the wineries. Buffalo; April 6; General admission $35; VIP admission $45
Easter Bunny Express (Central and Catskills)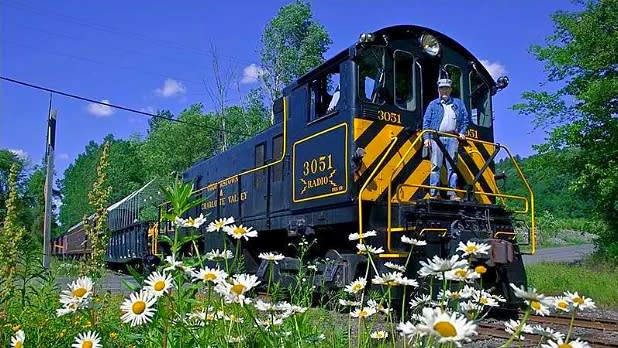 All aboard the Easter train(s)! You have two amazing options to celebrate the holiday and delightful weather with some festive furry friends. The Cooperstown & Charlotte Valley Railroad will host two-hour round trip train rides with a larger-than-life Easter Bunny on Saturdays and Sundays, April 13, 14, and 20. During your ride, you'll be treated to complimentary snacks and entertainment courtesy of the Bunny, and the train stops for an Easter Egg Hunt. The Catskills Mountain Railroad is also hosting a hopping good time on their vintage trains traveling to Hurley Mountain, stopping in Kingston for an egg hunt.Cooperstown & Charlotte Valley Railroad: Milford; April 13, 14, and 20; Adults $21, Seniors $20, Children 3–12 $18, Children 3 and under free. Catskills Mountain Railroad: Kingston; April 6,13, and 20; Adults $18, Children (Ages 2–12) $12.00, Toddlers under 2 free
Joe Abba Jazz Quartet (Thousand Islands-Seaway)
Drummer, bandleader, composer, and educator Joe Abba is about to begin his clinic/masterclass tour, making stops at schools, universities, and concert venues around the state. The concept for the tour was born out of Joe's passion for teaching and sharing jazz music. Don't miss the quartet's performance at the majestic Clayton Opera House this April! Clayton; April 12; Tickets $10–12
Empire State ComiCon (Capital-Saratoga)
Step into a universe of fantasy, adventure, and community; the Empire State ComiCon is coming to the Albany Capital Center for an epic weekend of fun. There will be panel discussions with the creators of your favorite TV shows, movies, cartoons, and comic art, as well as an array of vendors selling popular and rare toys, comics, and collectibles. The event is super kid-friendly. Kiddos can meet and take pics with their favorite characters, have their faces painted, take part in crafts and science demonstrations, and more. Also, if you're a current or aspiring comic artist, the organizer, Altered Reality comics, will be accepting leave-behind portfolios and conducting live reviews at their booth. Albany; April 12–14; Friday adult tickets $20, kids $5; Saturday adult tickets $30, kids $10; Sunday adult tickets $25, kids $5.
Spring Fest (Long Island)
Petting zoo? Check! Live magic? Check! Face painting, arts and crafts, and tasty treats? Check, check, and check! The annual Sayville Spring Fest in Gillette Park is one cheery batch of fun activities. Besides all the aforementioned attractions you'll also find jugglers, stilt walkers, raffles, and more. Plus plenty of local vendors will be out offering wares to shop and try. Join the thousands of visitors who attend each year. And a word to the fashionable and fabulous: there will be a spring bonnet contest, so don't come bare-headed! Sayville; April 13; Free
57th WNY Maple Festival (Chautauqua-Allegheny)
For the 57th year running, the town of Franklinville will go all-out in celebration of glorious, sweet maple syrup. Join the community for all-you-can-eat pancake breakfasts, a maple process demonstration, and craft show. There will be a petting zoo and rides for the young ones, as well as a library book sale, 5K race, and a parade! Tens of thousands of guests arrive every year to join in the fun. Local maple producers bring out their craft foods and treats, and, importantly, their samples. Yum. Franklinville; April 27; Free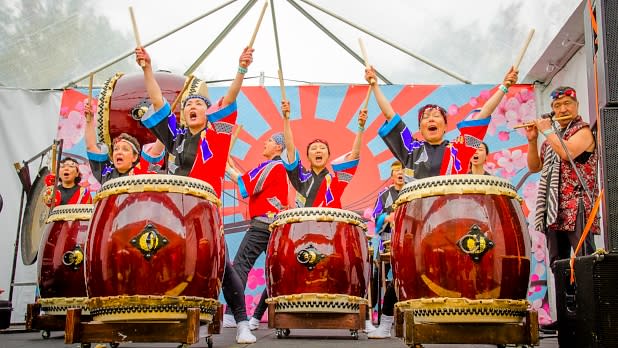 Incredibly beautiful and fleeting, the blooming of cherry blossoms is a sight to celebrate. The Brooklyn Botanic Garden hosts the traditional Japanese festival on the last weekend in April, when the flowers are expected to be at their peak. Although the focal point is the flowers, you can expect numerous activities. Talented performers will take to multiple stages to share thrilling Taiko drumming, martial arts, traditional dances, fashion shows, contemporary Japanese pop music, and more. Explore the fantastic bonsai exhibit, sample Japanese treats from the pop-up stands, and perhaps stop in for a tea ceremony. Get your spring on! Brooklyn; April 27–28; Adults $30, students (12+ with ID) $25, seniors (65+ with ID) $25, children under 12 Free
Hadley Maple in April Festival (Capital-Saratoga)
Spring starts on a sweet note in Hadley, thanks to their annual Maple in April Festival. Come early and come hungry because the festival begins with a breakfast of delicious pancakes topped with generous pours of maple syrup. You can also munch on maple popcorn and maple cotton candy. Local artists will gather to create their art live outdoors on the festival grounds where onlookers can watch. If something strikes your eye, keep it in mind because you can bid on it at Sunday's silent art auction! Swing by the Lil' Sugar Dust-off Car, Truck & Cycle Show, or bring little ones to the kids' activities corner for horse-drawn wagon rides, interactions with owls and hawks, bounce houses, and arts and crafts. And don't forget Fido! Saturday is Dogs' Day in the park. Hadley; April 27–28; Free

Credit: Eric Harvey Brown
Take a break from your over-scheduled life to lose track of time. In the beautiful Basilica Hudson, a multidisciplinary arts center in the heart of the Hudson Valley, musicians and sound artists from around the world will perform 24 straight hours of unending music that will range from ambient to eardrum-rattling. You don't have to stick around from start to finish, but plenty of folks do enjoy attempting this feat of endurance and meditation set to an unending droning accompaniment. The bar will be open from noon until 3 am, with food and drink options available from local producers throughout the entire performance. Pack a camping pad, yoga mat, or folding chair for comfort, as well as any blankets and pillows to stay comfy. Also bring cash for the food and drink options and your open mind! Hudson; April 27–28; General admission $36; Early bird tickets $24
Don't forget to post photos of your New York adventures on Instagram and Twitter with #iSpyNY and tag us on Facebook!