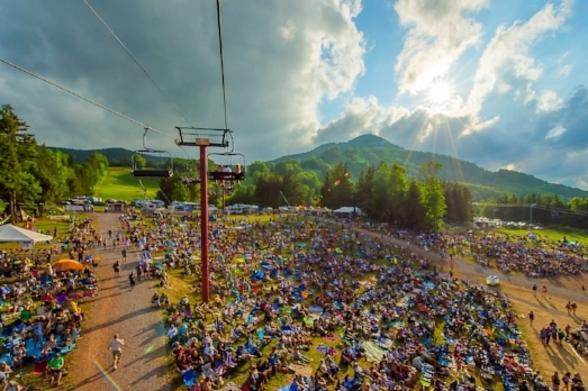 Credit: Mountain Jam Photographer
It's almost officially summer! Well, June 21 is the official start of it, but as far as we're concerned summer begins on June 1 at 12:01 AM. Now, what to do with all this magnificent sunny weather? Read on for this month's roundup of the best ways to get out and explore all around New York State. From music festivals to motorcycle rallies, sporting events, and more, we've got you covered when it comes to kicking off summer right!
Fairport Canal Days (Finger Lakes)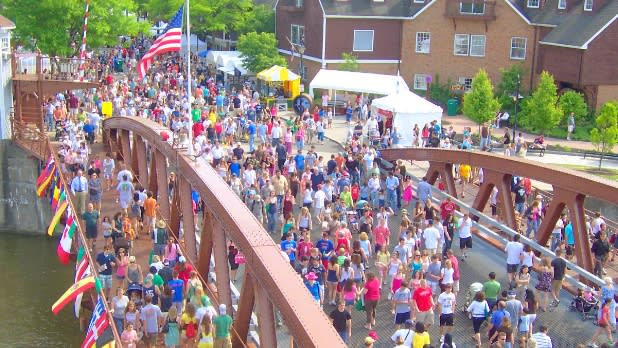 Every year, the streets of Fairport fill up with locals and visitors who come to explore one of New York's largest arts festivals. Attend the chicken BBQ and opening concert on May 31, then the fun continues on June 1 and 2 as more than 200 artisans, food vendors, and musicians set up in the streets. As you shop, you'll pass by six different stages, where the region's top musicians perform everything from jazz to bluegrass to barbershop. You'll also notice the incredible aromas of grilled meat, fried dough, roasted nuts, kettle corn, and so much more. Bring the whole family! May 31–June 2; Fairport; Free entry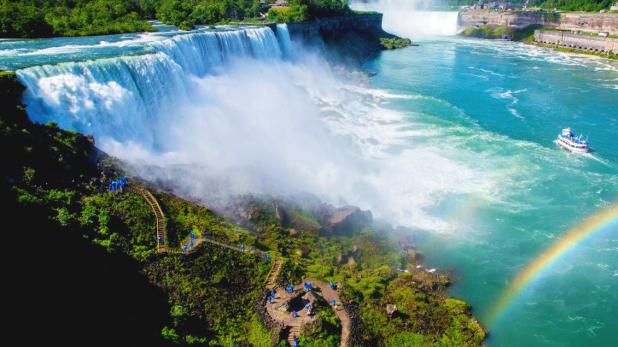 You may already be planning to attend the Pride parade in NYC because it's one of the biggest, most joyous celebrations of life and identity you'll ever attend. And moreover, this year marks the 50th anniversary of the Stonewall Riots, a pivotal moment in the history of LGBTQ civil rights. It's also the first time WorldPride will be held in the US, so it's going to be a big deal. What you might not know is that beyond the parade, Pride events are happening all month long across the state. Pride on the Beach is a fun-packed weekend on Long Island that includes concerts, dance parties, a pet Pride parade, and religious services. See Niagara Falls illuminated in rainbow colors with Pride at the Falls, and watch hysterical comedian Matteo Lane perform live at the National Comedy Center. Check out our full listing of all the amazing goings-on for Pride here. June 1–30; Various locations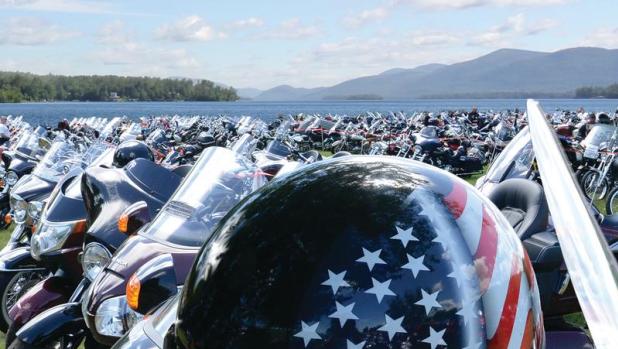 Motorcycle enthusiasts, you're invited to Americade, the world's largest multi-brand motorcycle touring rally! Throughout this six-day event, up to 200,000 riders are expected per day. Attend massive trade shows to check out the latest bikes, gear, and demonstrations, watch stunt shows and live comedy, and enjoy a catered dinner boat cruise. And of course, join kindred spirits as you ride through the stunning Adirondacks. The organizers are upfront about the fact that Americade is a community-minded event and not the place for hostile, illegally loud, or overly fast biking. Pre-registration is closed but you can still sign up in person at the Fort William Henry Conference Center June 3–8. June 2–8; Lake George; Entry passes start at $20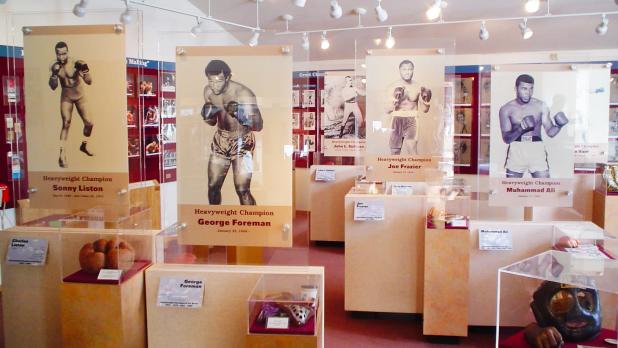 June is a significant month for boxing fans, as the weekend of June 6–9 is when the International Boxing Hall of Fame will immortalize a number of boxing legends. The festivities kick off Thursday with ringside lectures (which run daily throughout the event) and a nighttime fireworks show. On Friday, witness renowned boxers cast their fists in molds to be turned into bronze sculptures, followed by a thrilling fight night. On Saturday, seek out autographs from boxing legends, and finally, on Sunday, a parade followed by the induction ceremony. This year's inductees include champions Donald "Lone Star Cobra" Curry, Julian "The Hawk" Jackson, James "Buddy" McGirt, and more. June 6–9; Canastota; Ticket prices vary by event
Belmont Stakes Racing Festival (Long Island)

Credit: Bob Coglianese Photos​
Come one, come all for the delightful eight-day Belmont Stakes Racing Festival in Elmont, Long Island. The first day of racing, June 7, is also the same day as the Belmont Stakes Racing Festival Craft and Vendor Fair. Shop artisan goods, gourmet eats, craft spirits, and more, then head on over to watch day one of the Belmont Stakes Challenge. The race continues the next day on June 8, followed by a post-race Flo Rida concert! Throughout the festival, grab a bite at the Coors Light Food Truck Village or concession stands, and be sure to try the Belmont Jewel, the official signature drink of the Belmont Stakes, a delicious combo of Woodford Reserved Kentucky Straight Bourbon, lemonade, and pomegranate juice. This celebrated race is the third component in the Triple Crown, the title granted to the three-year-old thoroughbred horse who wins the Kentucky Derby, Preakness Stakes, and Belmont Stakes. This year's Derby was extra dramatic as Maximum Security crossed the finish line first but was later disqualified for having interfered with another horse's run. Now all eyes will be on Preakness winner, War of Will. See who comes out ahead! June 6–8; Elmont; Ticket prices start at $25

Credit: Josh Glazebrook​
Amp up the excitement on Memorial Day and come watch the AVP (Association of Volleyball Professionals) Gold Series New York City Open! Watch the games on the Gansevoort Peninsula in Hudson River Park, surrounded by sparkling water and shining high rises. This is the only stop of the tournament in the Eastern time zone and it's the first of the Gold Series games with such a large purse for the winners ($300,000, to be exact), so it's high stakes! Your admission ticket includes drink coupons (for adults), merchandise coupons for youths, opportunities for athlete meet-and-greets, and a souvenir credential badge. June 7–9; New York City; Ticket prices vary
Taste of Syracuse (Finger Lakes)

Credit: Galaxy Events
Come hungry and ready for a blast at Taste of Syracuse, one of New York's largest and fastest growing food and music festivals. Last year, more than 225,000 folks showed up to devour the city's latest food creations, and this year is set to be even bigger. Sample all different types of food from mac n' cheese to waffles, baked potatoes, BBQ, Thai food, fried fish, tacos, hot dogs, ramen, ice cream, and more. There will also be fireworks, vendors to shop, and live entertainment across three stages on both nights. Saturday's headliner is Sugar Ray! This year marks the debut of the Youth Talent Showcase, so drop by the Clinton Square Stage on Saturday to see the best of Syracuse's young talent. June 7–8; Syracuse; Free
Allentown Art Festival (Greater Niagara)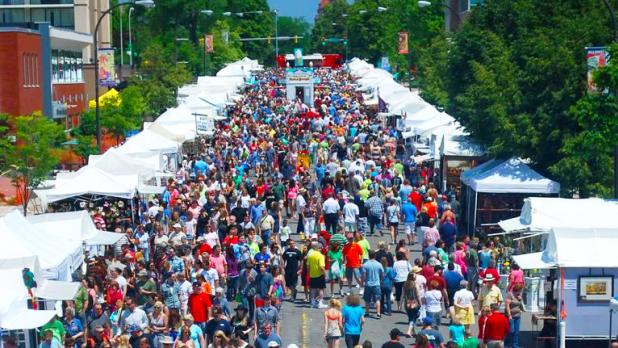 In the Allentown Historic Preservation District in Buffalo, the beautiful old buildings are not the only things to admire. The Allentown Art Festival draws in thousands of patrons of the arts to peruse the crafts of more than 400 juried artisans. Enjoy the warm weather as you roam through rows of unique goods and gifts, watching buskers perform music, magic, clowning, dancing, singing, juggling, and miming. Swing by the concession stands for foods like crispy fries and tacos, and if you're curious, see which talented artist won this year's poster design contest. June 8–9; Buffalo; Free
To enjoy the summer, or not to enjoy the summer, that is the question. We vote yes, enjoy it, and one excellent way to do so is to attend the Hudson Valley Shakespeare Festival. Just an hour outside of NYC in Garrison, in a beautiful open-air theater tent overlooking the Hudson River, get your Shakespeare fix with performances of "Much Ado About Nothing," "Cymbeline," "Cyrano de Bergerac," and regular pre-show discussions led by experts and performers. You're also invited to attend champagne toasts on opening and closing nights, and Sunday, June 23 is LGBTQ+ night with complimentary drinks and treats before the show. June 9–September 8; Garrison; Ticket prices start at $10

Credit: Mountain Jam Photographer
Normally, Mountain Jam is an amazing multi-day, multi-stage music festival with big-name artists, but this is no normal year. This summer's Jam will be even more awesome as it's moved to the historic Bethel Woods Center for the Arts in honor of the 50th anniversary of Woodstock. Watch the artists inside the amphitheater or out on the lawn, a combined seating capacity for 16,000 people! Or go the VIP route and purchase a reserved seat or box seat. There will be plenty of room for on-site camping and car and RV parking, and the Museum at Bethel Woods will be open to all Mountain Jammers for free. While you're there, get a bird's-eye view of the festival from a massive Ferris wheel! Who's coming this year? Willie Nelson, The Avett Brothers, Dispatch, Toots & The Maytals, Michael Franti & Spearhead, and many others. Check out the complete lineup on their website. June 13–16; Hunter; Prices vary
Juneteenth Festival (Greater Niagara)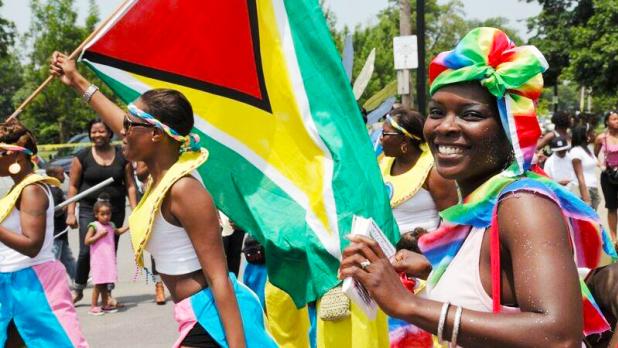 The Juneteenth Festival in Buffalo, New York, commemorates the emancipation of enslaved African Americans in the Confederate States and is the third-largest celebration of its kind in the world. Held in Buffalo's Martin Luther King Jr. Park, the festival not only honors the abolition of slavery, but also works to preserve and promote the diversity of African American heritage. Some of the festival highlights include a bus tour of historically significant sites in Buffalo, the 44th-annual Festival Parade, live entertainment on the Arts and Cultural Stage, vendors, and delicious foods. Join the community for a memorable experience and a ton of fun. June 15–16; Buffalo; Free

Credit: Carl Heilman​
Treat a dad in your life—or yourself—to an amazing Father's Day Weekend filled with adventures into history. June 15–16 is New York State's Path Through History Weekend and that means historical and educational sites around the state are hosting special events for the public. Head to Sackets Harbor Battlefield for historical war reenactments, or celebrate Scottish heritage at Fort Ticonderoga for their Scots Day. Even take a unique and moving tour of the World Trade Center and the 9/11 Memorial Plaza led by 9/11 survivors, family members, and first responders. For all the events that are sure to make this Path Through History weekend one to remember, visit our roundup. June 16–17; Various locations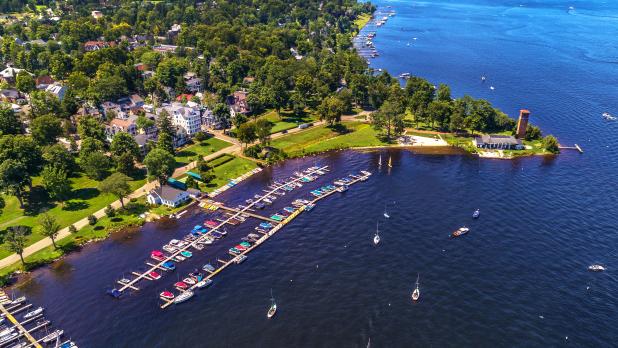 The Chautauqua Institution offers a space to explore intellectually, creatively, and spiritually. In a historic village on the shores of Chautauqua Lake, the Institution offers expert lectures, classes, religious services and discussions, entertainment and recreation, and everything begins in earnest in June. Each week's programming has a theme, such as "Moments That Changed the World" and "Communities Working Towards Solutions." Catch concerts in chamber music, classical orchestral music, and even Postmodern Jukebox! Check out the complete calendar on their website. June 17–August 25; Chautauqua; Prices vary
Calling all college-aged anglers: there's a tournament just for you! Bass Pro Shops presents the Carhartt Bassmaster College Series, a national competition consisting of five regional tournaments and one wild card tournament, culminating in a national championship. The reigning champ earns the opportunity to compete in the Bassmaster Classic, the sport's biggest event. June 19–21, the College Series comes to the St. Lawrence River. All public fishing rivers, creeks, and canals connected to the St. Lawrence within designated boundaries will be allowed for competing, and June 16–18 are official practice days. Best of luck, young anglers! June 19–21; Waddington; Entry fees vary
Freihofer's Saratoga Jazz Festival (Capital-Saratoga)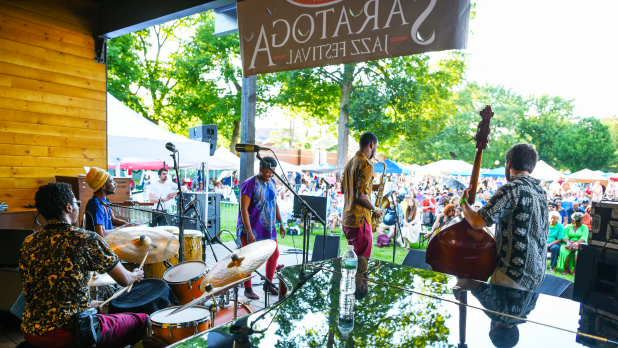 Head to the jazziest event of the summer. At the Saratoga Performing Arts Center in Saratoga Spa State Park, Freihofer's Saratoga Jazz Festival splits performances across two stages. One is an enormous amphitheater for big names like Trombone Shorty & Orleans Avenue, Norah Jones, and the Joey DeFrancesco Trio featuring Billy Hart. Then there's the Charles R. Wood "Jazz Discovery" Stage for lesser-known but incredibly talented musicians. Attendees are allowed to bring coolers and any food and drinks, so pack a picnic! June 29–30; Saratoga Springs; Single day: $65–95, 2-Day Pass: $110–170
Don't forget to post photos of your New York adventures on Instagram and Twitter with #iSpyNY and tag us on Facebook!