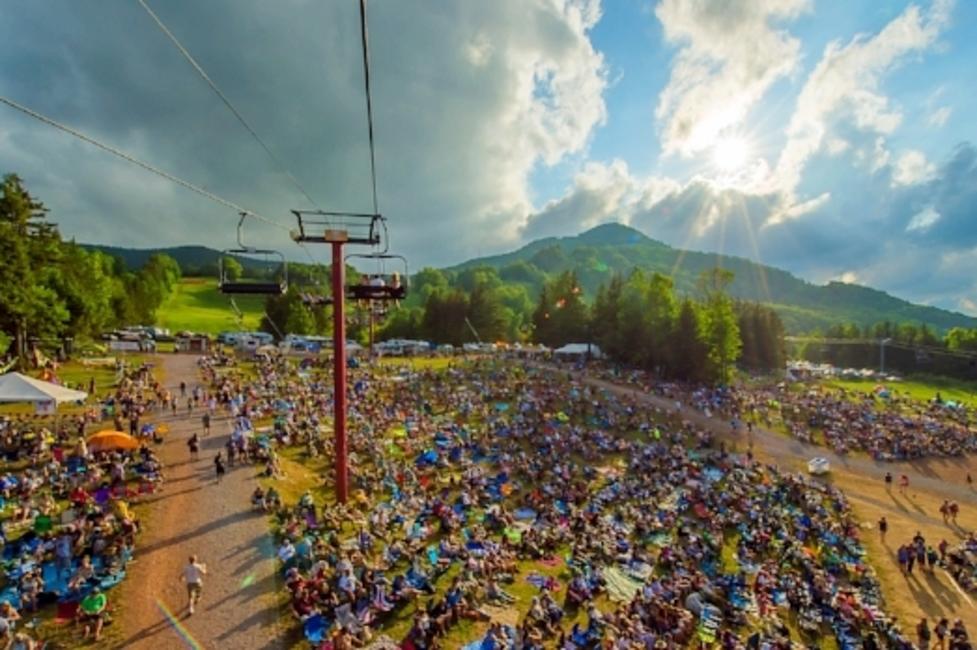 The first official day of summer comes pretty late in the month, but we all know that summer is a state of mind. So we've lined up an itinerary of fun events, festivals, and celebrations happening all over New York State to get this season started!
Buffalo Pride Festival

Photo Credit: J. Carocci
Buffalo is so full of pride that its Pride Festival was voted Western New York's "Best Festival" in Buffalo Spree Magazine last year. This year the week will be packed with fun events, beginning with a flag-raising ceremony on May 29, the Gay 5K Run, the parade, and the festival. The festival famously draws together members from ALL over the community in a celebration of unity, joy, and love that takes over the city. All are welcome to join. Buffalo; May 29–June 3; Free
Fairport Canal Days

Photo Credit: Fairport Canal Days
Kick off June with this festival hat-trick featuring art, a huge community BBQ, and entertainment at the Fairport Canal. The festivities start with a chicken BBQ and jazz concert on Friday night, but the performances continue over all three days on four stages. Shop more than 300 artisan stands, selling everything from handmade toys to gourmet food, jewelry, ceramics, and more. That's not to mention all the fair food vendors, serving up tacos, wood-fired pizza, and frozen desserts sure to satisfy your sweet and salty cravings. Fried dough, anyone? Plus you couldn't ask for a better location, as the canal offers a fantastic view, perfect for strolling, shopping, and enjoying the music in the air. Fairport; June 1–3; Free
Craft Market Walk

Photo Credit: LACE Photo Media
On the first Saturday in June, Gardiner in the Hudson Valley holds its annual mile-long Craft Market Walk. Nurture your passion for hand-craftsmanship as you browse wood-carved furniture, natural beauty products, ceramics, vintage clothes, and more. The walk passes through the Farmer's Market Grounds, where local wine, beer, juices, and gourmet eats abound, and ends at Yard Owl Craft Brewery. Not only does your shopping support local independent businesses, the Craft Market Walk also gives back to a number of community organizations. One more reason to take home something beautiful. Gardiner; June 2; Free
Drums Along The Hudson

Photo Credit: Joseph Rodman
Head to Inwood Hill Park in Upper Manhattan to experience New York's only open-air pow-wow, a festive Native American social gathering, where organizers share their culture with the general public. WABC-TV weekend anchor Sandra Bookman will host as visitors enjoy live traditional dance performances by the Thunderbird American Indian Dancers, and drumming music by Heyna Second Sons and Silver Cloud. The festival will also feature iForest, a unique experiential art exhibit where the sounds of choir music are prompted by your movement through the trees, as well as Native American crafts, storytelling, and foods. New York; June 3; Free
Belmont Stakes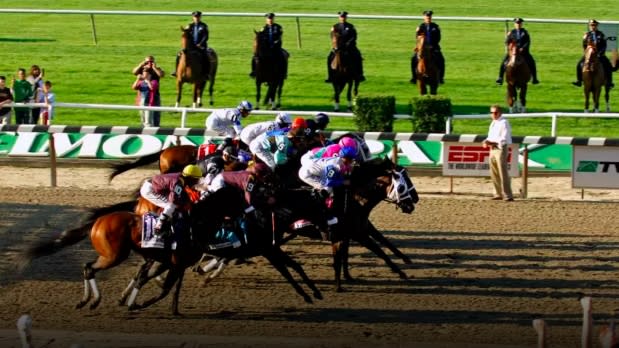 Go, Justify, go! The undefeated Kentucky Derby winner is heading to this year's Belmont Stakes Racing Festival on the 150th anniversary of the race to potentially become the 13th horse in history to ever win the Triple Crown. In horse racing terms, that's a very big deal! Come for any of the festival's three days to watch horse racing as well as live music performances from the Mike DelGuidice & Big Shot Billy Joel cover band, the cast of the Broadway show A Bronx Tale, and '90's multiple-hit-wonders, Third Eye Blind. Reserved seating is sold out, but general admission is $30. Elmont; June 7–9; $30
Frederick Douglass Bicentennial
You are invited to a very special birthday celebration this year, as the annual Frederick Douglass Freedom Festival will honor the 200th year anniversary of Frederick Douglass' birth. Various events throughout the week will commemorate the life of the Rochester native and his contributions to the abolitionist and women's suffrage movements. Explore exhibits in the Rochester Public Library and the University of Rochester's River Campus Library all summer long. From Friday to Sunday take the abolitionist tour to Harriet Tubman's home, join the Wreathing Ceremony at Frederick Douglass Memorial Square of Highland Park, and follow the Homage Motorcade that concludes at the Douglass monument. Rochester; June 8–10; Free
Mountain Jam at Hunter Mountain

Photo Credit: Mountain Jam Photographer
We hope you like jammin' too because the Mountain Jam at Hunter Mountain is gearing up to offer another fantastic musical lineup for its 14th year running. This year the Jam will feature a whopping 50 musical artists, with headliners including Jack Johnson, Alt-J, Portugal. The Man, Father John Misty, The Decemberists, Jenny Lewis, and so many more. Your festival pass includes reserved space to pitch your tent or park your RV on their campgrounds. You can also set up camp off-site and hail a ride via golf cart for a $5 a seat. Oh—and the food is incredible. Find everything from Ben and Jerry's, to lobster BLTs, to empanadas—plus plenty of vegetarian and vegan options. Kids 10 years old and younger enter the festival for free! Hunter; June 15–17; Prices vary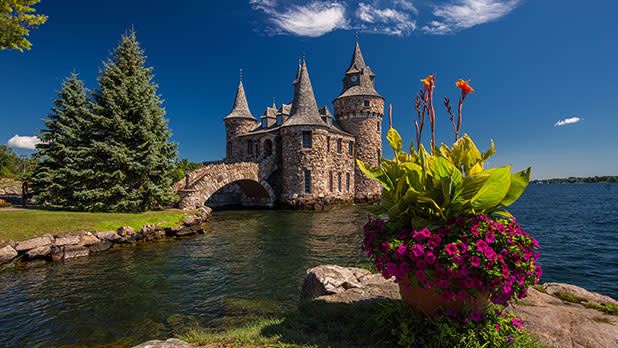 This real-life fairy tale setting gets even more magical on its annual Family Fun Day. Sail out to Boldt Castle, the majestic family mansion from the early 1900s, where, thanks to its partnership with local cable station WPBS-TV, favorite PBS Kids characters, including Clifford the Big Red Dog, Curious George, and Nature Cat, are waiting to greet, hug, and snap adorable photos with your little ones. While the Fun Day is free, admission to Boldt Castle is charged at normal day rates. Alexandria Bay; June 16; $9.50, Children 5–12 $6.50, Ages 4 and under are free.
Stories from history are meant to be passed down through generations. So it's only fitting that New York's Path Through History Weekend falls on a time we all come together as a family, Father's Day weekend! Discover hundreds of events at various historic locations and experience history come to life by taking the hands-on Family Tour at the Farmer's Museum, or visit Fort William Henry where fathers enter for free all weekend along with special family rates. A history lesson the whole family gets into and a good deal? What more could he want! Various locations; June 16–17; Prices Vary
Saratoga Balloon and BBQ Festival
Photo Credit: Saratoga Balloon and BBQ Festival
Welcome to the magical event where you can feel totally full but completely weightless at the same time. On the last weekend in June, 30 enormous brightly colored hot air balloons will take to the skies each morning and evening over the Adirondack Mountains. Meanwhile, back on the ground, artisan craft makers will sell their wares as five chefs cook up a delicious BBQ feast to feed the community and visitors. Book a ride in one of the balloons and set sail through the clouds after a brief piloting lesson. If heights aren't your thing, they also offer tethered balloon rides, which give you a taste of flight while still secured to the ground. Or simply enjoy the sight of these gracefully floating vessels. Kids can take pony rides, have their faces painted, and bounce around in a half-inflated balloon and on inflatables. Ballston Spa; June 22–24; Adult tickets are $10–$15, Ages 3–15 $5, Age 2 and under are free.
Greater Binghamton AirShow
Photo Credit: D'Lyndl Photography
It's your lucky month! This breathtaking performance is ending a three-year hiatus to once again give the people what they want. Come for aerobatics, formation flights, and performances by the U.S. Army Golden Knights Parachute Team. Watch as teams of parachuters drop from the sky, sometimes with sparklers or colored smoke trailing from their legs. The Air Force will also put on a special "Heritage Flight," featuring a modern A-10 Thunderbolt fly together with a WWII era P-51 Mustang. Johnson City; June 23; Adult tickets from $12; Kids' tickets from $7; Ages 7 and under free.
Adirondack Food & Wine Festival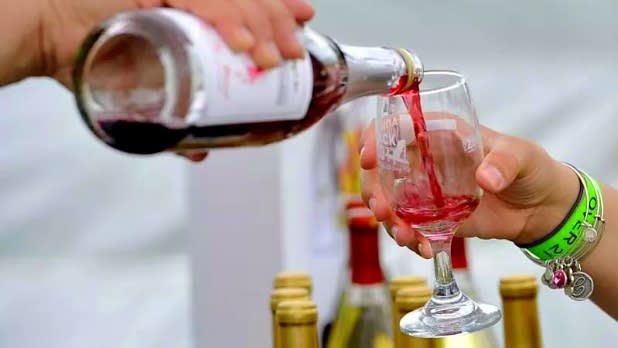 Get a real taste of the Adirondacks and New York State at this festival featuring more than 80 of the best wineries, distilleries, and artisan food vendors against the gorgeous backdrop of Lake George. You'll arrive at the grassy outdoor Charles R. Wood Festival Commons to find tasting booths and food trucks offering samples of wine (which you can sip from your complimentary commemorative glass), cheese, fudge, hot sauce, and so much more. Anything you taste is available for purchase, and for heavier wine bottles they provide a drop-off/pick-up service. Under 21-ers will stay entertained in the Kids Activity Tent with arts and crafts and various games, such as cornhole, or play on the Natural Playground, where all the obstacles are made from wood, stones, and other natural materials. Lake George; June 23–24; Tickets start at $15, Ages 15 and under enter for free.
Ellicottville Summer Music Festival

Photo Credit: Ellicottville Chamber of Commerce 
End the month on a high note at this all-ages summer music festival on four-season Holiday Valley resort's fairway-turned concert venue. Dennis DeYoung and the Music of Styx and the Buffalo Philharmonic are headlining this year, playing on Saturday and Sunday night respectively. The final performance concludes in a fantastic display of fireworks to the tune of "Stars And Stripes Forever"—it is right before Independence Day, after all! Bring a picnic and come enjoy the music, arts and crafts fair, souvenir and food vendors, the pet parade(!!!), and all around family fun. Ellicottville; June 29–July 1; Single concert tickets start at $30; Children 12 and under are free to both concerts.
Don't forget to post photos of your New York adventures on Instagram and Twitter with #iSpyNY and tag us on Facebook!