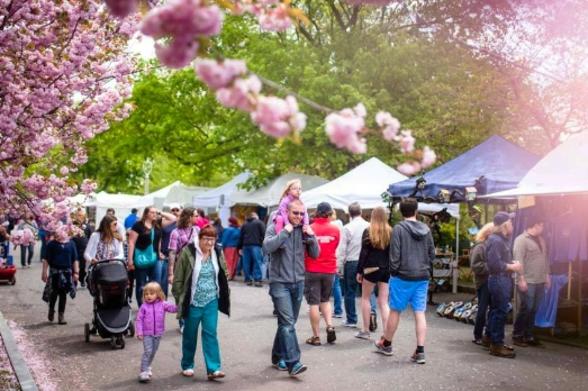 We've made it through the winter and April's showers will soon be forgotten—get ready for May flowers and perfect weather throughout New York State. This year, we're celebrating special occasions like Walt Whitman's 200th birthday and the 50th anniversaries of both the Stonewall Uprising and Woodstock with a variety of events leading up to this summer. Other activities of note across the regions will get you exploring nature and outer space (kind of), playing on carnival rides, and feasting on cupcakes, apple butter, and cuisines from around the world!
Eat ADK Restaurant Week (Adirondacks)
If you've been meaning to explore the Adirondacks in the gorgeous spring weather, take this event as a sign that the time is now! May 2 through 9, restaurants all over Lake Placid, Saranac Lake, Tupper Lake, Wilmington, and Long Lake are offering amazing deals. From gastropubs to bistros and lodges, prix-fixe menus of local cuisine are offered at just $15, $20, and $30. Reservations are highly recommended during this week. Pro tip: many spots include wine and beer options as a low-cost add-on! May 3- May 10; various locations
Celebrate Asian American and Pacific Islander Heritage Month (Multiple Regions)
The month of May honors the culture, traditions, and history of Asian Americans and Pacific Islanders. In the Finger Lakes, learn a Polynesian dance at the Just Be Cause Center in Ithaca on Thursdays through June 6 or visit the Memorial Art Gallery in Rochester for the Asian Pacific Heritage Celebration on May 11. While you're there, visit the Asian art gallery on the second floor featuring paintings and sculptures. In the Hudson Valley, visit the Hammond Museum and Japanese Stroll Garden. Mahayana Buddhist Temple, the oldest Chinese Buddhist temple in the eastern US, is in South Cairo in the Catskills.
Empire State Fair (Long Island)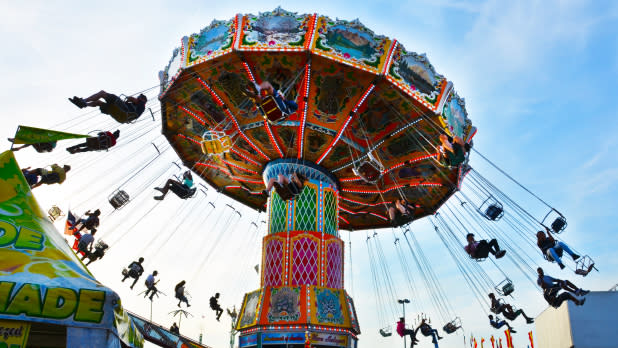 You don't have to wait until summer for the epic state fair experience—Long Island has you covered. The Empire State Fair jump-starts your month with a massive array of festivities, with more than 100 carnival rides, Long Island's largest Kiddy Land, deep-fried everything, a live shark encounter, BMX performance, Lumberjack Show, and so much more. May 3- May 19; Uniondale; free admission
Blast Off to Space Fair (Central)
May the 4th be with you! (In case you missed it, May 4 has turned into a celebration of the Star Wars franchise thanks to the play on the phrase, "May the Force be with you.") In a very cool move, Roberson Museum & Science Center in Binghamton is taking advantage of the moment and holding a Blast Off to Space Fair for young minds curious about the real outer space! Explore two stations with indoor and outdoor challenges, visit the stars with fantastic programs in the planetarium, watch submissions from NASA's film festival, and make space-themed arts and crafts. May 4; Binghamton; Admission is $8 for adults; $6 for students/seniors/military; kids 4 and under are free.
Rochester Lilac Festival (Finger Lakes)

Take time to stop and smell the lilacs! The Rochester Lilac Festival has an amazing array of lilacs and flowers for your sniffing pleasure plus enough worthwhile activities to fill ten days! Events include a parade, craft beer and wine-tasting expos, a 5K and 10K race, an outdoor art exhibit, and live stand-up comedy and musical performances on stage. Wander through food trucks and vendors, and of course the flowers, from tulips to azaleas, pansies, and lots of lilacs! May 10- May 19; Rochester; free admission
71st Annual Tulip Festival (Capital-Saratoga)

Photographer: Albany CVB
Albany's treasured Tulip Festival is a tribute both to its beautiful blooming tulips (more than 140,000 of them!) and its Dutch heritage. Albany was the first Dutch settlement in America, and in proper Dutch custom, the streets must be literally scrubbed clean prior to a festive gathering. Albanyites of the Dutch Settlers Society dress in costume and line up in rows, brooms in hand, to scrub the street and kick off three days of fun events and tulip tours. Shop hundreds of local artisans, sample food stall bites, and bring the young ones to the KidZone. There will also be live entertainment on two stages. May 11-May 12; Albany; free admission
Gardiner Cupcake Festival (Catskills)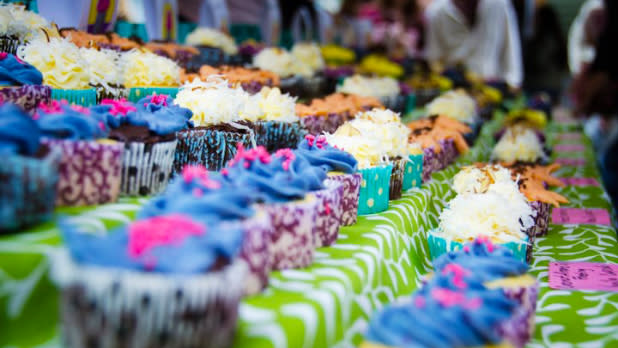 Why don't we have more festivals dedicated to cupcakes? The Gardiner Cupcake Festival starts with the Gardiner 5K Cupcake Classic, a race through the peach orchards of the 453-acre Wright's Farm. Feel free to show up and cheer on the runners but if you feel like joining, participants who sign up before May 8 receive a t-shirt, a fresh apple, and a cupcake at the finish line! Then it's on to the thousands of other cupcakes. There's even an Amateur Cupcake Contest with a $100 cash prize to first-place winners. Take a break from all the sugar with food from the vendors, such as wood-fired pizza, Mexican, BBQ, and Jamaican. There are a number of free activities for the kids, including wagon rides, a petting zoo, bouncy houses, and cupcake decorating! Sweet! May 18; Gardiner; admission $5, kids 6 and under are free.
2019 Apple Blossom Festival (Greater Niagara)
Celebrate spring like they did in the olden days! The Country Village in Newfane invites the public to its annual Apple Blossom Festival in and around its historical buildings. Step inside a vintage schoolhouse, blacksmith's shop, and country store, and join the festivities in the center of town. There will be live music, dancing, crafts vendors, and members of Newfane's Historical Society reenacting gun and cannon demos! (Consider bringing ear plugs?) You'll see how apple butter is made and get to shop fresh baked goods, candies, and apple desserts. May 19; Newfane; free admission
Watertown Farm and Craft Market (Thousand Islands-Seaway)
May 22 marks the reopening of the Watertown Farm and Craft Market, bringing delicious treats, fresh produce, and family programming back for every Wednesday until October! Peruse honey from local apiaries, handmade soaps and lotions, fresh-pressed cider, artisan cheese, funnel cakes, and more.This year, they're introducing the Market Scavenger Hunt—head to their website to print out activity sheets to bring with you for the kids to stay busy as bees. Every Wednesday morning from 9:30 to 10 am, settle down on the lawn for story and song time. May 22- October 2; Watertown; free admission

Image Courtesy of Deep Field Film 
As this summer marks the 50th anniversary of Woodstock, the Bethel Woods Center for the Arts is celebrating landmark events and movements from 1969. Tour their special exhibit, "We Are Golden: Reflections on the 50th Anniversary of The Woodstock Festival & Aspirations for a Peaceful Future," filled with memorabilia and relics from the festival. Starting May 4, traverse the "Bindy Bazaar" trails which connected two major festival grounds and where vendors sold crafts and clothes. May 17 through 19, the Center will host a Lunar Weekend all about the moon landing. You and your family can actually sleep over at the center to join the good times. There will be a bonfire, hot cocoa, stargazing, and storytelling. Then on Saturday, stay to watch Deep Field, a film (pictured) with music by Grammy-winning composer Eric Whitacre set to images taken by the Hubble Space Telescope combined with animation. Various dates; Bethel; prices vary
Sing Out, New York (Capital-Saratoga)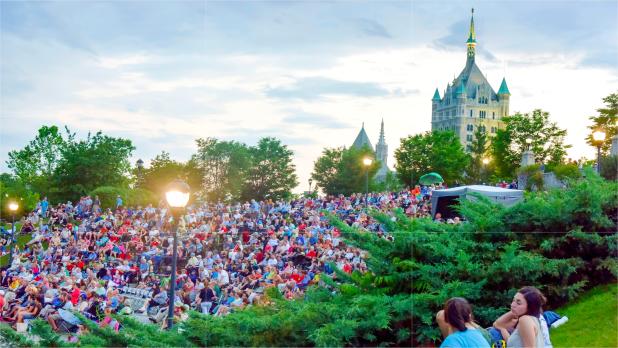 Get started on your Pride celebrations at the weekend-long American Music Festival. This year's theme, "Sing Out, New York!" honors American revolutions of the last century, including the fight for gay rights and the suffrage movement. Venues all around the charming city of Troy will host performances by advocates and composers David Del Tredici and John Corigliano. You can also hear works by the Albany Symphony, Grammy-winning Maestro David Alan Miller, Grammy-winning soprano Hila Plitmann, and more. May 30-June 9; Troy; festival passes start at $75
We've got a BIG birthday to celebrate this year—it's Walt Whitman's 200th! Head to Huntington, Long Island, where you can visit the farmhouse where he was born, and where you'll find a special weekend celebration courtesy of the Walt Whitman Birthplace Association. There will be exhibitions all about the great poet, as well as talks by distinguished Whitman scholars, and an actual Whitman family reunion! There will also be a live musical theater piece inspired by Whitman's 1855 "Song of Myself," and poetry readings galore. May 31-June 2; Huntington; admission $6 for adults, $5 for seniors/veterans, $4 for students, children 5 and under are free.
61st Annual Allegany Nature Pilgrimage (Chautauqua-Allegany)
Yearning to get back in touch with nature? You're not alone! Join other like-minded naturalists in the annual Allegany Nature Pilgrimage. The pilgrimage is a weekend at the end of May hosted at "Camp Allegany" in the Allegany State Park. Reserve a cabin or campsite, or stay at a nearby hotel like the Holiday Inn Express or the Hotel Westgate, both just 15 minutes away. Boy Scouts will be selling hot dogs Saturday at lunchtime, and there'll be a barbeque chicken or vegetarian dinner in the evening. Enjoy talks by famous nature-lovers, like ​Jared Miller, host of the TV show Animal Explorations. Join in on bird walks, hikes, an evening concert, and more. May 31- June 2; Salamanca; free admission
Eat your way through NYC this Spring (NYC)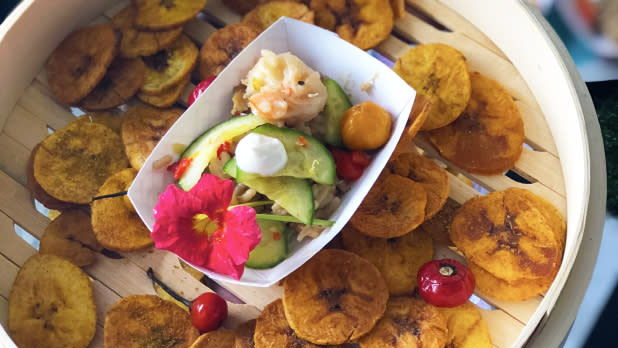 New York City is the perfect city for walking and eating, and come springtime, that's all anybody wants to do. First up, on May 7 you've got Queens Taste 2019, an all-you-can-sample event for a good cause. The fundraiser supports neighborhood development and lets you try bites from 58 local vendors at the New York Hall of Science. Next, May 13 through 19 is Harlem EatUp!, a culinary festival headed up by chef Marcus Samuelsson, celebrating the flavors and culture of Harlem. The signature event is the Dine In Harlem series, a series of dinner parties highlighting collaborations between renowned chefs from Harlem and special guest chefs. You can also take the Harlem Stroll through Morningside Park, a walk of food samples (pictured), cooking demos, live music, and more. Finally, May 18 and 19, the historic World's Fare is back for the second year of its revival. Taste foods from more than 100 cultures, represented by more than 100 vendors, to the backdrop of curated live music. Come hungry! Various dates; various locations
Don't forget to post photos of your New York adventures on Instagram and Twitter with #iSpyNY and tag us on Facebook!