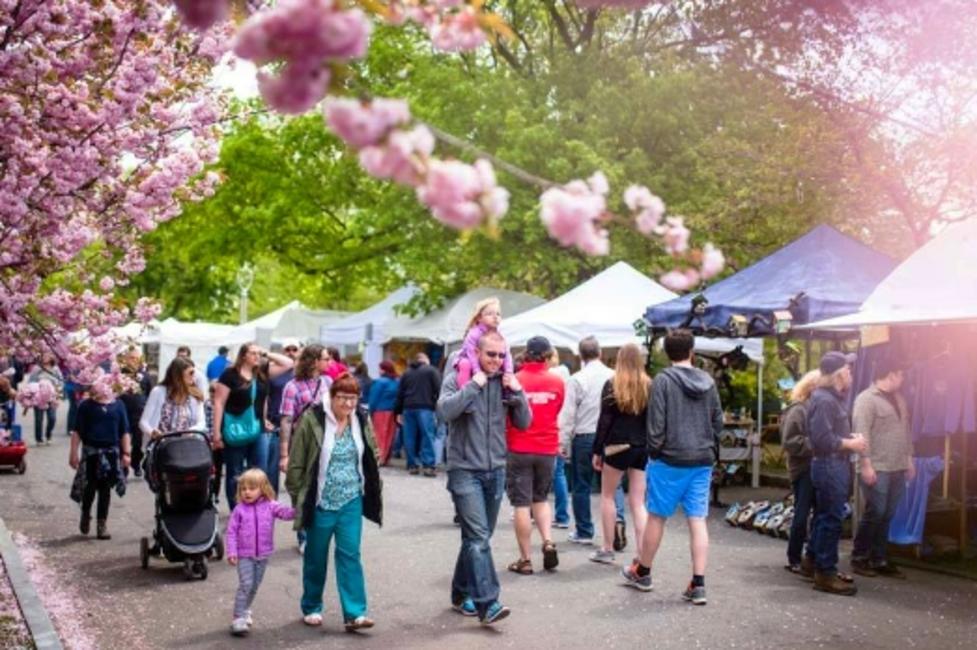 You know the old saying: April showers bring fun May events...right? Well, that's what we say, anyway, because May is packed with so many great things to do in New York State. Below are a few of the events, festivals, and experiences happening all over the state that make for perfect outings while the weather is still in its springtime sweet spot.
Buffalo Cherry Blossom Festival

Photographer: Paula Hinz
At the beginning of May, Buffalo's cherry blossoms are in full bloom and form a perfectly picturesque backdrop to this spring festival in the Japanese Garden of Delaware Park. Besides admiring the cherry blossoms themselves (and using them for Insta backgrounds), you'll want to peruse the other fun events that celebrate Japanese culture. Watch Japanese films (with subtitles), attend "A Taste of Japan" themed party on the SUNY Buffalo college campus, and watch performances of a Taiko Drum circle, Japanese folk dance, and music. Sunday, May 6, from 12pm to 3pm is the festival Family Day, featuring puppet shows, origami, crafts, and a parade. Delaware Park, Buffalo; May 2–6; admission to the gardens and most festival events are donation-based. the "Taste of Japan" party has a $20 admission fee.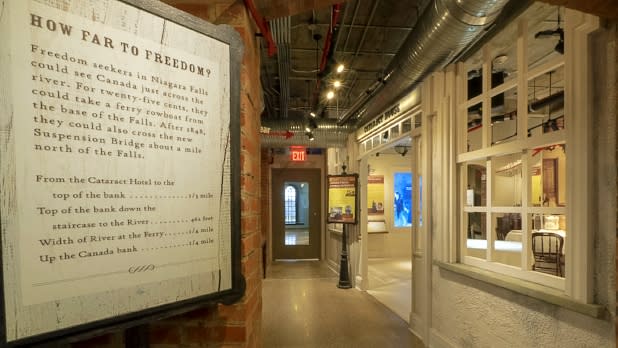 On May 4 the brand new Niagara Falls Underground Railroad Heritage Center opens its doors, offering the chance to hear real stories of brave Americans. The Niagara River and Gorge were the final obstacles on the journey to freedom for fugitive slaves escaping to Canada. This brand new museum features a re-creation of the International Suspension Bridge which connected the U.S, and Canada from 1855 to 1897, and was used by people traveling the Underground Railroad to cross the border. The grand opening will be from 4pm to 9pm, and will consist of a self-guided walk, live music, h'or d'oeuvres, wine, and beer. If you can't make the opening, the museum will be open Tuesdays through Sunday beginning May 8. Heritage Area Commission, Niagara Falls; May 4; general admission $20
Albany Tulip Festival

Photographer: Albany CVB
Instead of giving Mom a bouquet of flowers this Mother's Day weekend, take her for a walk among 150,000 color-popping tulips at the event-packed Albany Tulip Festival. Leading up to the festival, take a leisurely "Tulip Tour" from May 7 through 10, and on the day before, head to City Hall to witness the 70-year-old Street Scrubbing ritual. Per Dutch custom, a row of ladies dressed in traditional garb scrub the streets clean in preparation for the festivities. The next two days include live music and dance performances, magic shows, a handmade crafts fair, art exhibitions, food, and a KidZone Activity Tent filled with games and crafts. Washington Park, Albany; May 12–13; Free

Rochester's beloved native lilacs are the inspiration behind its 10-day festival of art, music, food, and, of course, flowers! Home to the largest display of the largest variety of lilacs in the country, the city's Highland Botanical Park really goes all out in its celebration. Festival events include a parade, 5k and 10k runs, a comedy show, wine tastings, a craft beer expo, and "Art in the Park"—an art and crafts fair one street over from the public gardens. That's all in addition to the incredible lineup of musical artists that will take to the enormous Sahlen's Center Stage. Be sure to catch the Chopped and Iron Chef–inspired "Garden Battles" live competition, where local TV and radio personalities race the clock to assemble their gardens. May 11–20
2018 GlassBarge Tour

Brooklyn Bridge Park | Photographer: Julienne Schaer
Welcome to one of the state's more unusual events starting this May: The Corning Museum of Glass GlassBarge Tour. 150 years ago the Brooklyn Flint Glass Company traveled by waterway up to Corning where it blossomed into the world-renowned glass technology company it is today. To commemorate its history, the Corning Museum is sending a traveling glass-making demonstration up the Hudson River, along the Erie Canal, and finally to the Finger Lakes, where it will end its four-month journey in Corning. Not only will the tour spread the wonder of live glass-blowing, it will honor the historical significance of New York's waterways. From May 17 to 28 the barge kicks off its one-of-a-kind exhibit at its first stop, Brooklyn Bridge Park. Brooklyn Bridge Park, Brooklyn; May 17–28; Free
8th Annual Two Nations 1000 Islands Extravaganza Car, Truck and Bike Show

Photographer: Cathie Macneil
Extravaganza is the operative word in the name of this festive event. You don't need to possess a particular passion for motor vehicles to appreciate the vintage models on display this weekend. Pull up for the drive-in movie, dig in at the community BBQ, gaze up at fireworks over the baseball field, and shop the outdoor craft and vendor fair. Kids will get a kick out of face-painting, games, and real-life versions of all their toy cars, trucks, and motorcycles. Cerow Recreation Park, Clayton; May 18–19; Free
5th Annual Korean Street Festival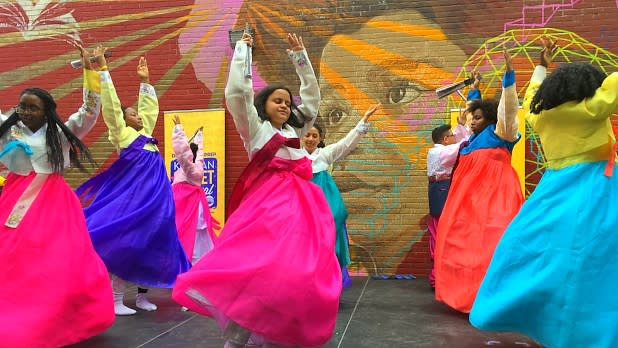 Come experience the vibrancy (and deliciousness) of Korean culture at this fun, family-friendly street festival held by New York City's Democracy Prep Public Schools. Live performances of K-Pop dancing, traditional mask dances, and Taekwondo will keep you entertained. Little ones can have their faces painted, test their skills in the "Chopstick Challenge," try lantern-making, and learn Korean games. Last but not least, you get to chow down on flavorful bibimbap, kimchi, rice cakes, and more! New York; May 19; Free
Baseball Hall of Fame Classic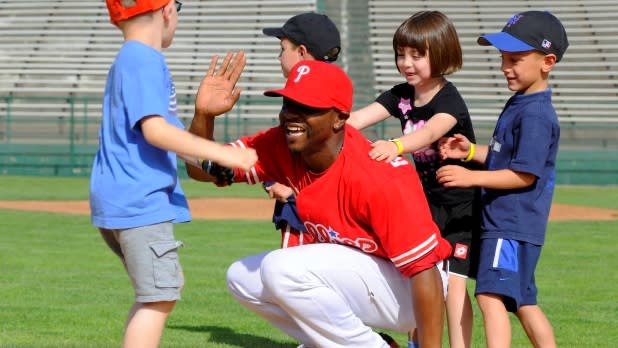 Baseball season is on, and if you're a fan of the sport, consider your Memorial Day weekend plans made. Cooperstown's historic Doubleday Field will host a seven-inning game featuring Hall of Fame members Rollie Fingers, Goose Gossage, Randy Johnson, Phil Niekro, Tim Raines, and Ozzie Smith, as well as recently retired players from all major league teams. After the game, kids are allowed to hit the field and run the bases. On Friday, May 25, the Hall of Fame will be offering a Cooperstown Classic Clinic, where kids ages 7–12 have the opportunity to receive tips and hands-on guidance from major league legends. The clinic is free but you need to reserve a spot in advance. (Find details on their website.) Cooperstown; May 26; Tickets for the Hall of Fame Classic $12.50 for first and third base seats, $11 for general admission outfield seats.
Art Trail Open Gallery and Studio Tour

Photographer: Nancy N. Ensign
If you're looking for some culture this Memorial Day weekend, head to the 10th Annual Art Trail Open Gallery and Studio Tour in Chautauqua County. It's one thing to admire art in a pristine gallery setting, but actually getting to step into the studios of 19 artists, who work in all different media, lends a rare inside look at the pieces being displayed. Learn where artists draw their inspiration from, and how the final works take form. This year is the first to feature a Children's Art Trail at selected art studios where kids have the chance to make their own masterpieces. Westfield; May 26–27; Free
East Durham Irish Festival
You don't have to wait for next year's St. Patrick's Day to come around in order to celebrate Irish culture. For more than 40 years East Durham has paid homage to its heritage with an annual Irish Festival. There will be a beer garden for adults to sip on Guinness and listen to live music, while the whole family can rock out to performances by more than a dozen different musical guests as well as see Irish plays and dances in the Heritage Tent. Michael J Quill Irish Cultural & Sports Center, East Durham; May 26–27; Day Pass $15 until April 30th, $20 at the gate; 2 Day Pass $25 until April 30th, $30 at the gate; Seniors and Veterans $15 and 2 Day Pass $25 at the gate; Children under 14 free with purchase of adult ticket.
Woodstock–New Paltz Art & Crafts Fair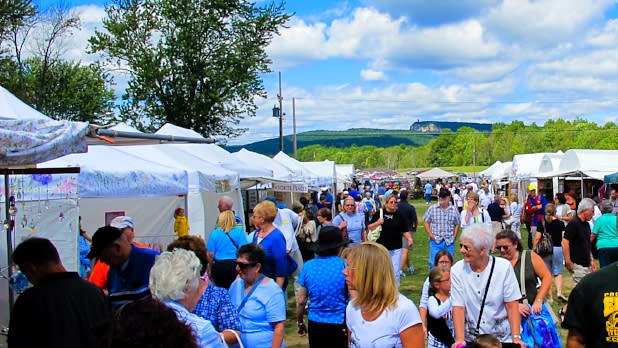 This enormous Hudson Valley arts and crafts fair is only held on Memorial Day and Labor Day weekends, so don't miss out! Shop unique handmade jewelry, art, ceramics, and crafts made from fabric, leather, and metal. You can watch many demonstrations, including Chinese brush-painting, the making of Batik wall-hangings, and even ironwork. There will be live music and even the food is themed: everything will be made by hand, on-site, by independent vendors. Families will be happy to drop by the Children's Tent, for face-painting, book-readings, and special kid-focused demonstrations and crafts. On both Saturday and Sunday at 1:30 pm the entertainment area will feature a performance just for little ones. Ulster County Fairgrounds, New Paltz; May 26–28; Adults $9.00; Seniors $8.00; 3-day weekend pass $12; Children 12 and under free.
The Bethpage Air Show at Jones Beach

Photographer: Long Island State Parks
Head to Jones Beach this Memorial Day for an aerobatic show that's sure to wow. Military and civilian pilots partake in the annual spectacle, pulling off unbelievable stunts of skill and discipline. The United States Navy Blue Angels will be headlining, along with incredible performances by the Marines, the National Guard, the Air Force, and the Army. Head in early to snag a parking spot, and bring earmuffs for anyone in your party with delicate ears. May 27–28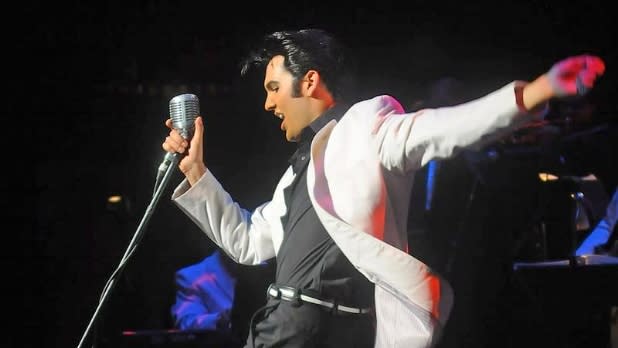 Elvis lives on in Lake George! For 11 years running, Lake George has hosted one of the largest Elvis festivals in the country, consisting of five days full of tribute concerts and events. Veteran performers from all over the nation play the classics aboard an Adirondack lake cruise, a Minnie Ha-Ha cruise, and in restaurants and local bars. Think you've got what it takes to impersonate the King? The festival features two fierce rounds of the Ultimate Elvis Tribute Artist Contest for pros and regular fans alike, with categories such as the '70s, Early-Years, and a youth division. As the entire village of Lake George comes alive with rock n' roll, you'll find you can't help falling in love... Lake George; May 30–June 3; Individual tickets for headline shows $60 - $80; Contest round admission $25; All contest rounds $60; Weekend ticket passes $119 - $269
Don't forget to post photos of your New York adventures on Instagram and Twitter with #iSpyNY and tag us on Facebook!