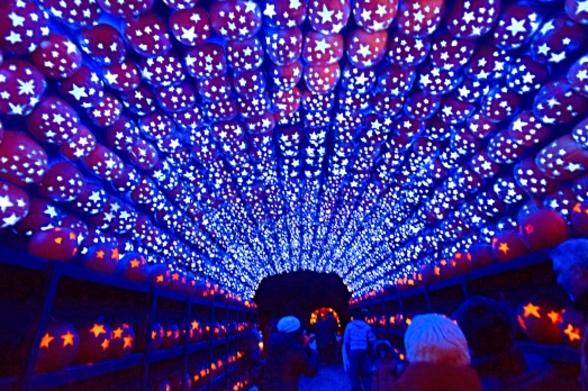 There is so much happening in the month of October in New York State! The leaves are changing, the air is getting crisp, and the pumpkins need carving. It's also prime time for fall events, with oyster shucking, craft beer, history, and more worth celebrating. Not to mention that Halloween is quickly approaching. October is the perfect time to get outside and explore all that New York State has to offer.

Credit: Rob Sharpe, Hunter Mountain Content Strategist
Grab your Lederhosen, Dirndl, and stein and head to Hunter Mountain in the Catskills, where four weekends of Oktoberfest await. The festival kicks off September 28 and returns every weekend through October 20. Not only can you get your fill of traditional Bavarian cuisine—Schnitzel with noodles, anyone?—Hunter also pulls out all the stops with unique themes for each Oktoberfest weekend. Enjoy a Doxie Derby one weekend (that's a Dachshund race), an event offering samples of delicious hard ciders, and a Eurocar rally. Grab a mug of cider, dance the Schuhplattler, and then take a scenic gondola ride to the top of Hunter for a bird's-eye view of the colorful Catskill Mountains. Feeling a bit more adventurous? Head over to the New York Zipline Canopy Tour for a high-flying zoom over and through the mountain peaks! Weekends through October 20; Hunter Mountain; Free admission.
The Great Jack O'Lantern Blaze (Hudson Valley)

Credit: Courtesy of Historic Hudson Valley by Tom Nycz
A historic stone manor house that predates "The Legend of Sleepy Hollow" by nearly a century is the perfect setting for a Halloween festival delivering the right amount of thrills, chills, and wonder. The Great Jack O'Lantern Blaze features more than 7,000 pumpkins carved, stacked, arranged, and lit to create a one-of-a-kind fantasy land that comes alive with a dazzling synchronized light show set to an original score. Step into the gates of Van Cortlandt Manor in Croton-on-Hudson and be transported into a world of light and darkness. Visit the Pumpkin Planetarium to see jack-o'-lantern constellations wheel overhead, see the Statue of Liberty in her Halloween costume, listen for the Headless Horseman, and watch out for swooping jack-o'-lantern bats. Plan to spend at least an hour, or make it a weekend trip and explore the delights of Sleepy Hollow country! Dates vary through November, Van Cortlandt Manor; Ticket prices vary.
Fright Fest (Adirondacks)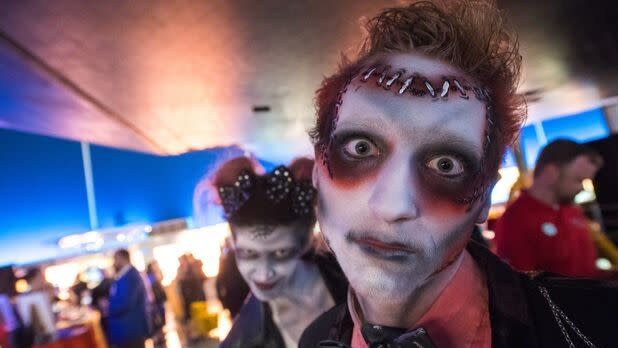 Even as we grow up, we never quite lose our sense of wonder and terror of things that go bump in the night! This October, head to the Adirondacks to experience Fright Fest at Six Flags Great Escape in Lake George. Festival planners have promised new frights and fears, but aren't releasing too many details to add to the suspense. We do know that Dance Macabre will have you on the edge of the grave, err seat, and a tour through Dark Oaks Cemetery and the spidery webs of Infested are sure to cause more than a few goosebumps. From noon until 4 pm, kid-friendly Halloween fun prevails throughout the park. But after 4 pm, the ghouls and ghosts emerge in a bone-chilling horde. No masks or costumes are permitted by visitors, but the frights continue on amusement park rides. Don't miss a turn down the Alpine Bobsled of Terror or the Demon Witch. September 28–October 27; The Great Escape; Daily Admission starting at $44.99. Not suitable for children under 13 years of age.

Credit: Daniel Bell
Picture this: You're sitting with your best friends in a vineyard overlooking a lake that's sparkling in the sun. It's fall, and the rolling hills around you are lush and colorful. You're sipping a glass of wine, reveling in the moment. Now is the time to take a trip to Finger Lakes wine country, where special fall events, wine pairing dinners, and more await! Fox Run Vineyards takes wine lunches to the next level in October with personalized tours and a wine-pairing lunch served in the vineyard's historic barrel room. At Rock Stream Vineyards, join in the festivities of a pig roast on October 5 and enjoy free admission. HarFest at Wagner Vineyards on October 25 is your opportunity to enjoy Halloween as an adult, complete with a costume contest, dancing, the vineyard's wines, and plenty of drafts from Wagner Valley Brewing Co. Special October tours and tastings will also be offered at Dr. Konstantin Frank Vinifera Wine Cellars (pictured) and Heron Hill. Through October; Finger Lakes Wine Country; Prices vary. 

Credit: New York Comic Con/ReedPOP
Join Marvel fans, Anime enthusiasts, and characters from sci-fi and lore at this year's Comic Con in New York City at the Javits Center October 2–6. This four-day festival offers panel discussions that cover everything from prop-making to incorporating diversity and accessibility into costumes, as well as film screenings, cosplay, video games, and so much more. Rub shoulders with cosplayers dressed as your favorite characters and the actors who play them! Special guests this year include Adam Savage from "MythBusters" and "Savage Builds," Tom Hiddleston (Loki in the Marvel Universe films), and Billy Dee Williams (Lando Calrissian in the original Star Wars trilogy). October 3–6; Javits Center; Badge prices vary; Fan Verification profile required to purchase badge.  

Credit: Photos Courtesy of ThisIsCooperstown.com
New York State is, without question, one of the most historic, cultural, and diverse states in the entire country. Path Through History Weekend, October 12–14, is your chance to slip between the pages of history and discover the places and people who shaped not only the Empire State, but our nation. From the role Sackets Harbor played in the War of 1812 to the history of baseball in Cooperstown (pictured), discover all kinds of New York State facts during this special weekend. Build your own itinerary and visit Native American museums, canals that helped expand civilization, and arts and cultural institutions that house famous works of art. October 12–14; locations and prices vary. 
Peek'n Peak Fall Fest (Chautauqua-Allegheny) 

Credit: Rob Frank, George Kilbert
For more than 30 years, western New Yorkers have flocked to Peek'n Peak Resort in Clymer for this annual fall festival that offers two weekends of colorful foliage, pony rides, 140+ craft vendors, and pumpkin cannon demonstrations. Feel like you've fallen into an English fairy tale at this architecturally unique ski resort. Bring the whole family for a weekend of free fall festivities. Visit the petting zoo, enjoy the classic car cruise-in, and dance to live music all weekend long. Weekends October 12–20; Peek'n Peak Resort; Free admission. 
Punkin Chunkin' (Thousand Islands-Seaway)

Credit: ​Courtesy of Horizon Aerial Media
Ever wonder what happens to all those pumpkins that don't become jack-o'-lanterns? They become punkins for chunkin'. This October, head to the village of Clayton on the St. Lawrence River for some epic pumpkin tossing, and a great fall festival that offers fun for the whole family. Watch catapults, trebuchets, and slings lay siege to the St. Lawrence as punkin chunkers compete to see who can chunk a pumpkin the farthest. After watching pumpkins splash into the water, stroll downtown for shopping at the farmers' market and delicious barbecue prepared for the event. Keep the fun going with a boat tour of historic castles, tickets to the latest show at the Clayton Opera House, and wine-tasting at famed Thousand Islands wineries. October 19; Frink Park, Riverside Drive; Free admission.
Oyster Festival (Long Island) 

Credit: Courtesy of Lifetime Photography
From bone-chilling to soul-satisfying, Long Island's Oyster Festival is one of the top fall events in New York State. October 19–20, Oyster Bay transforms into a family-friendly foodie paradise. Sample oyster stew, fried oysters, and raw oysters. You'll also find a variety of things that kids will love to eat at the Food Court. Then, it's off to the shows! Pirate shows, live music, and the 36th-Anniversary Oyster Eating and Shucking Contest are crowd favorites. Head to the Midway for amusement park rides. Round out your experience watching the tall ships sail across Oyster Bay. October 19–20; The Waterfront at Theodore Roosevelt Park, Oyster Bay; Free admission.
Buffalo Bills Games  (Greater Niagara) 

Credit: Buffalo Bills
There's nothing that says fall more than football, especially if you're a Buffalo Bills fan! This October, catch the Bills at home October 20 when they take on the Miami Dolphins and October 27 when the Philadelphia Eagles come to Buffalo. Traveling from out of town? Make a weekend out of it and spend some time in the Greater Niagara region's secret spots. Check out the autumnal colors at Niagara Falls, marvel at the more than 1,500 aquatic animals that call the Aquarium of Niagara home, and don't miss breakfast at Betty's! October 20 and 27; New Era Field, Orchard Park; Ticket prices vary.
Saratoga Fall Festival (Capital-Saratoga) 
If you're in the Capital Region on October 26, don't miss this heart-warming community festival in downtown Saratoga Springs. This free festival hits all the right notes for family-friendly fun. Enjoy magic shows, pony rides, Halloween crafts, live music, Trick-or-Treating at participating stores and restaurants, and more. Even pups are encouraged to join the festivities during the dog costume contest. Past year's activities have included pumpkin painting, cupcake decorating, mini-golf, and chair massages for parents who need a little R&R after all that candy. October 26; Downtown Saratoga Springs; Free Admission. 

Credit: Destination Marketing Corporation for Otsego County
Experience the colorful landscape of the Susquehanna River Valley on a scenic Fall Foliage Train Ride with the Cooperstown & Charlotte Valley Railway. This year marks the railway's 150th anniversary, and one trip aboard is all you'll need to see why its routes are so celebrated. Ride through rolling farm fields and colorful forests on the Fall Foliage Train route and enjoy 2.5 hours of scenic views. Or hop aboard the two-hour Pumpkin Patch Train Ride, where every child who rides will get a free pumpkin to take home. For grown-ups looking for spooky fall adventure, the Halloween Costume Party Train on October 19 is only open to passengers who are 21 years and older. All fall train rides leave from the Milford Depot. Prices and dates of rides vary. 
Don't forget to post photos of your New York adventures on Instagram and Twitter with #iSpyNY and #ILoveNY and tag us on Facebook!