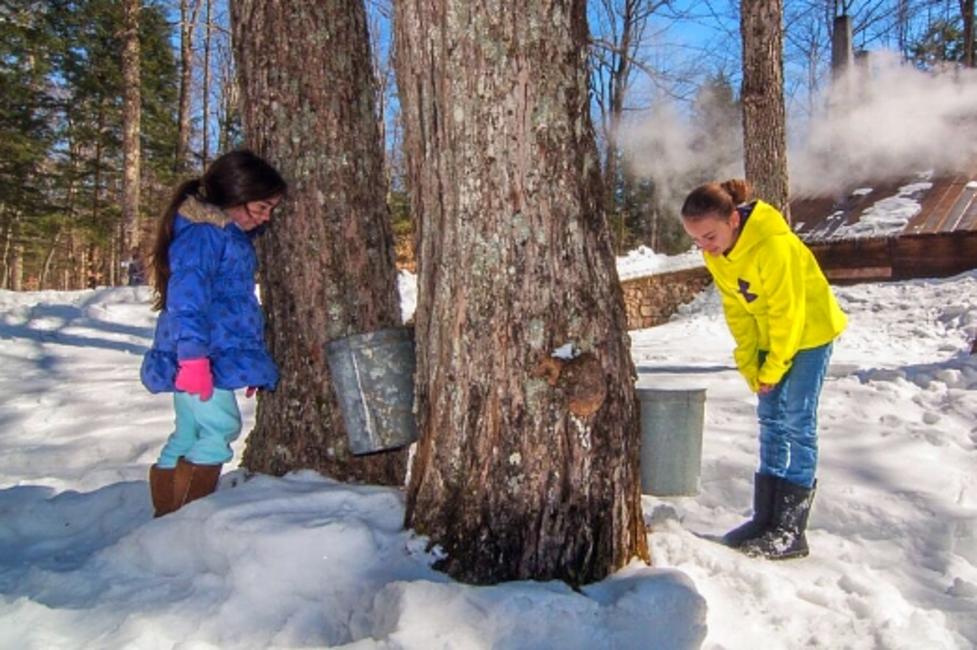 In like a lion, out like a lamb, March can be a bit fickle. But this means you get to enjoy the last of your winter fun plus a fresh taste of spring weather. And even better, New York has amazing events all month long to make the most of it. Since some parts of the state are in winter mode longer than others, get ready for a mix of winter and spring carnivals, St. Patrick's Day festivities, and Mardi Gras celebrations to help you savor the change in seasons.
Before chocolate and candy were invented, maple syrup was about as sweet as sweet got, and it's still delicious today. Savor the sweet life of the 19th century at the oldest rural living museum in the country, the Farmers' Museum in Cooperstown. The museum will teach you how people drew sap from trees back in the day as well as how more modern innovations are used. Then the demonstrators will share the fruits of their labor at a giant pancake breakfast. They'll also offer kids' activities, like tapping maple trees themselves, enjoying maple syrup-snow slushies, taking wagon rides, and hopping on the Empire State Carousel. Maple syrup will be available for purchase and local producers can answer any questions. Cooperstown; March 3, 10, 17, 24, 31; Adults admission: $10, children ages 7–12 $6, children ages 3–6 $5, children 2 and under free. Admission includes full breakfast.
Holiday Valley's Winter Carnival & Ellicottville's Mardi Gras (Chautauqua-Allegheny)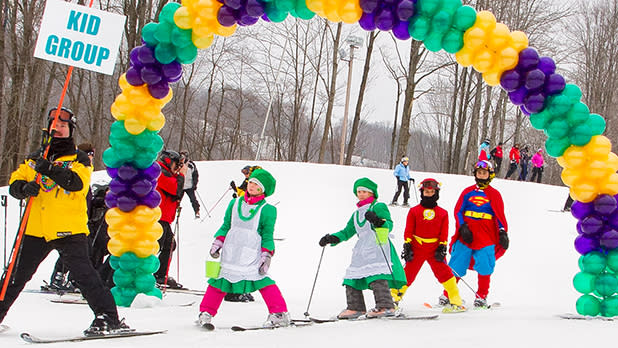 Okay, so we're a ways from New Orleans, but that doesn't mean you have to miss out on all the fun of Mardi Gras! Holiday Valley and the town of Ellicottville have you covered with a two-day carnival. Over the course of the festivities you can hear live music, have a blast with family activities, chow down at the cookouts and pancake breakfast, and watch as homemade dummies "ski" down the mountain in a Dummy Downhill race. Join in on two Mardi Gras parades, one in town on Saturday and one on Sunday at Holiday Valley, the latter of which is also a costume contest. It's free to enter and the winner gets season passes for next winter, so start planning your costume now! Ellicottville; March 9–10; Regular admission fees apply, see site for details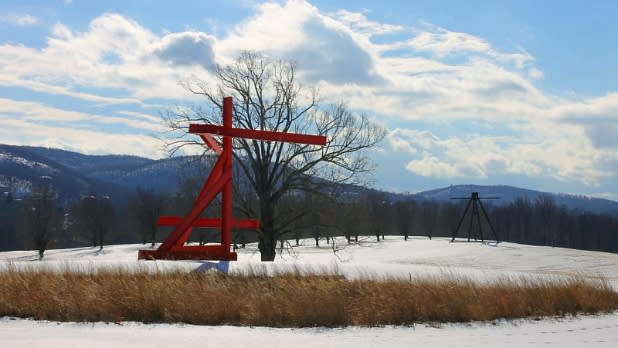 Lovers of outdoor sculpture and art, come out of hibernation. The beloved Storm King Art Center, while technically in the middle of its off-season, opens shop for a few select weekends each winter. Breathe in that fresh early-spring air and enjoy this rare chance to see the expansive grounds and massive sculptures in their icy cold weather state. At 1 pm on both days,  attend a free walking tour of the grounds. New Windsor; March 10–11; $18 for adults, $15 for seniors, $8 for kids
North Country Goes Green Festival  (Thousand Islands-Seaway)

Credit: Patrick Wickey
Looking to celebrate your Irish heritage (or anyone's Irish heritage) this St. Patrick's Day? You're in luck! Don all your green duds and head to Watertown for spirited festivities that the whole family can enjoy. More than 550 volunteers help put on this two-day festival, which has led to the donation of one million dollars to charities over the years. Join the community for live Irish music performances, face painting, Irish eats, a beard contest, a Miss Ireland beauty pageant, a parade, and plenty 'o children's activities. Watertown; March 15–17; free
Annual St. Platty's Day (Catskills)
Enjoy St. Patty's Day the Plattekill Mountain way—on the slopes! In addition to late-season skiing, snowboarding, and snow tubing, join the mountain's cozy holiday celebration. Green beer? Check! Corned beef and cabbage? Check! You'll also find live music and a Shamrock Hunt for all to join. The first 50 skiers to arrive at the mountain on Friday, March 1st will be treated to special $25 lift tickets! Roxbury; March 16; Regular admission prices apply
Bristol Mountain Spring Carnival (Finger Lakes)

Credit: Drew Broderick
Bristol Mountain is getting a head start on spring (which technically starts on March 20) with its two-day Spring Carnival. Join in the annual Shamrock Scavenger Hunt and Easter Egg Hunt, meet some wild owls, go snow tubing, and make your own arts and crafts. The highlight of the event might be the annual "Slush Cup," where costumed contenders attempt to cross a slushy pond on skis without falling in. During the carnival, Nordic trail tickets are free for all ages, and children ages 12 and under receive a free alpine lift ticket plus a free beginners' lesson. Canandaigua; March 17–18: Regular admission fees apply, see site for details
Plantasia (Greater Niagara)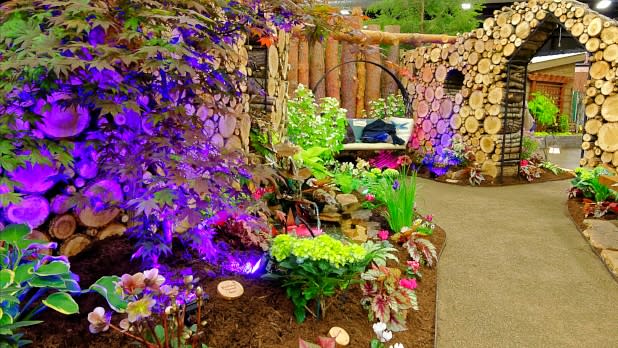 Forget all about the lingering winter weather at Plantasia, Western New York's premier garden and landscape show. This year's theme, "Plantasia in Paradise," will whisk you away to tropical whimsy. Explore 14 landscaped garden displays composed of flowers, trees, and water features. More than 115 vendors supply your needs for plants, seeds, bulbs, decor, tools, and outdoor furniture. Educational seminars will guide you through all facets of gardening so you can return home with a green thumb, and the kiddos can head to the Children's Garden for activities and events. East Amherst; March 21–24; $10 for adults, $8 for seniors, kids 12 and under free
Great Upstate New York State Boat Show (Adirondacks)

Credit: Normandin Marketing
Now that boating season is getting started, find whatever floats your boat, or rather, whichever boat you'd like to float, at this year's Great Upstate New York State Boat Show. As the largest boat show between New York City and Montreal, you'll find a mind-boggling selection of options. Shop new and preowned deck boats, jet skis, aluminum and fiberglass fishing boats, wooden boats, pontoons, and more. Discover the latest technologies that will enhance your time on the water, and browse all types of lifestyle products from vendors. You can also deepen your knowledge on boating with seminars about boat safety and using the right props. Queensbury; March 22–24; Adult admission $10 at the door, children under 12 are free. $2 discount coupon available online.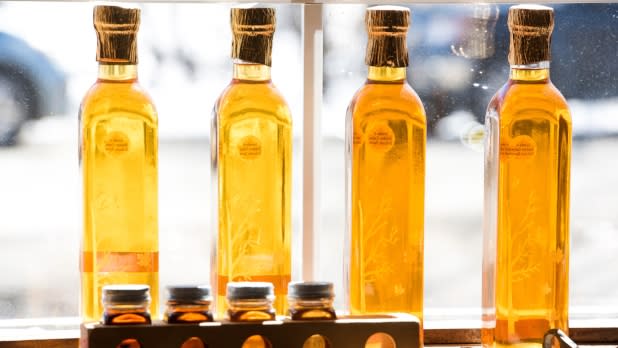 April showers bring May flowers but what does March bring? Maple syrup! Now is the time when farmers tap their trees to collect that sticky sweet goodness, and you're invited to share the bounty. Farms across New York State hold open houses and pancake breakfasts for all to try. Learn how maple syrup is collected and processed, taste different varieties, and shop maple products and treats in the form of candy, ice cream, and more. Multiple locations, March 23–24 & March 30–31: Prices of pancake breakfasts vary by location
THAW Festival (Long Island)
The annual THAW Festival is named for its acronym, the Hamptons Arts Weekend, but we like to think it's about thawing yourself out after a long winter cooped up indoors. So stimulate your senses with art exhibitions, music and theater performances, film screenings, and more. The festival starts with a kickoff event featuring live comedy, music, and dancing as the galleries open. There will be puppet shows for little ones, garden tours, sip and paint classes, and tasty snacks courtesy of the Amagansett Food Institute. Hamptons; March 23–25; Prices vary
Capital District Garden & Flower Show (Capital-Saratoga)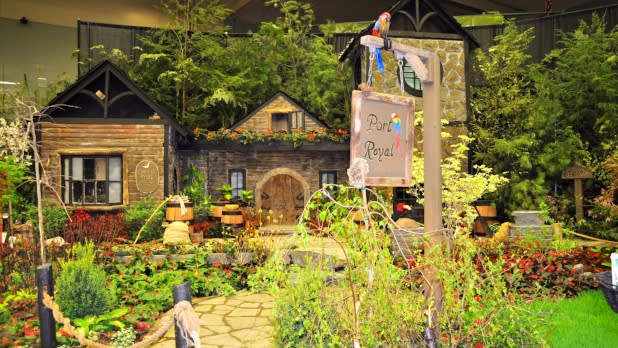 Can't wait for spring flowers? Don't miss out on the massive garden and flower show in Troy! See garden displays that are the product of months of planning. The pieces are even more impressive once you realize that the artists had to time their constructions so all the incorporated flowers would bloom on time. If you've got a knack for design, the show includes contests for professional and amateur floral designers. Check out the lectures and live demonstrations, and try samples from attending local wineries. Troy; March 23–25; General admission $14, kids 12 and under free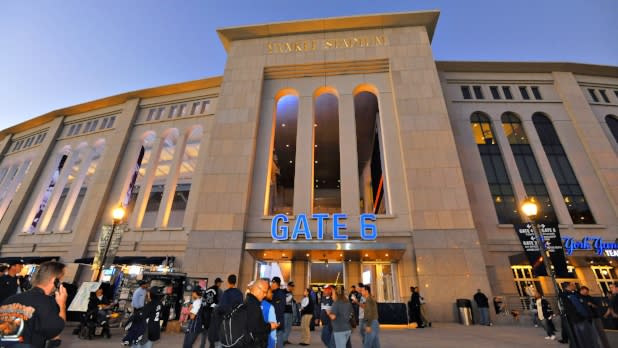 Treat your family to one of New York's must-do spring activities: a hot dog and a ballgame. The Yankees start the season at home against the Baltimore Orioles with a three-game set, with high hopes for another memorable season and a run at the World Series. The big bats of Aaron Judge, Giancarlo Stanton, and Miguel Andujar will greet an Orioles pitching staff that struggled last year, so expect balls to be flying around fabled Yankee Stadium all weekend long. Bronx: March 28–31; prices vary
Share your New York State adventures with us on Instagram and Twitter with #iSpyNY and tag us on Facebook!