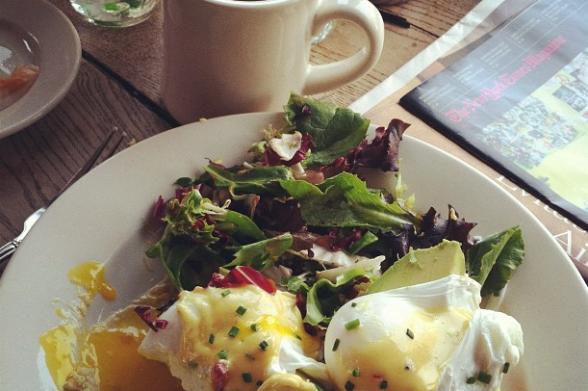 These are the must-eat, unique brunch spots across the state of New York!
Eggs Benedict
Though there are conflicting accounts as to the true origin of Eggs Benedict, one widely believed story is that Chef Charles Ranhofer fathered the recipe over a century ago at America's first restaurant (which is still around today!), Delmonico's in Lower Manhattan. In the 1860's – so the story goes – a regular patron of Ranhofer's, Mrs. LeGrand Benedict, could find nothing that she wanted to eat so Ranhofer came up with Eggs Benedict, coining the dish after Mrs. LeGrand herself. The recipe can be found in his encyclopedic cookbook The Epicurean.
The Classic Brunch
Besides the most obvious choice (checking out Manhattan's Delmonico's, the home of Eggs Benedict), there are plenty of delicious brunch spots across the state that we highly recommend that you and your taste buds check out.
Get a tres magnifique brunch at Brasserie 292 in Poughkeepsie. Noted as one of Thrillist's Best NY Restaurants Outside NYC, this cute little French restaurant serves escargots and gratinees in addition to more traditional brunch choices like steak and eggs. Gluten free? Fret not! Brasserie 292 also serves up mean gluten-free pancakes!
Looking for the classic breakfast experience as an any-time-of-day brunch? Look no further! The Breakfast Club, etc. in Lake Placid serves breakfast all day long! Try one of five kinds of Eggs Benedicts or a French Toast Fondue! Combine their self-proclaimed "best" Bloody Mary's in town and you're sure to leave satisfied!
Go to brunch with a view at the Silo in Greene, New York. Start your brunch off right with a complimentary glass – champagne, mimosas and Bloody Mary's included – and then fill your plate (and your stomach) with the brunch buffet of your dreams! Between Blintzes, pastries, omelets and even seafood dishes – there's a dish that will please the taste buds of even the pickiest of eaters!
Head to Phoenicia Diner in Phoenicia, where can you get a true breakfast experience any time of the day! From Western omelets to breakfast tacos to smoked trout, this delicious diner will not disappoint! The best part? It's served all day so you can brunch no matter what time you wake up!
Looking for brunch with a twist? Check out Funk N' Waffles in Syracuse! Featured on Food Network's Diners, Drive-Ins & Dives, Funk N' Waffles has some of the best waffles - and music - around! Stick around after brunch to groove to live jams!
The Boozy Brunch
…Because brunch without the classic mimosa or Bloody Mary is really just late breakfast.
Looking for an all-you-can-eat and drink brunch spot? Check out Rothman's on Long Island. With a brunch buffet set for a king, there is absolutely no way to leave hungry. And with screwdrivers, mimosas, Bellinis and more for just $5 a pop – there is no way you'll leave thirsty, either!
Head to Betty's in Buffalo for delicious Chilaquiles or fluffy buttermilk pancakes topped with fruit and New York-made maple syrup! Noted as one of Step Out Buffalo's Best Boozy Brunch Spots, you have got to pair your meal with one of Betty's sparkling cocktails made with Dibon Cava Brut Reserve or make your own mimosas with some prosecco and fresh-squeezed OJ! Looking for more of a savory beverage? Their Bloody Marys are notoriously good, too!
Check out the Revelry in Rochester - one of Thrillist Best NY Restaurants Outside NYC - for a true Lowcountry southern meal complete with fried pickles, pimento spread and even homemade donuts! With more than 14 brunch cocktails to choose from and a myriad of wines, champagnes and beers on tap...you'll find the perfect pairing for whatever delicious dish you choose!
Share your favorite brunch spots across the state of New York on Instagram and Twitter with #ILoveNY and #iSpyNY and tag us on Facebook!