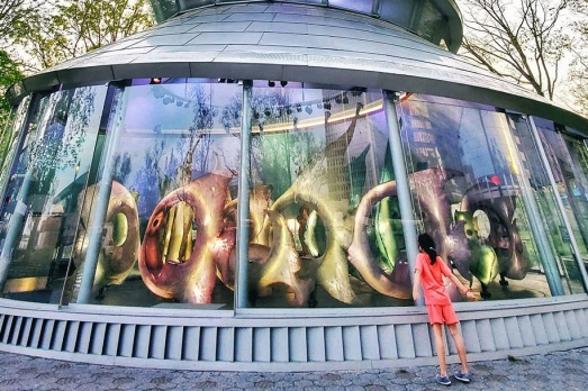 When you think about it, so many ordinary items that surround us in our everyday lives have one thing in common — glass. From the windows in our homes to the windshields of our cars to the touch screens of our smartphones, glass is seemingly everywhere. It has been a vital material in medicine, technology, clean energy, and the arts. To honor its role in advancing society, the United Nations has declared 2022 as the International Year of Glass. To mark the occasion, take the ordinary to the extraordinary with one-of-a-kind experiences across New York that will give you a new appreciation for glass. From viewing the world's largest kaleidoscope to riding an aquatic carousel, here are some unique ways to enjoy the beauty and uses of glass.
Remember to social distance and wear a mask as required by state guidelines. Call ahead and check websites and social media to make sure attractions are open and available.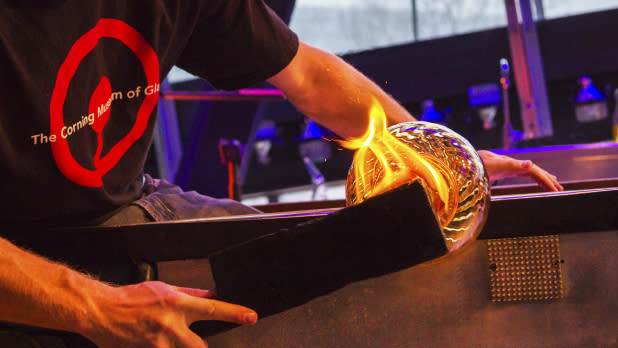 There is no institution more dedicated to championing the art, history, and science of glass than the world-famous Corning Museum of Glass. The museum was established in 1951 in celebration of the 100th anniversary of renowned glass company now known as Corning Incorporated, which settled in the Finger Lakes town in 1868 and inspired Corning's nickname of the "Crystal City." Explore 35 centuries of glassmaking techniques and historical treasures, including an Egyptian glass portrait of King Amenhotep II, an ancient Roman cup depicting a gladiator fight, and a stunning 1905 Tiffany stained glass window saved from a demolished Hudson River castle. Witness live glassblowing demonstrations from the masters and then try it yourself with "Make Your Own Glass" sessions, where you can create flowers, ornaments, pendants, and more using various glasswork techniques.
Kaleidoshow: World's Largest Kaleidoscope (Catskills)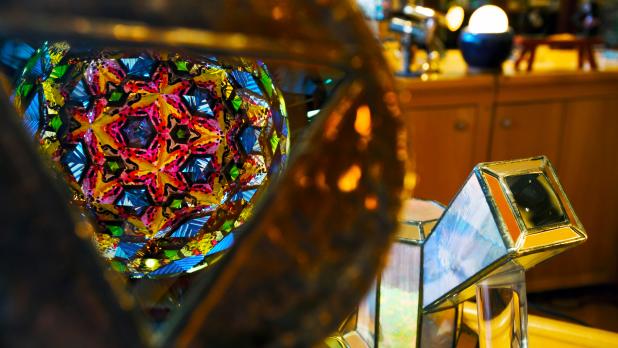 At the Emerson Resort and Spa, an Adirondack-style lodge and contemporary inn nestled in the lush green hills of the Catskill Mountains, you'll find an unassuming former grain silo that has been transformed into a truly spectacular attraction. The 60-foot tall farm structure is actually the world's largest kaleidoscope — certified in 1997 by the Guinness Book of World Records. A musical score accompanies the hypnotizingly beautiful Kaleidoshow, delighting audiences of all ages to a 10-minute visual and audio experience. The neighboring Shops at Emerson, housed in a former barn, sell hand-crafted kaleidoscopes as well as clothing, toys, local food products, and more.

Credit: @wewandernyc on Instagram
The Battery, located at the southern tip of Manhattan, was the first home of the New York Aquarium. As a nod to that distinction, you'll find a wondrous fish-themed carousel housed in a 2,575 square foot pavilion in the beloved downtown park. Instead of classic horse figurines, riders climb aboard 30 iridescent fiberglass fish that are illuminated with color-changing LED lights to evoke the bioluminescence of the deep sea. "Water effect" lighting will make you feel like you're on a magical underwater adventure as you glide around on a blue-ringed angelfish or orange-spot wrasse.
Visit the Largest Collection of Tiffany Glass (New York City)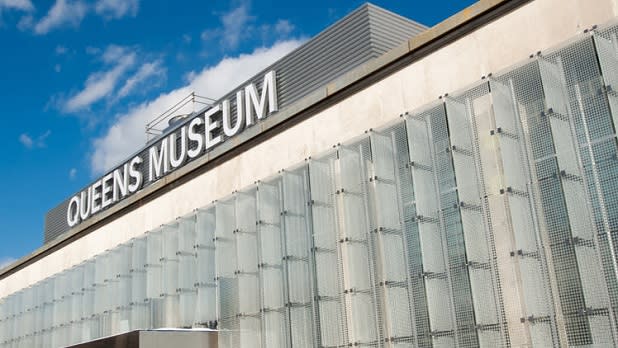 The beauty and elegance of classic Tiffany stained-glass mosaic lamps are unmatched. In The Neustadt Gallery at the Queens Museum, you'll discover a premier collection of Louis Comfort Tiffany's masterpieces, including the iconic lamps, windows, metalwork, and more than 250,000 pieces of original flat glass and glass jewels from Tiffany Studios. The massive display provides deep insight into Louis C. Tiffany's artistry and methods as well as America's stained-glass movement at the turn of the 20th century. Fun fact: Louis C. Tiffany was the son of Charles Lewis Tiffany of Tiffany & Co. fame.
See Through NYC at Edge and SUMMIT One Vanderbilt (New York City)

Credit: @matt.ritchie on Instagram
Glass offers visitors an opportunity to see New York City in a whole new way and from daring new heights. Venture over to Hudson Yards where you'll find Edge, billed as the highest outdoor sky deck in the Western Hemisphere. The deck juts out from 30 Hudson Yards so when you walk out onto the glass floor you can see straight down to the street, 100 stories below. Frameless window panels let you take in sweeping skyline views from Central Park down to the Statue of Liberty. Thrill seekers can head over to SUMMIT One Vanderbilt, where you can ride an outdoor all-glass elevator with a transparent glass floor up the side of the building to soak in views from over 1,2000 feet above the city. Spanning three floors, this unique observation deck, complete with an immersive art installation and an outdoor terrace, also gives awe-inspiring views of northern and southern Manhattan. 

Credit: @capturing_the_cosmos on Instagram
Bust out the chisel and slap on those safety goggles, it's time to go prospecting for some Herkimer Diamonds! Head to the Miners' Village at the Herkimer Diamond Mines KOA Resort  to sift for these so-called diamonds, which are actually double-terminated quartz crystals. The gemstones are close to 500 million years old and bonus: you'll get to take home what you find! Don't mind getting wet? Opt for the sluice mining experience where you can screen stones in a water-filled trough. 
Glass Bottom Boat Tour to Rock Island Lighthouse (Thousand Islands-Seaway) 
Climb aboard Clayton Island Tours' Night Heron and you'll be treated not only to the majestic scenery that's above and around the St. Lawrence River, but also below. The unique glass-bottom boat lets you see what lies beneath the surface of the water. The 2-hour and 45-minute boat tour to the Rock Island Lighthouse will take you over two 19th century shipwrecks and dock cribs left over from the Gilded Age. You'll also get a peek at large underwater shoals and the great aquatic river wildlife. 
Don't forget to post photos of your New York adventures on Instagram and Twitter with #iSpyNY and tag us on Facebook!