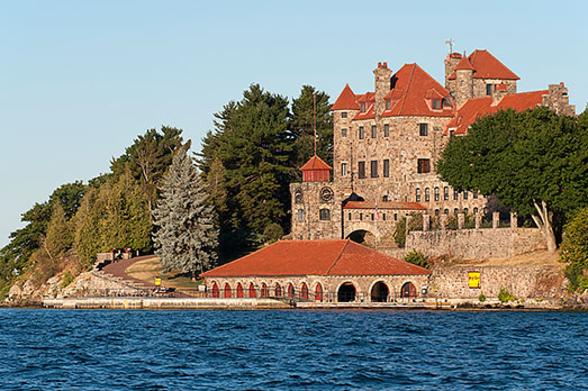 Craving a getaway with a unique twist? These New York State vacation rentals and places to stay differ from the usual hotel experience with private entrances, remote locations, and lots of outdoor space for recreation. From rustic cabins to luxury hideaways to glamping in the city or in the country, these lodgings offer ways to get away from it all. 
Remember to social distance and wear a mask as required by state guidelines. Call ahead and check websites and social media to make sure attractions are open and available. 
Updated 2/23/22

Credit: @cc1336 on Instagram
Point Au Roche is an 856-acre state park that showcases the best of the Adirondacks—including the shoreline along scenic Lake Champlain. A sister property to the adults-only Point Au Roche Lodge (pictured) is family-friendly Point Au Roche Lakeside, with a two-bedroom, one-bathroom cottage and a modern two-bedroom, two-bath house right on the lake. The waterfront and mountain views are spectacular, there's easy access to biking and walking trails, and activities such as kayaking and canoeing.
Camp in a Former Amusement Park at Frontier Town (Adirondacks)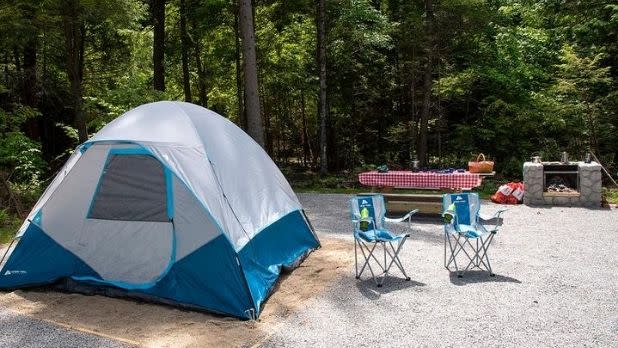 Set up camp in a former Wild West theme park and ride horses in the beautiful Adirondacks at Frontier Town in North Hudson, with 91 campsites for RVs, trailers, and tents. Hiking, biking, and equestrian trails are nearby, and the park has picnic areas and playgrounds, including an area along the shore of the Schroon River. You'll also be close to great regional attractions, including Paradox Brewery. 
Enjoy All Things Saratoga at the Brentwood Hotel (Capital-Saratoga)
The famed Saratoga Race Course is expected to open July 14, 2022, which means you can get in on the exciting feel of race day at this unexpected hotel. The Brentwood is located on the grounds of the historic course, which dates to 1863. With only 12 rooms and such proximity to nature, a stay here allows for a peaceful getaway. There is an outdoor patio and bikes to borrow for a pedal around beautiful Saratoga Spa State Park or into Saratoga Springs for a visit into town. 
Rock It Through the Wilderness at Kate's Lazy Meadow (Catskills) 

Credit: @nicecobra on Instagram
Kate Pierson of the famed party band the B-52's opened this cozy getaway along the Esopus Creek near Mt. Tremper and runs it with her wife, artist Monica Nation. Pierson decorated each of the nine suites in "mind-blowing mid-century modern/space age/rocket-your-socks-off decor," including 1950s-style kitchens so you can cook right in your room! Each cabin has breathtaking mountain views, free WiFi, and a DVD/VHS player with an unusual selection of rare and vintage films. 
Few New York vacation rentals can compete with the uniqueness of the cottages that are part of the Roxbury Motel/Roxbury At Stratton Falls complex in the Catskills. Each of the seven available units in the Tower Cottages at Stratton Falls has a different theme, from superheroes to Cinderella, with the fantastical decor to match. The cottages feature multiple bedrooms and unexpected elements such as a "glass octagonal rooftop stargazing observation conservatory," one of the features of the "Galileo's Gate" room. Stratton Falls also features a spa and pool at the whimsical "Crooked Cabana" (pictured). This gem of a lodging sells out on key weekends, so book far in advance.
Relive Childhood Memories While Glamping at the Old Game Farm (Catskills)

Credit: Vernica Chewens Photography
Remember the fun of going to Catskill Game Farm when you were a kid? Today, this once-iconic animal attraction in the Catskills is the Old Game Farm, featuring five beautiful guest rooms inside the inn and four get-away-from-it-all glamping options with tent locations tucked into hundreds of acres of uninhabited land. Campers also have access to the property's abandoned zoo during daylight hours throughout their stay!
Experience Estate Living at Ashling Acres (Central NY)
Get away from it all at this family-owned-and-operated 25-acre estate. Ashling Acres has four separate lodging options, each with its own private entrance and outdoor space. The Main House is all about luxury—four bedrooms, a private pool and hot tub, and an outdoor fireplace. The Lodge (with second-level loft), the Ashling Suite (sunrise views), and the Guest House (with rockers), all feature alluring amenities and plentiful space. Ashling Acres is in the charming town of Hamilton with quaint shops and restaurants, as well as Colgate University, Cazenovia College, and Turning Stone Casino.
This charming and romantic bed and breakfast on the Lake Erie waterfront offers creative packages such as "Take a Hike"—couples staying at the B&B can pay $50 to get a fully-packed picnic backpack, hiking map of the Chautauqua Rail Trails, and more. Other packages include a kayaking trip to a secluded beach on Lake Erie and a bike trip with wine tasting. The building that houses the B&B is a converted 1830's ship captain's house, and the grounds offer panoramic views of Lake Erie Wine Country vineyards and the lake itself. 
See Stunning Views of Letchworth State Park at Letchworth Farm (Finger Lakes)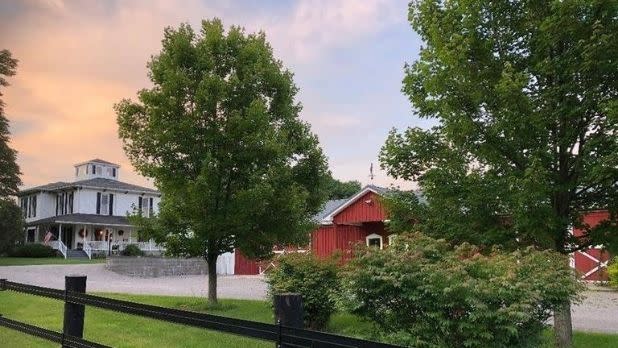 The awe-inspiring "Grand Canyon of the East" at Letchworth State Park awaits you at Letchworth Farm in Nunda. This destination guest house, situated on an 88-acre estate just 500 yards from the Greenway Trail leading into the park, features equestrian facilities and breathtaking views. There's even a secluded lake for guests to enjoy swimming, fishing, picnicking, and relaxing.
Hit the Niagara Wine Trail During a Stay at The Cabins at Becker Farms (Greater Niagara)

Credit: Niagara Falls USA
Unplug and enjoy the countryside along the Niagara Wine Trail, USA while staying in one of 10 eco-friendly cabins. The Cabins at Becker Farms (reopening in May 2022) are nestled between the vineyard and orchard at Becker Farms in Gasport, a fifth-generation family-owned fruit and vegetable farm. Lodging is limited to 10 families or couples at a time and includes private activities for guests. Once a reservation is made, a host gets in contact to create a customized itinerary with activities such as a private barrel tasting at a winery to feeding farm animals to gathering around a bonfire and making S'mores.
Unwind at an All-Inclusive Stay at a Cedar Lake Estate Cottage (Hudson Valley)
This fashionable wedding and conference venue in scenic Port Jervis has temporarily transitioned to a resort offering weeklong all-inclusive stays in its opulent houses and cozy cottages. Check in Monday and stay through Sunday at one of the private homes or glamping-style cabins, and enjoy the 500-acre property, farm-to-table meals, and even remote working set-ups to allow for an office with high-speed internet in the woods. Guests will receive itineraries for hikes along with fully packed picnic lunches and other thoughtful touches.  
Put Your Feet in the Sand at the Cottages at Heckscher State Park (Long Island)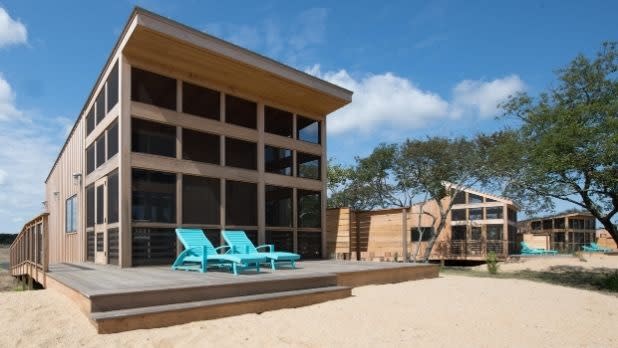 Camp along Great South Bay at the cottages at Heckscher State Park in East Islip. With 1,600 acres to explore featuring picnic spots, fields to play sports, and paved trails for walking, there's a fun activity for each day of your vacation! The newly built cottages along the waterfront provide a unique glamping experience. Each cottage can accommodate two to six people and feature a living room, bedroom(s), kitchen, bathroom, and a screened porch. Prefer tent camping? Heckscher State Park has that too!
Experience Glamping in NYC on Governors Island with Collective Retreats (NYC)

Credit: @pobz_iv on Instagram
Using the clever slogan "Socially Distanced, By Nature," Collective Retreats offers unique glamping experiences such as their retreat on Governors Island, eight minutes away from Manhattan by ferry. It's a peaceful oasis harboring spectacular indoor/outdoor accommodations with amazing culinary experiences and activities such as yoga and meditation. You'll be surrounded by sprawling green space with unparalleled views of the Statue of Liberty by day and can settle into your luxurious tent at night.
The Thousand-Islands Seaway region is a paradise for sightseeing and outdoor recreation. In Cape Vincent, Angel Rock Cottages and Vacation Homes are the perfect place to stay and enjoy the region's beauty. The property features 32 upscale rentals on the banks of the St. Lawrence River, and is perfect for families, with cottages and vacation homes sleeping from one to 14 guests. You'll have access to high-speed wireless internet, cable television, on-site laundry, docks, a fishing pier, and in-ground heated seasonal swimming pool, sand volleyball court, shuffleboard court, horseshoe pits, playground, campfire areas, and more!
Be the Only Guests in a Thousand Islands Storybook Setting at Singer Castle (Thousand Islands)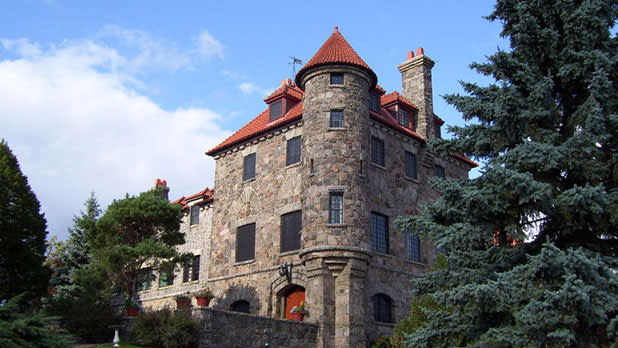 Here's a chance to have an entire island to yourself at this magnificent 120-year-old castle on Dark Island in Chippewa Bay, accessible only by boat. You'll be the lone guests in the Royal Suite within this 28-room castle, with an entire wing of the historic site as well as access to the island's seven acres. Stays include catered dinner and an extended private personal tour of the castle, which features secret passages and period furniture. Meals can be served at one of many locations around the castle such as the tearoom, dining room, drawing room, loggia, or the front terrace.
---
Share your New York State adventures with us on Instagram and Twitter with #iSpyNY and tag us on Facebook!