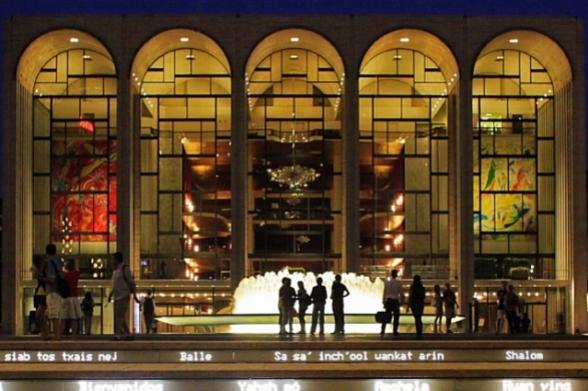 Credit: Photo by Joe Buglewicz, Courtesy of NYC & CO
New York State is home to many of the world's most famous stages, as well as historical theaters, contemporary dance and theater troupes, and important performing arts organizations from Buffalo to Brooklyn. Even now, when the velvet curtains remain closed, "The show must go on!" That's why New York's theaters have arranged to stream memorable performances, to keep audiences entertained from home until these beloved spaces can open again. Here are options for every type of theater fan and for those who miss the thrill of watching a live performance, from opera to Broadway shows to intimate music concerts. New Yorkers, order in from your favorite restaurant and make a night of it, the way you would have a pre-theater meal before a show. For those outside the state, order favorite classic New York foods you can have shipped to your home and experience a night out in New York from your own home and get inspired for a future trip to the state! 
Broadway (New York City)

Credit: The Company of SPONGEBOB SQUAREPANTS
Nothing compares to the real Broadway experience and the thrill of watching talented performers on the stages of the Great White Way. Now, you can recreate the experience at home, scoring a prime orchestra seat to Hamilton (streaming with the original cast on Disney+) and The SpongeBob Musical: Live on Stage! (on Amazon Prime, starting at $9.99), or getting a guided tour of the theater district (with Broadway Up Close zoom tours, starting at $20). Broadway HD, which features dozens of musicals, dramas, classics like 42nd Street and Cats, and more, offers a subscription with access to many plays filmed at New York City's beloved Broadway theaters. Broadway HD offers a free seven-day trial, then costs $8.99/month or $99 per year to access Broadway performances.
Buffalo's legendary Shea's Theater presents a stream of the acclaimed version of the Charles Dickens holiday classic, A Christmas Carol, available through January 3, 2021. The twist? It's a one-man performance featuring Tony-winning actor Jefferson Mays playing about 50 characters, including the infamous Ebenezer Scrooge! The play and performance are directed by another Tony winner, Michael Arden. Tickets from $50 through Ticketmaster. 

Credit: Maria Baranova 
Billed as a "free digital festival celebrating new theater," the Public's 2021 Under The Radar, January 6-17, 2021, features cutting-edge performances from the United States and abroad, such as Disclaimer (pictured). Many of the works will stream for free (with RSVP), offering the chance to see topical, socially relevant theater at home. 
The Adirondack Theatre Festival presents an interactive mystery theater performance, Manhunt: Mystery in a Box, January 12-16 and January 19-23, 2021 at 8 pm EST. Participants buy a ticket (at least six business days in advance) and receive a box featuring objects and an invitation to help solve a mystery along with a detective (an actor). The plot unfolds, helped along by virtual performances, in this clever spin on mystery theater. Tickets from $40.  

Credit: Nickel City Studios
This renowned music institution gets creative with its virtual programming, hosting "BPO Out of the Box," a traveling music video series featuring trios and quartets from the orchestra performing at famed attractions around the Greater Niagara area. The January schedule includes stops at Buffalo's Grain Elevators and Silos (January 5, 2021) for a performance of Dvorak's String Quartet No. 12 in F major, "American"; Frank Lloyd Wright's Martin House for Poulenc's Sonata for horn, trumpet, and trombone (January 12, 2021); and Niagara Falls, for what's sure to be a stirring rendition of the Trio Sonata for Two Oboes and Bassoon in D minor by George Frideric Handel (January 19, 2021). The events are free and available for streaming for 30 days after their premieres.
Next up in this Rochester theater group's "20-21 Season Reimagined" program is Where Did We Sit On the Bus? Brian Quijada's autobiographical one-man show. It's a hip-hop autobiography about falling in love with performance, the power of family, and growing up LatinX. For more information about streaming, scheduled for January-February 2021, visit the season page for Geva Theatre Center.

Credit: Photo by Kate Glicksberg, Courtesy of NYC & CO
Home to 11 arts organizations including the world-renowned Metropolitan Opera, New York City Ballet, and New York Philharmonic, Lincoln Center is uniquely suited to provide enriching virtual entertainment. The Manhattan landmark's "Lincoln Center at Home" series features performances, series, and favorite programs like Mostly Mozart, with many streaming for free. Lincoln Center organizations also offer special events, such as the New York City Ballet's performance of George Balanchine's "The Nutcracker," streaming through the Marquee TV platform through January 3. $25 for a ticket, which includes a 30-day trial of Marquee TV.
Saratoga's long-running folk club Caffe Lena, which has hosted legends such as Bob Dylan and Ani DiFranco, provides frequent livestreams of folk and jazz performances, as well as special events. On January 19 at 7 pm EST, join a local music historian's record club Zoom meeting, a live video and audio discussion about the late musician Warren Zevon's 1978 album Excitable Boy and its classic song "Werewolves of London." Advanced reservations required for the Zevon event, or visit Caffe Lena's YouTube playlist channel for a list of upcoming concert streams.

Credit: Gary Gold Photography
Music Director David Alan Miller leads the Albany Symphony Orchestra in a program called "Tchaikovsky Serenade" on January 9, 2021. The performances include works by Jean Sibelius, Caroline Shaw, and others, culminating with "Serenade for Strings" by Pyotr Ilyich Tchaikovsky. Access to the livestream will be available on-demand through February 8, 2021 with a gift of $25 or more.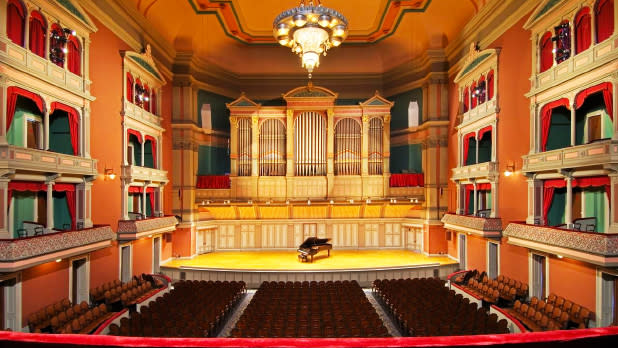 Troy's historical music hall, located in a former bank building, virtually hosts a concert by beloved Americana act The Jayhawks, January 10, 2021 at 4 pm EST. The band performs favorite songs in a performance called "The Covers Show," originally recorded in the band's home studio in Minneapolis. While bands like The Jayhawks can't tour, they're helping support favorite venues such as the Troy Savings Bank Music hall, with a portion of ticket sales going directly to the venue from which it was purchased. Tickets from $20.
This Ithaca organization hosts a four-month virtual performance series, "Masters of Movement as told by we, us, them," in which performers "explore their connection to self through gestures and choreography." Next in the series is Willow presenting Bayard Rustin, January 8-9, 2021 at 7:30 pm EST. $10 or more suggested donation.
Port Jefferson's Main Street theater hosts a YouTube page featuring short plays commissioned by Theatre Three. More than 60 works in the Off-Stage/On-Line series are now available to stream for free, and the theater continues to invite playwrights and performers to submit short works following certain guidelines.
Ujima, a multiethnic Buffalo theater company named for the Swahili word for "collective work and responsibility," is dedicated to the preservation of African-American theatre. Even while live performances are on hold, Ujima remains committed to its mission, and has announced its 2021 virtual season, including a short play festival, dance performances, and more. 
CHQ Assembly (Chautauqua-Allegheny)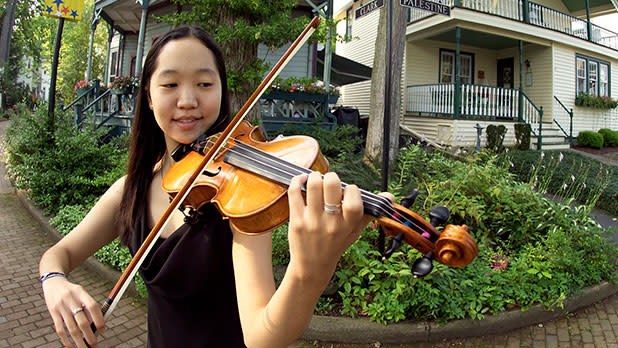 Access live and on-demand theater, opera, musical performances, and more from the Chautauqua Institution with a subscription to the CHQ Assembly. Start a free trial, then pay $3.99 per month or $45 annually.