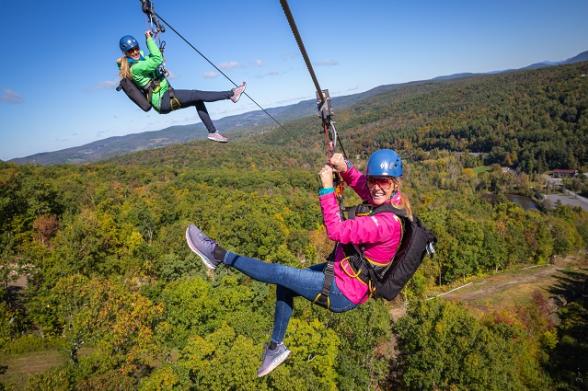 From the United States' longest zipline to a boutique hotel with oceanfront views and a museum celebrating the history of makeup, New York offers exciting new attractions, transformative activities, and scene-setting restaurants and bars! If you are looking for what's fresh, we have your list for what's new and what's coming very soon in the Empire State. 
Outdoor Adventures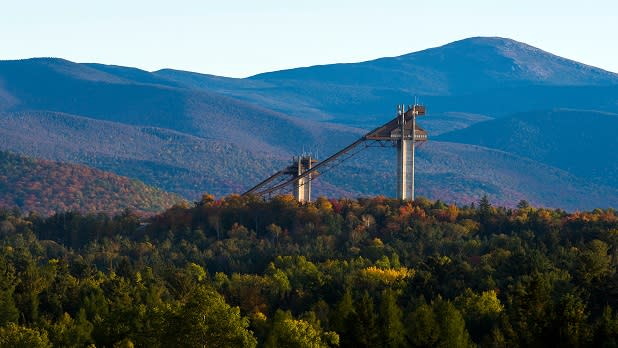 This exciting attraction at the Olympic Jumping Complex offers a new way to experience Lake Placid's Olympic history. Take the eight-person gondola from the base lodge to the summit of the jumping towers and from there, ride a glass elevator to the top of the jumps to see the surrounding mountains and village of Lake Placid. Cost: $15 for adults and teenagers, $9 for children and seniors.
In the Hudson Valley, the CataMonster (pictured at top) awaits! This two-hour zipline experience at Catamount Mountain Resort opens in May, offering three dual ziplines, including a training zip, a 1,000-foot ride along the ridge, and the longest zipline in the United States at 5,523 feet, where you can reach speeds up to 55 mph. Tours start at $89.
New Hotels in New York State
This hotel brand with city locations in Brooklyn and Nashville is taking a trip to the country. The upscale, rustic-meets-refined retreat, the first Urban Cowboy Lodge, is located on 68 acres in the Catskills' Big Indian Wilderness and includes five buildings with 28 guest rooms in total. The lodge dates back to the late 1890s, but every modern comfort is accounted for. The dining room features not only tables but trees, as well as an indoor/outdoor kitchen. Special programming is available for guests, including guided hikes, saunas, and fireside dance parties. Rates start around $245 per night.
Ever thought of spending the night in an abandoned zoo? The Old Catskill Game Farm, a privately owned zoo that closed in 2006, has been transformed into a rustic boutique hotel now known as The Long Neck Inn. The Inn, which is based in the old giraffe house, opened in late 2019 and is decorated with the zoo's memorabilia—making it a nostalgic must-see for anyone who visited the game farm in their youth, and a great place to take the family. Spend the night in one of the five guest rooms, four of which are named after animals that used to be on the farm (some rooms are even pet-friendly! Rates start around $170 per night.  
After a year of extensive renovations, the Shandaken Inn has reopened to much fanfare. The original structure dates back to the 1920s, when it was a clubhouse for the Rip Van Winkle Golf Course. Situated on 12 acres of scenic countryside with world-class fly fishing on the Esopus Creek, the inn offers an abundance of on-site amenities. From the restaurant and bar to a pool, fitness room with Peloton bikes, and dog-friendly rooms so pet-lovers can travel with their pooches, a stay at Shandaken is a must in 2020. Rates start at $144 a night.
Foster Supply Hospitality's newest Catskill retreat offers 55 acres of stunning waterfront countryside to explore. Kenoza's 22 guest rooms are luxuriously appointed with fine furnishings and feature large soaking tubs. The restaurant offers Old World continental cuisine from chef RJ Corley. Hemlock Spa features naturopathic body treatments inspired by Sebastian Kneipp as an homage to the area's early Swiss and German settlers. Rates start at $409 per night based on double occupancy.
This new retreat in the Hamptons is inspired by openness and exploration, as well as the wabi-sabi—the principle of accepting your imperfections. Shou Sugi Ban House's name is rooted in the ancient Japanese technique of preserving wood by charring it with fire. The 13-room destination offers a comprehensive wellness program that includes hydrotherapy, meditation, overnight accommodations as part of packages, and more. Prices vary by service and package.
Marram in Montauk (Long Island)
This new boutique luxury resort opened last fall, offering 96 rooms right on the ocean in Montauk. The hotel's Zen vibe continues from the rooms and into the resort's curated programming. On offer are nature walks, massages, yoga classes, and just the right amount of indulgence at Mostrador Marram, the resort's on-site restaurant, where chef Fernando Trocca's menu features local seafood and veggies, freshly baked goods, and savory meats. Prices vary.
Phoenix Inn Resort (Adirondacks)
Minutes from Gore Mountain and Lake George is the new Phoenix Inn Resort, with 31 rooms and suites to let you experience the beauty of the Adirondacks in style. Located on the site of the former Copperfield Inn, the Phoenix offers a heated outdoor pool and two dining options: Trappers Tavern, an Adirondack taproom, and The Phoenix Restaurant, an upscale steakhouse with excellent seafood as well. Rates start around $199.
New Restaurants in New York State
Chef Dave Chicane's new Food Studio location in Athens builds on the contemporary spin on Vietnamese cuisine he debuted at the original Hudson hot spot. You'll find ramen with bone broth, braised pork shoulder, pork belly bao, and orange glazed duck wings with cucumber slaw, to name a few tantalizing items. Freshly baked breads, sweets, and coffee are available for grab-and-go all day.
If you're hungry for beef on weck or classic Buffalo wings, head to Bar-Bill Tavern's new location in Clarence! The original in East Aurora is famed for its local specials, and now you can order a slow-roasted carved beef sandwich and chips or honey butter barbecue wings in two locations. Bar-Bill North opened earlier this year, and unlike the original location, accepts all major credit cards.
For fine Italian dining head to Glens Falls, where the newly opened Radici Kitchen offers handmade pasta, steaks, and fresh seafood from longtime local chef Brian Bowden. The bar menu features classic and modern cocktails, and extensive craft beer and wine lists. Standout dishes include yellowfin tuna crudo made with Calabrian chiles, fennel, blood orange, and potato chips; ricotta gnocchi in Bolognese sauce; and Branzino with truffled cauliflower puree, sweet peas, almonds, and crispy prosciutto.
This new restaurant and bar in Rochester's North Winton Village features a 1930s-40s theme and eclectic menus. Enjoy duck toast tartine, chopped salad, and classic sandwiches at lunch, or stop in for dinner and enjoy steak frites, roasted eggplant with lentils and crispy brussels sprouts, or roasted chicken. The cocktail menu gets creative with drinks like the Switchel, made with Moroccan mint syrup, plum vinegar, and lime, and The Room Where It Happens, made with aloe vera, champagne acid, and rose water. Non-alcoholic options include handcrafted sodas and kombucha.
New Pours
This Seneca Falls hub started out as a kombucha operation before owners/brewers Brad and Anna Luisi-Ellis decided to branch out into brewing beer. Their brick and mortar shop opened in 2019, and business hasn't slowed down since. Stop by for a pint of cream ale, a cafe au lait, and grab a growler of kombucha to take home.
Operating out of a historic building on Anthony Street, Hillsdale's new brewery was once a general store, a shirt factory, a beer bottling operation, a farm and seed supply store, and a pop-up art gallery. Its 1850s-era charm needed a massive overhaul, and owners stripped and rebuilt much of the original building. The result is stunning. The brewery opened in February, offering an inventive pub menu that incorporates seasonal ingredients and wood-fired food, as well as a bevy of well-balanced beers on a rotating tap schedule. Stop by for a pint of Cozy Flannel or Whippoorwill.
For fans of American originals, pull up a seat at Saratoga's recently opened Walt + Whitman Brewing Company on Lake Avenue. Walt Cafe serves up coffee and tasty options like avocado toast and breakfast sandwiches. Whitman is the 21-and-older side offering unique pours with names like "Everywhere is Now," "The Eighth Wonder," and "Massive Medallions." Pair a draft with their curated pub menu that includes paninis, savory salads, and sweets.
This April, Greenhouse Cidery at The Chatham Berry Farm will reopen in a newly constructed building not far from its old location in a greenhouse (hence the name), continuing to offer farm-crafted classic hard ciders, as well as a rotating selection of NY state beers, wines, and spirits. Expect live music, free s'mores, food pop-ups, and more this spring. Don't miss the 2nd Annual Spring Festival on June 6. The free event includes live music, tastings and samples, local artisan vendors, and more.
New Museums in New York State & More
Considered one of, if not the finest example of famed architect Frank Lloyd Wright's Prairie-style design, Martin House underwent a five-phase restoration project that began in 1996 and finally wrapped up in 2019. The $52 million investment in the National Historic Landmark has resulted in a stunning return to Wright's original vision for the house. For the first time in 25 years, 2020 will be the first full year you can tour the Martin House Complex in its fully restored state. Ticket prices vary by tour and start at $22.
When the Museum at Constitution Island reopens to the public this spring, the compound will showcase the restored Warner House as part of the National Historic Landmark of the United States Military Academy. The island is the only part of the U.S. Military Academy Reservation on the east side of the Hudson River and is the site of the earliest Revolutionary War fortifications in the Hudson Valley. The Warner House is also notably the former home of prolific authors/sisters Susan Bogert Warner and Anna Bartlett Warner, whose novels, including titles Say and Seal and The Wide, Wide World, sold millions of copies worldwide. Cost: tours are free, but donations are suggested.
Slated to open in the Meatpacking District in Manhattan is a museum that explores the long evolution of makeup in culture. Expect rotating exhibits that aim to cover makeup's 10,000-year history in everything from politics to celebrities and more! Slated to open May 2020.
At the height of World War II, President Franklin Roosevelt initiated a maneuver to rescue nearly 1,000 Jewish refugees from Europe. Visit the museum that memorializes the refugees' stories when it fully reopens this spring. Until then, experience this unique chapter of history and tour the temporary exhibit that is now up and open to visitors for free. 
This year, visitors with a sensory processing disorder or anyone with an autism spectrum disorder will find a more comfortable and welcoming space at the Children's Museum of Oswego. The museum and the Oswego County Autism Task Force teamed up to purchase new equipment to create spaces for everyone to enjoy their experience at the museum. New outdoor interactive equipment, slant boards, and wiggle seats are slated to be installed this spring. Museum admission is $8.
Your favorite outdoor performing arts venue in Saratoga Springs is getting some much-needed upgrades, including new ramps and lighting with modern compliant designs, improved visitors' services areas, two new buildings for concessions and restrooms, and new event space that will weather all seasons in the Main Plaza. Updates to the center are ongoing.
Don't forget to post photos of your New York adventures on Instagram and Twitter with #iSpyNY and tag us on Facebook!