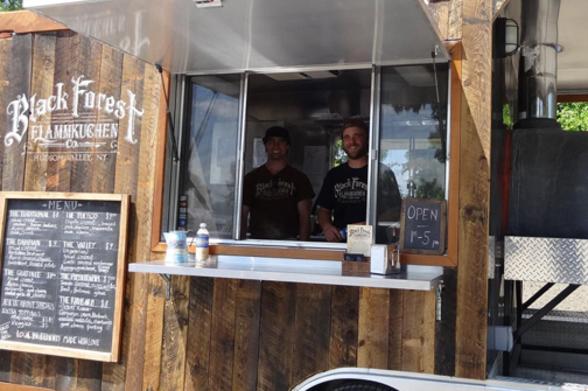 It's July, so why not eat outside? You can find some great eats from one of New York's many popular gourmet food trucks. Food trucks boast talented chefs, innovative dishes, and enthusiastic followers, which is why they're quickly creating a food culture all their own. 
We tracked down some of New York State's most distinctive food trucks so you can sample the best local on-the-go cuisine in the coming weeks.
Black Market Food Truck, Buffalo
Track them down: @theBMFT
The Black Market Food Truck rolled into Buffalo last summer and quickly became a crowd favorite. It was voted Best Food Truck of 2013 in a contest run by BuffaloFoodTrucks.com, and it keeps Buffalo dwellers lining up for its exotic dishes. The Banh Mi and their unique take on the BLT are crowd favorites.
Le Petit Poutine, Rochester
Track them down: @lepetitpoutine
Le Petit Poutine gets big raves from Rochester residents. "OMG in LOVE," one starry-eyed foodie recently remarked. Poutine is a delicacy consisting of French fries, cheese curds, and gravy. Sounds simple, but the combination is notoriously tricky to balance. Le Petit Poutine gets it right every time. You can take a taste test at the Food Truck Rodeo on July 30.
Black Forest Flammkuchen, Hudson Valley
Track them down: http://blackforestflammkuchen.com/locations/
You really can't miss the Black Forest Flammkuchen food truck. This astonishing vehicle is paneled in reclaimed barn wood, and it even has a wood-fired brick oven in the back. From this surprising sight come flammkuchen—traditional Alsatian snacks that are like thin pizzas, but with a spice cream base that gives them a unique taste. You can try a "flamm" made with local Hudson Valley ingredients at the Hudson Valley Food Truck Festival on July 17 in Saugerties.
Cinnamon Snail, New York City
Track them down: @VeganLunchTruck
You may have to wait in line at Cinnamon Snail, but don't look at that as a drawback. Look at it as an opportunity to prepare for all your food truck expectations to be shattered and transcended. You will walk away with one of their vegan meals a different person—even if you otherwise chow down on meat every chance you get. Of particular note is their Thai BBQ tempeh. For an amazing breakfast or dessert, their donuts are tremendous.
Rollin' Cubans, Long Island 
Track them down: @rollincubans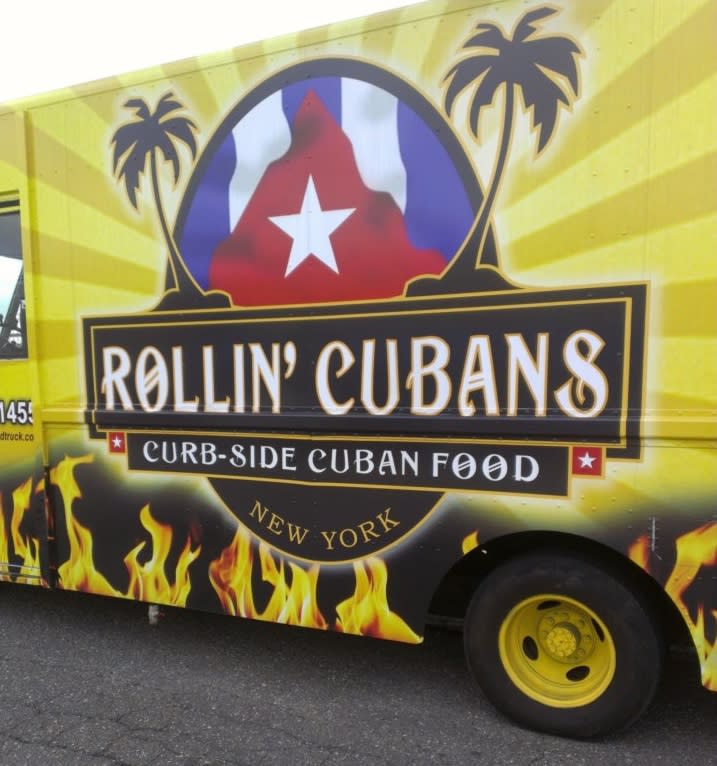 Rollin' Cubans all but defines Long Island's food truck scene. Its empanadas, spicy Cuban sandwiches, and avocado garlic dip are just a few of the treats that get Long Islanders' stomachs rumbling. Luckily, the truck serves up some big portions. Look for Rollin' Cubans in the Hicksville area and at the Great Food Truck Derby in Bridgehampton on August 8.
Stir Mobile, Syracuse
Track them down: @stirmobile
Stir Mobile is your Syracuse fix for burgers and stir fries. Ingredients for all of Stir Mobile's dishes come right from the farms of central New York. The falafelwich in particular draws enthusiastic reviews, as does the extremely friendly service.
Cheesed and Confused, Geneseo
Track them down: @CheesedConfused
In need of grilled cheese? Let there be no confusion: Cheesed and Confused will grill you a delicious sandwich. They're not just dedicated to cheese: they're dedicated to finding dishes you never knew cheese could make better. Try the Pork and Mac: a pulled pork sandwich with mac-and-cheese on it, or an Apple Bacon and Cheddar sandwich.
Show us your favorite food truck and food truck snacks using #iSpyNY! And be sure to tell us which New York food truck is your favorite. Leave a comment on our Facebook page!