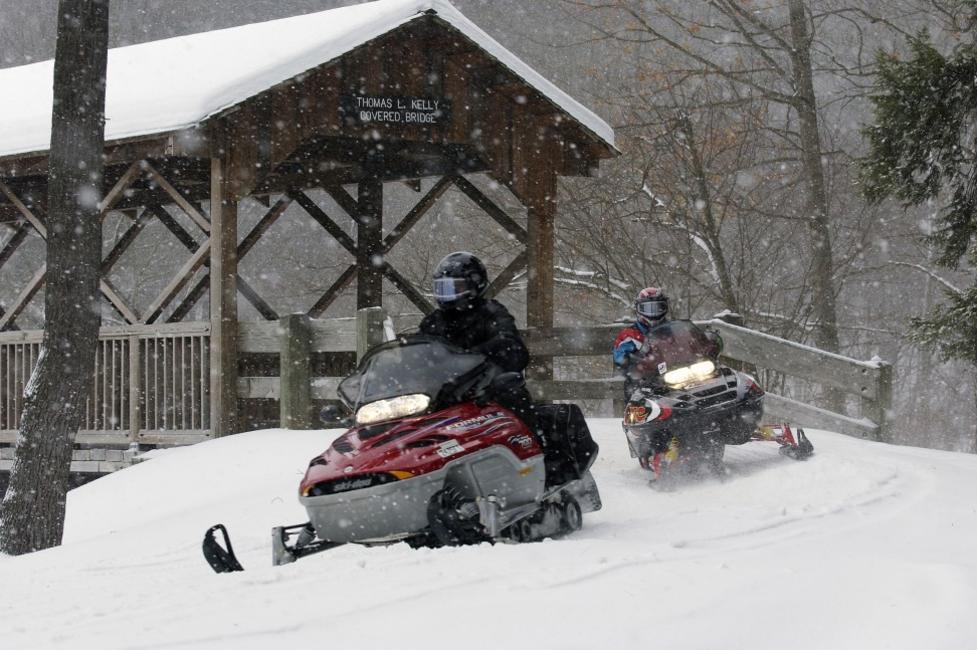 Let it snow, let it snow, let it snow in New York. Why? Because the fun outdoors doesn't have to stop when the temperatures start to drop! Everyone knows about the great skiing and snowboarding available in New York State, but you may not have tried some of the other great activities available across New York this winter!
Snowmobiling
Looking for a thrilling, fast-paced cold weather tour of New York? Snowmobiling may be right up your alley. A little snow goes a long way when it comes to the state's more than 10,000 miles of trails!
So come race along the Finger Lakes, take in the forested routes of Tug Hill Plateau, and enjoy a trip through Old Forge, known as the Snowmobile Capital of the East for over 50 years, where designated village streets become part of the trails (check for signs). We're waiting for you!
Additional information may be found at http://www.nysnowmobiler.com/ to help plan your next trip!
Snowshoeing
If you're looking for a quieter and more easygoing way to explore New York this winter then snowshoeing could be a great alternative. Never been? There's an old saying that goes, "If you can walk, you can snowshoe." Not only is snowshoeing a great workout, but it's simple and fun for anyone - no matter how young or old!
The great thing about snowshoeing is that there are different ways to scale your trip. More hearty enthusiasts can traverse the Catskills and Adirondacks for overnight trips, but if you can't get too far out, a hike along Manhattan's waterfront on the Hudson Valley Greenway still provides a wonderful trip through nature. Licensed guides are also available to help make your snowshoeing experience in New York one you'll never forget.
A great starting resource for snowshoe enthusiasts may be found at http://www.nysparks.com/.
Ice skating
Glide across the ice this winter and ice skate New York. There's nothing quite like skating hand-in-hand with a loved one on a chilly New York evening-fortunately, there are rinks and availability all across the state at resorts, ski mountains, cities, state parks, lakes and ponds. Many sites even have rentals, refreshments, lessons and lockers available!
For more information and some great suggestions, visit Our website.
Fishing
Anglers aren't left out of the fun this winter in New York thanks to the lakes, ponds, rivers and streams found all across the state.
Steelhead, brown trout, lake trout, chinook salmon, coho salmon, bass, walleye, muskellunge and perch are all just waiting for you.
If you're not thrilled about going out onto the ice of Lake George or Oneida Lakeyou can always fish along the shores of Cayuga and Seneca, the deepestFinger Lakes that seldom freeze over.
The NYS Dept. of Environmental Conservation website (http://www.dec.ny.gov/outdoor/fishing.html) has fishing tips and information on fishing licenses, safety and regulations.
For more wintry ideas in New York this winter, be sure to check out our blog "10 Things to Do in New York State This Winter."