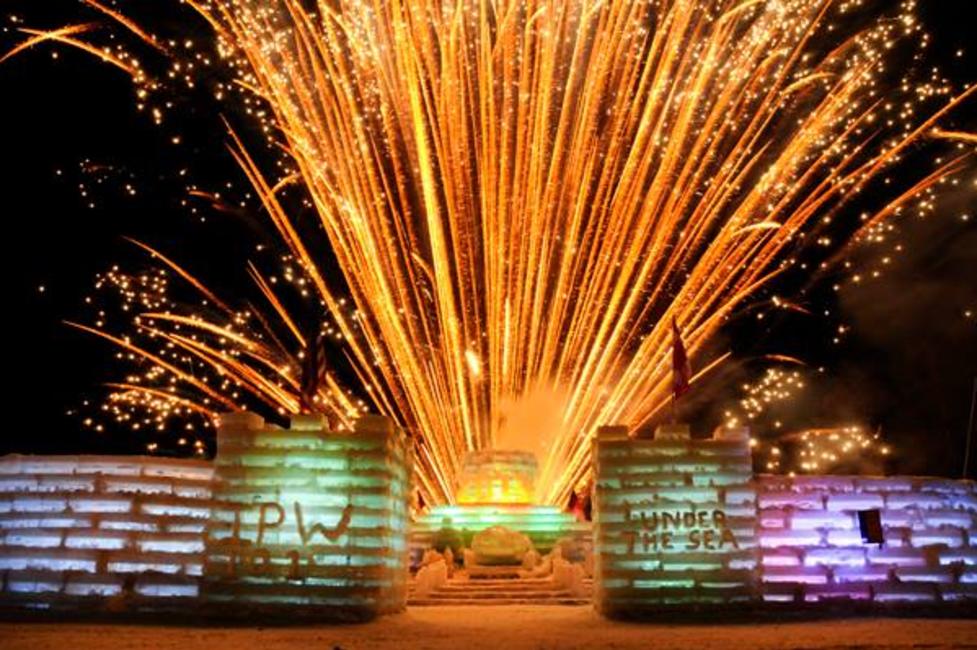 New York is a winter wonderland during the cold weather months, with dozens of winter festivals in New York State to choose from. But which festivals should you go to? Are you looking for a chili cook-off to warm you up? An ice sculpture contest to take in? Perhaps you'd like to sing carols with Dickensian characters from the Victorian era? There's something for everyone in New York State this winter and it's time to go exploring.
DECEMBER FESTIVALS
Dickens Christmas in Skaneateles
Skaneateles, Finger Lakes
November 29-December 22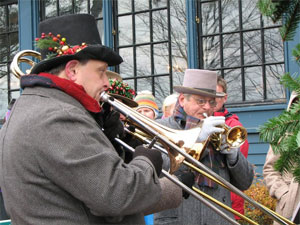 Skaneateles comes alive with Victorian-era spirit every Saturday and Sunday through December 22 when Charles Dickens and a cast of more than 50 characters interact with visitors in the streets, stores and restaurants. The festive fun includes lively acts at the library, live music, unique shopping, wonderful food and horse and wagon rides around the Village. More information.
Wreath Fineries at the Wineries
Dickens Christmas in Skaneateles
Highland Mills, Hudson Valley
December 7-8 and 14-15
Grab some friends and take off along the trail for wine, holiday socializing, cheer and great shopping! Wine sampling and tapas tasting await participants at each of the 14 wineries along the trail. More information.
Winterfest in Chatham Village
Chatham, Hudson Valley
December 8
The entire village will be decorated for the holidays and feature shopping, activities and entertainment for all. Horse-drawn wagon rides, carolers, great seasonal treats, and, of course Santa Claus! More information.
Snodeo
Old Forge, Adirondacks
December 13-15
Snodeo is the "kick-off" weekend for the 2013/14 snowmobile season. From a vintage snowmobile show to the Kitty-Cat/120cc races and a special appearance by Santa & Mrs. Claus on Saturday afternoon. More information.
JANUARY FESTIVALS
Winter Jam NYC
New York City
January 25
Winter Jam NYC is a celebration of winter sports that kicks off in the heart of Central Park. Our friends at Gore Mountain will blow fresh snow in the heart of Manhattan, so visitors can cross-country ski, snowshoe and learn to ski and snowboard. More information.
Frost Faire
Stillwater, Capital-Saratoga
January 25
The Saratoga Battlefield allows visitors to snowshoe and ski through the open fields and woods, but the Frost Faire delivers more fun with a wintry twist. Snow tubing on the "Big Hill," a bonfire, hot refreshments, nature hikes, horse-drawn carriage rides and more. More information.
Saranac Winter Carnival
Saranac Lake, Greater Niagara
January 31-February 9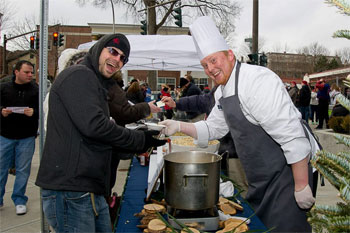 Ranked as the #2 Winter Festival in world by National Geographic Traveler, the Saranac Lake Winter Carnival is the longest-running event of its kind in the eastern U.S. Celebrating its 117th anniversary, the Carnival has grown into a 10-day festival that includes sports, dances, performances, two parades and two sets of spectacular fireworks above the world-famous Ice Palace. More information.
Winterfest '14
Chowderfest at the Saratoga Winterfest
Saratoga Springs, Capital-Saratoga
January 31-February 2
Winterfest brings the spirit of winter to the Spa City with a weekend of live music, wine tasting, special events, great entertainment and lots and lots of chowder at Chowderfest! More information.
Oswego County Winter Carnival
Pulaski, 1000 Islands-Seaway
January 31-February 2
Family fun throughout the village includes a polar bear plunge, a chili cook-off, snowshoe walk/run, skating, sled dogs, children's activities, vendors, refreshments, live music and lots of cold weather fun!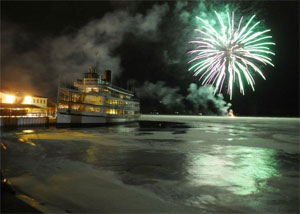 FEBRUARY FESTIVALS
Lake George Winter Carnival
Lake George Winter Carnival
Lake George, Adirondacks
Every Saturday and Sunday in February
The Lake George Winter Carnival is fun for kids young and old! Come out and enjoy a polar plunge, outhouse race, cook-offs, motorcycle, ATV and snowmobile races, as well as a bonfire on the beach and fireworks. All events and activities are weather permitting. More information.
Warm Up Oswego Festival 
Oswego, 1000 Islands-Seaway
February 7-8
Warm up in Oswego with the Warm Up Oswego Festival! A bonfire Friday night kicks things off along with a chicken wing and microbrew festival. A fun, family festival with games, food, vendors, entertainment and fireworks over the Oswego River is a great time for all. More information.
Indian Lake Winterfest 
Indian Lake, Adirondacks
February 14-16
Enjoy all things wintry during this three-day festival celebrating winter in Indian Lake. Skiing and ice-skating contests, snow sculptures, bonfires, fireworks and much more! More information.
NY Ice Wine Festival 
Fairport, Finger Lakes
February 15
Fun and festivities await at the Ice Wine Festival including an ice sculpture bar, a variety of food, music, winery tours, wine seminars and, of course, wine tastings! More information.
There are dozens of exciting and fun activities all winter long across New York besides festivals. For more information on the cold weather fun in New York visit ILoveNY.com!