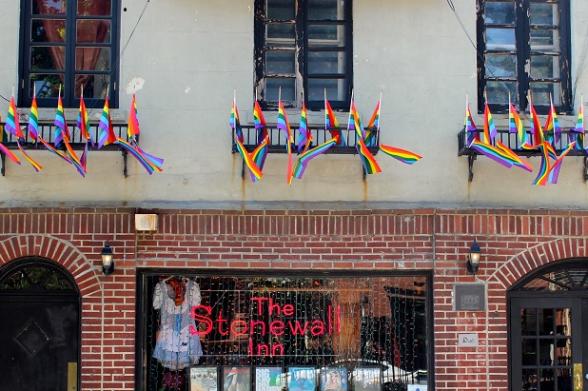 By now, you've heard the news that WorldPride is coming to New York State (and the US) for the first time ever! It's the 50th anniversary of the Stonewall Uprising and celebrations are being held across the state. Eleven LGBTQ New Yorkers have been selected to act as New York State WorldPride 2019 Ambassadors, which you can learn more about here. We've asked the NYS WorldPride Ambassadors about the destinations they love, and for recommendations of what to see and do during your travels throughout New York State. [Answers are condensed and edited for clarity.] 
Ari Moore, Buffalo, NY: In Buffalo, we have bragging rights of being the only city that has an NFL team still in New York State, along with the Sabres [hockey team], and other attractions. We have Albright-Knox and Burchfield Penney Art Center, both first-rate art galleries. There is a bustling theater district in downtown Buffalo as well as some of the best parks you could ever visit. We have festivals all year long. Also, we have Niagara Falls, which you need to visit at least once.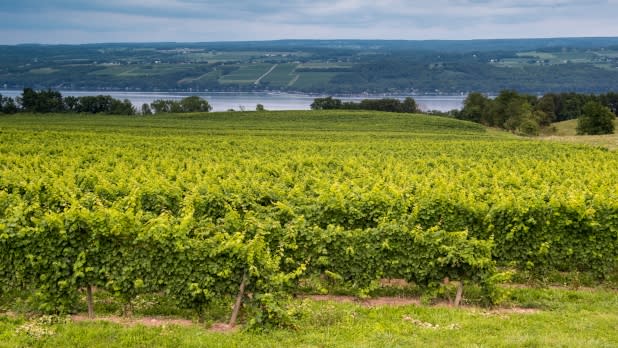 Audrey DeJesus, Bronx, NY: I'd take visitors to the wineries [in Hudson Valley or the Finger Lakes]—when I walk with my partner hand-in-hand, no one stares at me or makes me feel uncomfortable. When I have visited different parts of our great state, it's always been a welcoming experience. This is why I will never leave New York.
Cecilia Gentili, Manhattan, NY: When you start exploring outside of New York City, it's so beautiful to see all the green, the animals, birds, plants, and the rivers. I love areas like Phoenicia and Beacon. Back in the city, in Brooklyn, I can walk to a nice restaurant in Bushwick or I can drive to Jackson Heights, Queens and eat all the amazing food there. I love meeting my community members—the LGBTQ and trans communities are very strong in Jackson Heights and the Trans Latinas community is rooted there. In summer, Riis Beach is amazing. It's a super-open queer space where people have fun. The beach is so beautiful, the water is so nice—it's one of the spaces where you can experience the most freedom ever.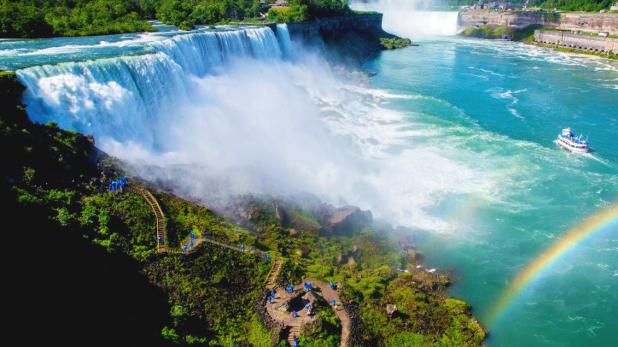 Chelle Lhuillier, Queens, NY:  My favorite is Niagara Falls (pictured). It's beautiful, it's natural, and it's just relaxing watching the falls.
Drew Schiff, Manhattan, NY: I truly, from the bottom of my heart, love New York City. In Hell's Kitchen, you really feel that you can meet anyone from any walk of life. I'd pick the LGBTQ Center to send visitors to. It's a beautiful place with passionate and tireless people working towards bettering the community. 
Judith Kasen-Windsor, Manhattan, NY: If I had to show one thing about New York City, it would probably be Washington Square Park—where all the rallies took place with Marsha P. Johnson, Sylvia Rivera, Vito Russo, and Larry Kramer. There is just so much in this city for people to love.
Kelly Metzgar, Saranac Lake, NY: The Adirondacks are a hidden gem. The beauty of our mountains, rivers, and lakes is everywhere. There are so many diverse things to do—including hiking, canoeing, kayaking, and mountain climbing. We hold Iron Man in Lake Placid in July. We have CanAm hockey in Saranac Lake in the fall. This is a wonderful community experience. I seriously love my village. It is so welcoming and accepting. We have so many wonderful attractions to see in New York, whether it's here in the Adirondacks, Chautauqua, Buffalo, or Rochester.
Mohamed Q Amin, Queens, NY: Folks visiting New York City definitely have to visit Stonewall Inn and Stonewall National Monument, the Leslie-Lohman Museum of Gay and Lesbian Art, and Queens Museum. Queens is the most diverse borough of New York City. In Richmond Hill, you can find culture, food, music, and clothing that resembles... a fusion of Indian culture and Afro-Caribbean culture. You can find surreys, roti and curry, and doubles, all representing foods from Trinidad, Guyana, and Jamaica.
Outside of the city, my partner and I went to a B&B up in the Catskills, and that was incredibly affirming. We were the only queer couple, and everyone was really welcoming. There are also a lot of farms that we go to, especially in the summer months. There is a lot of fruit picking, and that's a really great way of having a family day in New York, outside of New York City.

Credit: Thompson & Bender
Taylor, Manhattan, NY: Croton is great. There's the wonderful Croton Gorge Park and Croton Dam (pictured), with a reservoir that is one of the water supplies for New York City. Being able to take Metro-North anywhere and seeing more of the natural landscape of the state has been breathtaking.
Angelique Piwinski, Middleburgh, NY: In the city of Yonkers, there are Pride flags hanging all over the place, drag nights, and all kinds of things that didn't exist before. The city also does an annual flag rising during Yonkers Pride. It's a wonderful celebration of diversity.
Trenor Wilkins, Brooklyn, NY: Williamsburg, Brooklyn has pretty much everything you need within three blocks: some of the best restaurants, a bar called The Water Tower Bar at The Williamsburg Hotel, in a converted water tower with amazing views of Manhattan, Nighthawk Cinema for brunch, and many parks. The LGBTQ community within Williamsburg is quite big. You can go to House of Yes, a really amazing queer scene—you're going to see different outfits, acrobats, and amazing performances.
If I had friends in town in summer and the weather was great, I would take them to Christopher Street Pier, a queer pier—you don't need to go to the beach to lay out and embrace the sun with the perfect view of downtown Manhattan. That is where you can go out and see everyone from the community.
Even if you're flying into New York City, you can take the train to my favorite spot in New York State, Beacon. To me, America is really represented in this perfect, cute, quaint town. Have a pint, explore, and buy some beautiful local art.
Don't forget to share your summer vacation with us! Share New York State pictures on Instagram and Twitter with #FindWhatYouLoveNY and tag us on Facebook!