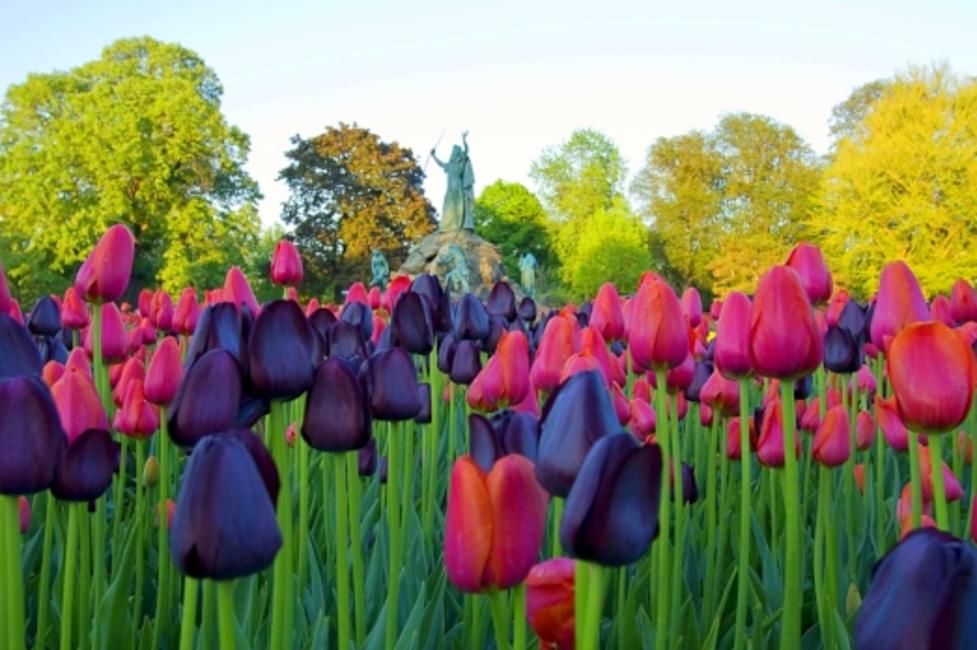 Winter might be sticking with us a bit longer than usual in the northeast this year -- and New York's ski areas are taking full advantage of the extended snowy season. But spring officially arrives on March 20, and before you know it, flowers will be blooming, birds will be singing, and your winter coat will be a distant memory. And we've got a few ideas for how you can make the most of the season in New York, from soaking up local culture to reconnecting with mother nature. So get out and start exploring, and don't forget to share your adventures with us on Twitter and Instagram using #SpringIntoNY.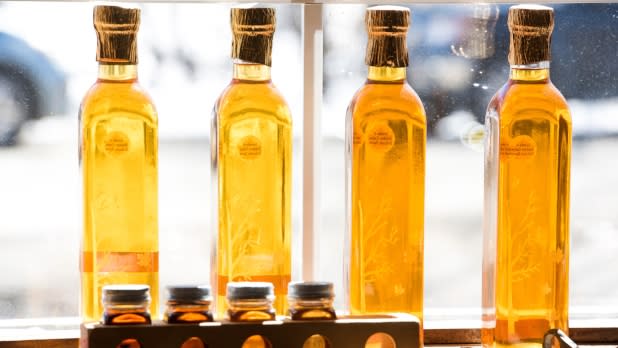 Hearing about maple trees might bring to mind fall foliage, but spring is the season for maple syrup-making, or "sugaring." New York Farmers collect sap by the bucketful from Sugar Maple trees, then boil it down for hours until they're left with pure, delicious syrup. Come see—and taste—it for yourself! You can watch demonstrations, sample different varieties, and shop an enormous range of maple-based treats during Maple Weekend on March and 24 - 25, in which farms all across New York State open their sugar houses to the public to teach folks about the process and host pancake breakfasts. Then there's Maple Festival in Marathon, April 7 - 8, with a crafts fair, carnival rides, and a pancake eating contest!
2. Step out in style at the Easter Parade and Bonnet Festival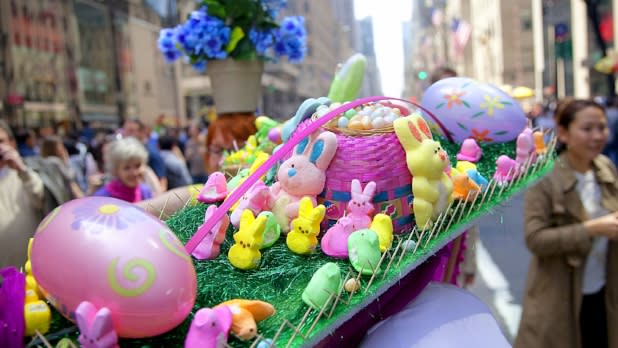 One part holiday celebration, one part extravagant costume display, New York City's annual Easter Parade and Easter Bonnet Festival is a delightful feast for the eyes. The tradition arose spontaneously in the 1870s when well-to-do ladies would show off the latest fashions after leaving church. Today the festival is an opportunity for paraders to create truly elaborate and fantastical head pieces to don in public. The parade starts at 10am on 49th Street and marches up Fifth Avenue to 57th Street. Even if you don't feel like building your own bonnet, you can join the cheerful crowds who gather to admire the spectacle. April 1
3. Stop and smell the lilacs at the Rochester Lilac Festival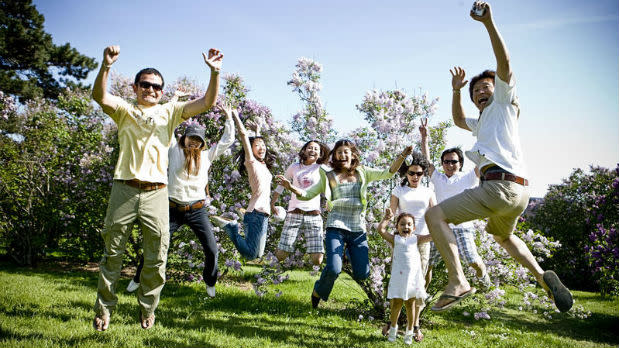 If you thought you were excited about spring, wait till you see how Rochester rings in the season. Home to the largest, most diverse array of lilacs in North America, their annual Lilac Festival has been running for more than 100 years and lasts 10 straight days.You can admire art in the park, attend a craft beer expo, run a 5K or a 10K race, and join in a parade with 20 marching bands and dancers. There's also stand-up comedy and musical performances on an enormous stage. And don't miss an event called "Garden Battles," a sort-of garden-off between local TV and radio personalities in the style of competitive cooking shows. And of course, there are tons of beautiful, fragrant flowers to take in around the park, with a tulip garden, an azalea garden, a pansy bed, and all those lilacs! May 11-20
4. Get to know Dutch culture at the Albany Tulip Festival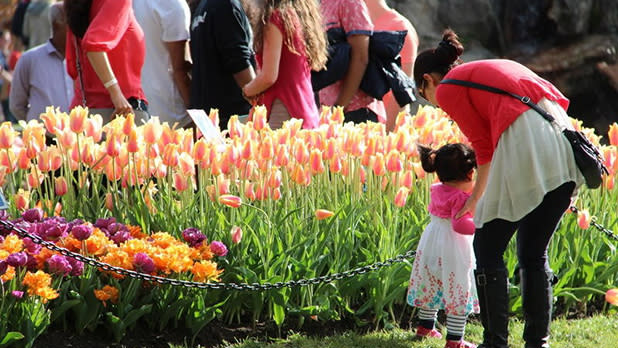 As the first Dutch settlement in America (dating back to the early 1600s), Albany continues to celebrate its heritage with its annual two-day Tulip Festival. As is Dutch custom, the festivities kick off with some spring cleaning: Members of the Dutch Settlers Society dress up in authentic Dutch costume and cleanse the street with scrub brushes in a line formation. There are also free tours in Washington Park led by the city gardener where you can learn about the tulip varieties. Hear a live performance of the Carillon, a medieval instrument with at least 23 bells that hails from the Netherlands. The festival includes a KidZone with live performances, pony rides, a rock climbing wall, and more. May 12 - 13
5. Experience fly fishing in the Catskills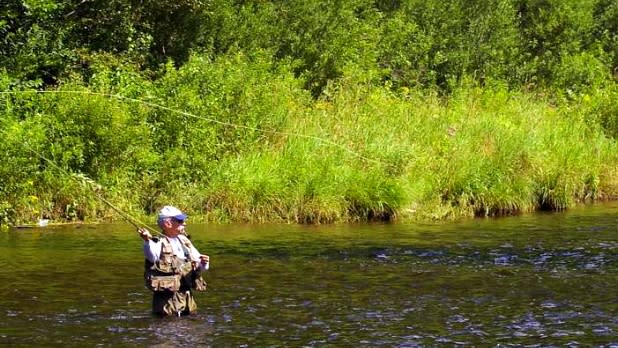 Fly fishing was born in the creeks and streams of the Catskills, and there is no better time to try out this relaxing sport than in the spring. The New York Department of Environmental Conservation designates the beginning of trout-fishing season as April 1st, so that's when the waters will be flush with fish! Catskill Flies offers one or half day fly fishing instruction at beginner and intermediate levels, prepping you to take on the season. And if you're curious about the history of the pastime, stop by the Catskill Fly Fishing Center and Museum.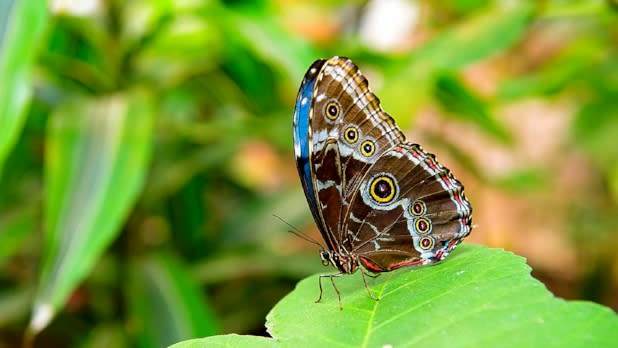 When the weather warms up you might be lucky enough to spot the occasional exotic critter out in nature, but to get truly up close and personal, head to the Joseph L. Popp, Jr. Butterfly Conservatory in Oneonta. Step into this 3,000 square foot tropical oasis where you can meet turtles, iguanas, frogs, bugs, and Koi fish. Most enchantingly, the exotic birds and butterflies roam free around the indoor arboretum. Lots of butterfly and animal activity quiets down during the winter, so the warmer months of spring are the best time to go. Knowledgeable guides are ready and eager to explain everything about the creatures you'll encounter.
7. Make a splash in the Zoar Valley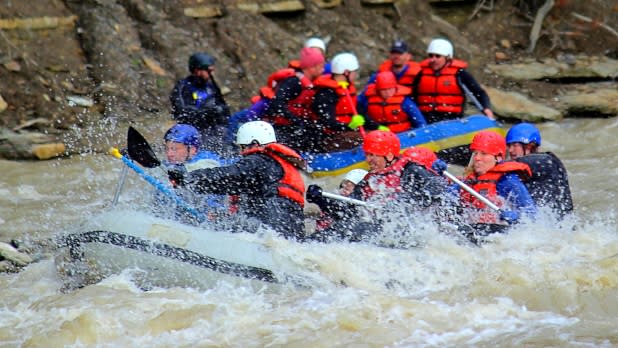 Not all water sports are summer sports! Here on the East Coast, waters run highest in the spring, which is perfect for white water rafting. So pick a warm day when you're ready for some adventure and head to the Zoar Rafting & Canoe Company. There, you can choose from either their introductory trip (class I and II rapids) or their 10-mile "WNY's Hidden Gem" trip (class I, II & III rapids). If you can hold onto your seat, you'll see dramatic cliffs, waterfalls, and the occasional eagle sighting! Keep in mind, the earlier in the spring you go, the more turbulent the water. If you go later in the season you'll have a more tranquil journey.
8. March your happy feet on down to the Aquarium of Niagara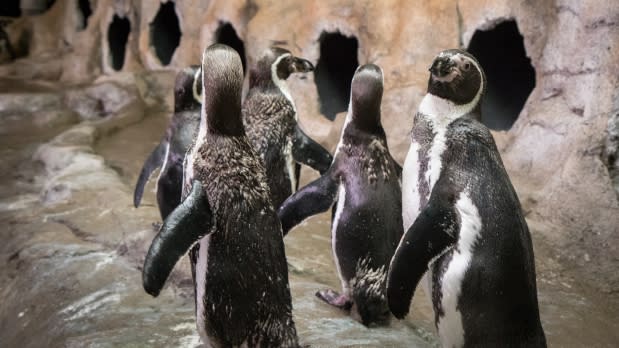 The Aquarium of Niagara just debuted its brand new Humboldt penguin exhibit, consisting of a 1,600 square foot penguin habitat, a vet center, and a classroom (for humans). This makes the museum one of only 20 places in the country you can see the Humboldt penguin, a threatened species, and you'll get to see them happier than ever in their brand new home. 

Photograph: John Williams
Witness something spectacular this Memorial Day weekend as military and civilian pilots take to the skies over Jones Beach. Expect flips, spins, and the most satisfying, perfect synchronicity. This year the United States Navy Blue Angels will be headlining the show, along with aerobatic performances from the Marines, the National Guard, the Air Force, the Army, and a number of established pilots. The spectacle attracts large crowds (sometimes the parking lots fill up by 11 am!) so plan to arrive early in the day.

Nestled in the charming Hudson Valley town of New Paltz, Mohonk Mountain House is a splurge-worthy all-in-one escape, whether you're looking for a romantic couples weekend, or some outdoorsy family fun. If you're seeking relaxation, book a massage or facial at the spa, take a yoga class, or just chill out by the indoor heated pool. If you're looking for something a bit more active, try golf, mountain biking, rock climbing and much more. Kids and teens will enjoy specially designed programming broken down by age group, including horseback riding, arts and crafts, and video games. Mom and dad will love the alone time. 
11. Tour the Thousand Islands on a boat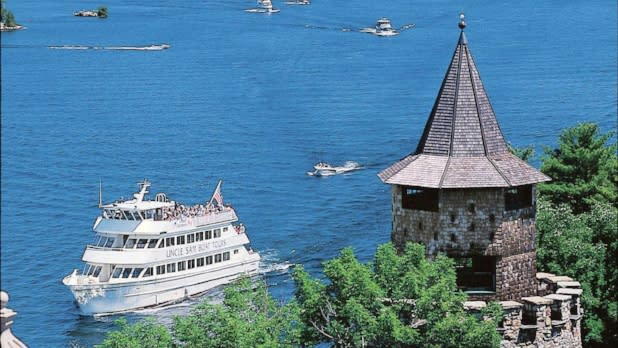 The return of spring means you can once again explore the Thousand Islands by water. Starting on May 19, you can embark on Clayton Island Tours' trip to Rock Island where you can climb up inside a preserved lighthouse. Along the way, visitors can view the wildlife of the St. Lawrence beneath the boat's glass bottom. Alternatively, Uncle Sam Boat Tours offers the unique "Two Nation Tour," which travels through American and Canadian waters (no passport required!). The trip includes an optional stop at Heart Island where you can tour the magnificent Boldt Castle.

Photograph: New York State Department of Environmental Conservation
Waterfalls in the Northeast are at their liveliest during the rainy months of spring. That means now is the time to take this beautiful hike to OK Slip Falls, one of the highest waterfalls the Adirondacks.The hike is about 3 miles long and fairly flat, making it a very pleasant trail for all levels of physical capability. It includes a footbridge, a few ponds, and not one but two overlooks! Dogs on leashes are welcome to come along.
Don't forget to post photos of your New York adventures on Instagram and Twitter with #iSpyNY and tag us on Facebook!