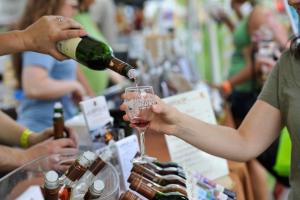 Two-Day Celebration of New York State Wine, Craft Beverages & Artisan Foods Expected to Bring over 7,000 Visitors to the Lake George Area
Lake George, N.Y. - Celebrating half a decade in operation, the 2019 Adirondack Wine & Food Festival will return to the Charles R. Wood Festival Commons in Lake George for two days of remarkable wine and food experiences on Saturday, June 29 and Sunday, June 30.
The fifth-annual, family friendly wine and food tasting event will feature a record 120+ vendors, including the finest producers of New York state wines, craft beverages and artisan foods as well as 11 food trucks, arts & crafts and more.
This year's festival is also expected to shatter the previous attendance record for the Charles R. Wood Festival Commons – a record set by last year's festival, which brought more than 6,300 visitors to Lake George and had a 1.87 million economic impact on the greater Lake George area, perennially one of the state's most popular summer tourism destinations.