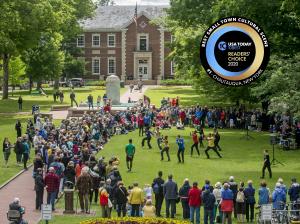 Chautauqua, N.Y. (July 10, 2020) — Voters in the latest USA Today 10Best Readers' Choice contest have spoken: Chautauqua, New York, boasts America's "Best Small Town Cultural Scene." The announcement was made at 10best.com at 12 p.m. EDT today.
"It's a tremendous honor for Chautauqua to win this national contest, especially among such an amazing array of fellow nominees. We're so grateful to all of our dedicated community members here in Chautauqua County and all over the country for helping in this effort," said Michael E. Hill, president of Chautauqua Institution. "We're immensely proud of the cultural scene we provide at Chautauqua Institution: We explore the best in human values and uplift art and voices that our world needs to see and hear. This is further affirmation that the work we do matters."
Town of Chautauqua Supervisor Don Emhardt agrees. "This recognition is extra special because it suggests Chautauqua is not only a great place to visit, but it's also a wonderful place to live year-round," Emhardt said.