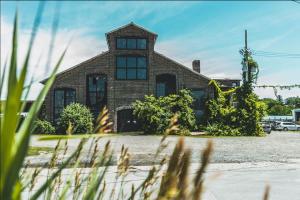 New programs and partnerships aimed at increasing climate action and sustainable community development in the City of Hudson
Hudson NY - Basilica Hudson, a leading nonprofit multi-disciplinary arts center founded by musician Melissa Auf der Maur and filmmaker Tony Stone, celebrates its 10-year anniversary with the expansion of BASILICA GREEN, the institution's mission to increase climate action through innovative cultural programming.
Building on Basilica Hudson's long-standing commitment to the Hudson waterfront and environmental advocacy, BASILICA GREEN aims to join cultural activism with ecological responsibility to regenerate the planet, people and economy. In 2020, BASILICA GREEN will include new public programs, localized green initiatives and strategic partnerships to foster equity, environmental stewardship and sustainable community development.