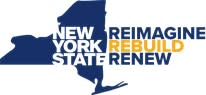 New John S. Dyson New York Energy Zone Honors New York State's Role in Development of Electricity and Today's Focus on a Clean Energy Economy
Admission-Free Facility to Serve as Year-Round Tourist Destination,
Offer STEM Education to Area Youth  
See Photos Here
Governor Andrew M. Cuomo today announced the completion of a new 15,000-square-foot New York State museum of energy in Utica. Located next to the Utica Zoo, the newly constructed admission-free John S. Dyson New York Energy Zone, designed and financed by the New York Power Authority, is expected to open to the public May 10. The facility was dedicated today rounding out a number of events statewide this week recognizing Earth Day 2021.