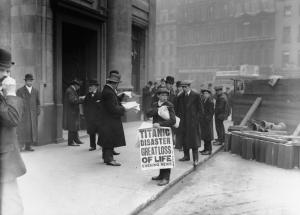 Sunday, October 11, 3:00 PM
Staatsburg, N.Y. (9/24/20) — This autumn, Staatsburgh State Historic Site will offer occasional outdoor programs on the mansion's front portico. On October 11 at 3 p.m., members of the staff will give a ½ hour presentation on Staatsburgh and the Titanic.
Staatsburgh's owners, Ruth and Ogden Mills, planned to sail on the Titanic. First class passengers on the ship included the Millses' friends, neighbors and Mrs. Mills' cousin, John Jacob Astor. The Program on the Portico will explore Staatsburgh's connections to the world's most famous maritime disaster. The historic site staff will display some reproductions of items that would have been seen on the Titanic, including life vests (both children and adult sizes), a telegraph key, and an officer's jacket.