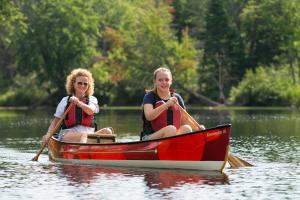 Tupper Lake, NY - The Regional Office of Sustainable Tourism (ROOST) is happy to announce the launch of the Tupper Lake Triad paddling challenge.
While hiking challenges have continuously grown in popularity throughout the Adirondacks, so has the Triad in Tupper Lake. Since 2014, more than 5,000 people have completed the Tupper Lake Triad hiking challenge. To build off of the success of the hiking challenge, a committee including ROOST, community leaders, and business owners have worked to establish the Tupper Lake Paddling Triad. 
Beginning Friday, July 3, paddlers are invited to complete what is believed to be the first water-based challenge within the Adirondack Blue Line. By completing three paddles near Tupper Lake, adventurers can earn a sticker, patch, and inclusion on the finisher roster.