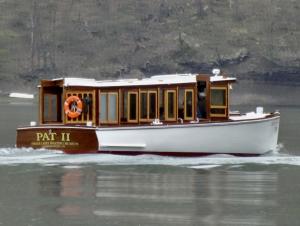 Former Mailboat Makes Triumphant Return
Skaneateles, N.Y. -- Before there was the Barbara S. Wiles delivering mail to summer residents along Skaneateles Lake, there was the Pat II, which plied the lake's waters from 1956 to 1991. Now, 30 years since its last appearance, the newly renovated Pat II—one of the few all-electric passenger vessels in the country—returns to Skaneateles for the 43rd Annual Antique and Classic Boat Show. 
The show, hosted by the Finger Lakes Chapter of the Antique and Classic Boat Society and the Skaneateles Area Chamber of Commerce Foundation, runs July 23-25 in Clift Park, Hours are 3 p.m. to dusk Friday, 9 a.m. to dusk Saturday and 8 a.m. to 2 p.m. Sunday. Admission is free.