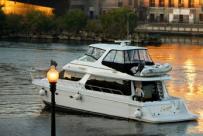 Syracuse, N.Y.
-- Here are 10 great reasons to visit the February 13-17, 2013 Central New York Boat Show at the New York State Fairgrounds in Syracuse, NY. 1.    500-plus all-new models of power and sail boats, cruisers, sport boats, pontoon boats, personal watercraft, and docks on exhibit by more than 50 local dealers.  2.    300,000 square feet and three buildings full of exhibits, information, demonstrations and everything you need to know about boating in New York State. 3.    Free Young Boater Safety Certification Training with the US Coast Guard Auxiliary for the kids. Pre-register with New York Sea Grant at 315-312-3012,
slm22@cornell.edu
; each youth receives 3 free show admission passes 4.    Seminars with fishing guides, charter captains, and water recreation industry leaders. 5.    In-water life jacket and canoe safety demonstrations - do you know how each of 5 types of life-saving devices works or what to do if you tip your canoe? Find out at the show. 6.    Opportunities to find fiberglass hull repairers, talk with manufacturers about their vessels, including Adirondack guideboats; learn about personal docks; join a yacht club; ask law enforcement officers your questions before you get on the water; and more. 7.    Educational materials about watercraft inspection to help slow the spread of aquatic invasive species that clog waterways, destroy fish habitat and are costly to control. 8.    Information on boating venues across New York State: Erie Canal, Great Lakes, Finger Lakes, Adirondacks, inland waters. . . 9.    Boating Information Center with 2013 New York Sea Grant Discover Clean and Safe Boats, a 16-foot Grumman angling boat and a 12-foot canoe equipped with all the gear required and recommended to be clean, safe and legal on NY waters. The BoatUS Foundation has awarded this educational campaign a Leadership Commendation. 10.  A great family outing with free parking and shuttles to buildings or enjoy the walk between buildings. Convenient show hours: 1pm-9pm Wed-Friday, 10am-9pm Saturday, 10am-5pm Sunday; admission $10/person, children 13 and younger free. More details at
http://www.cnyboatshow.com/
.   
###
Contact
: Drew Wickham, CNY Boat Show Manager, 585-526-5460,
bia@rochester.rr.com
  Publicist Kara Lynn Dunn, 315-465-7578,
karalynn@gisco.net
Photo: Cruising on the Oswego River, photo: Visit Oswego County