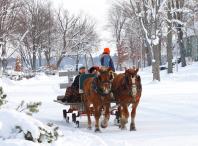 Chautauqua, N.Y.
- Chautauqua County in western New York sits directly in the path of lake effect snow storms that gather strength over Lake Erie and drop more than 200 inches of snow annually. More often than not, the holidays are welcomed with a carpet of white and the winter season becomes a frozen crystal wonderland. This pocket of precipitation is precisely why winter is a perfect time to plan a visit. With annual snowfall that rivals Colorado ski towns, western New York offers plenty of opportunity for downhill snow sports. Near Findley Lake, the Peek'n Peak Resort and Spa provides an excellent backdrop for true beginners all the way to expert level skiers and snowboarders with 27 slopes, eight chairlifts, three progression terrain parks and a half pipe. There is a tubing area and trails for cross country skiing. The instructors at Peek'n Peak's Snow Sports School are professionally trained and the lodges, dining rooms, pool and spa are welcome amenities after a day on the slopes. Chautauqua's numerous trails and open spaces provide access for cross country skiing and snow shoeing. Long Point State Park, Lake Erie State Park, Chautauqua Institution, and the Jamestown Audubon Center offer picturesque landscapes, trails, and potential for wildlife viewing. A local retailer, Evergreen Outfitters, schedules regular guided snowshoe hikes, including one during the full moon. More than 400 miles of trails groomed by five local snowmobile clubs provide an ideal setting for sledding over old railroad beds, former trolley lines, open farm fields, heavily wooded areas, and seasonal roads. Trails officially open a week or so before Christmas, weather permitting. New York requires that all sleds be registered and advanced preparation is recommended. Information on how to register and where to find trail conditions is available at
http://www.tourchautauqua.com/snowmobiling.aspx
. Winter is a great time to visit the wineries in Lake Erie Wine Country. Tasting rooms are less crowded than during the peak summer and fall tourist seasons, the experience is more educational and intimate, and many new vintages are released. Also winter and Ice Wine, a specialty wine unique to the northern climate, naturally go together. During the annual Wine and Chocolate Weekend, February 14-16, 2014, each of the participating wineries will pair a luscious chocolate creation with a wine accompaniment. Brewery tours are popular at Southern Tier Brewing Company throughout the year. The Empty Pint Brewery Pub offers a selection of 14 draught beers, including some guest taps, Thursday through Saturday, evenings, and Saturday and Sunday afternoons. Hickory smoked pulled pork, meatloaf, and cheese sandwiches, snacks and non-alcoholic beverages are also on the menu. Guided tours of the brewery are offered on Saturdays at 12:15, 1:00, 1:45, 2:30, 3:15 and 4 pm. The 45-minute tours are available on a first come basis and often sell out by mid-afternoon. Visitors should prepare for touring a working production facility that may be hot, cold, wet and noisy. The annual Currier & Ives Sleigh Rally takes place at Chautauqua Institution, Sunday, January 19, 2014. While the rally participants are horsemen and their sleighs, spectators can watch the Victorian style sleighs and costumed drivers as they parade through the historic grounds with sleigh bells jingling at approximately 12 noon. Sleigh rides are offered on Saturdays and Sundays throughout January and February through the historic grounds of Chautauqua Institution. Rides run every half hour from 1 pm to 3 pm and tickets are available at the Chautauqua Bookstore on Bestor Plaza. This is a lot of fun for couples or as an outing for the whole family. President's Day Weekend brings with it the annual Winter Festival in Mayville, February 14-16, 2014 featuring events, activities, and contests for all ages including fireworks, a flare parade, bonfire and horse drawn wagon rides. If the weather cooperates, visitors might see ice and snow sculptures, or even a castle made from blocks of ice harvested in the traditional way from Chautauqua Lake. Holiday memories await at the Fenton History Center in Jamestown. Held November 29, 2013 to January 18, 2014, the Center's annual holiday exhibit, "Signs of the Season", fills four floors of the elegant 1863 Fenton Mansion and includes a dozen decorated Christmas trees. Visitors will learn about Jamestown's holiday traditions while listening to old time Christmas carols. New for 2013, costumed museum guides will offer candlelight tours of the mansion on Saturday evenings from 7-8 pm. Bed and breakfasts, vacation homes, resorts and inns are available for lodging during the winter months, providing getaway time by the hearth, with some hot chocolate, a bottle of local wine or some Southern Tier beer. For more ideas on visiting Chautauqua County any time of year, visit
http://www.tourchautauqua.com/
or call 1-866-908-4569.
# # #