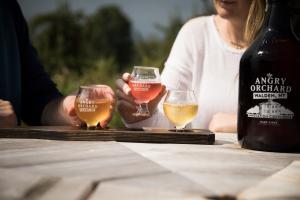 Farms, foliage, and more offer boundless opportunities to ring in the fall season
Orange County, N.Y. (September 3, 2020) – While we soak up the last few weeks of summer, many of us are looking forward to the change of season and the beauty that autumn brings to our region. Sweater weather, pumpkin- and apple-picking, and vibrant fall foliage are on the horizon. Orange County, N.Y., nestled in the beautiful Hudson Valley, offers U-pick farms, unique shops with beautiful home decor items, farm-to-table restaurants serving up decadent dishes with seasonal produce, and cideries that are just as scenic as their drinks are delicious.
"Fall is one of the best times to explore the region," said Orange County Tourism Director Amanda Dana. "Orange County is home to numerous cideries, thousands of miles of hiking and biking trails that offer unparalleled sights of gorgeous fall foliage during leaf-peeping season, acclaimed farm-to-table restaurants, and shops of beautiful, handmade products that will help transform your home as we enter this new season."
Below are some must-visit spots during fall in Orange County, N.Y. Before visiting any of the locations, please contact the venue directly to confirm that they are open.
Angry Orchard, 2241 Albany Post Road, Walden: Surrounded by 60 acres of apple trees, Angry Orchard's outdoor Cider Garden offers outdoor seating with a relaxing fireplace and a variety of ciders. Outdoor table service is available Friday-Sunday, 11 a.m. – 6 p.m. by reservation only. Parties are limited to six people, and reservations are for 90 minutes. angryorchard.com
Hawk's Nest Drive, Route 97, Sparrowbush: Take a drive down New York State's newest scenic byway as it winds along the Delaware River. A snake-like portion of Sparrowbush, the Hawk's Nest connects the railroad city of Port Jervis to the bluestone village of Hancock. The unique highway has been featured in many car advertisements and commercials. upperdelawarescenicbyway.org
Apple Dave's Orchard, 82 Four Corners Road, Warwick: U-pick apples and pumpkins at this Warwick autumn hot-spot. Not only does Apple Dave grow 11 varieties of the crispest, juiciest apples you've ever had, but he turns them into some of the county's tastiest ciders – including adults and all-ages – too! Grab a bushel of your own choosing and grab a gourd, too. The adults are welcome to sample the latest creations from Apple Dave's distillery. Operating daily beginning September 5 through late October. appledavesorchards.com
Applewood Winery, 82 Four Corners Rd., Warwick: Applewood Winery sources the ingredients for its wines, ciders and spirits from its own vineyards and orchards, and from farms across the state. Along with notable barrel-fermented reds and crisp, steel-aged whites, Applewood has also become known for its award-winning Naked Flock Hard Cider. The venue is open Wednesday through Sunday, 11 a.m. – 5 p.m., for outdoor table service and limited indoor seating. Advanced tickets are strongly recommended for weekend visits. applewoodwinery.com
Jones Farm & Country Store, 190 Angola Road, Cornwall: In this country store you will find fresh produce, homemade baked goods, local food, cafe meals to-go and gifts for every occasion. Open Wednesday through Sunday 8 a.m. - 5 p.m. jonesfarminc.com
Schunnemunk Mountain State Park, 339 Otterkill Road, New Windsor: Explore 25 miles of hiking trails along 3,300 acres of rolling meadows and spectacular mountaintops including Schunnemunk Mountain, Orange County's highest peak. Eight marked trails offer hikers thrilling 360-degree views of adjacent valleys, portions of the distant Hudson River and surrounding forest and farmlands. The park extends from Cornwall through Woodbury, Blooming Grove, and Monroe. For more information, visit palisadesparksconservancy.org.
Masker Orchard, 45 Ball Road, Warwick: Masker puts a unique spin on the traditional apple picking experience by letting its visitors drive through the orchard and right up to the trees. Bring your picnic gear since you'll want to spend the whole day relaxing in this expansive 200-acre orchard. The Country Store and orchard are open daily from September 5 through November. maskers.com
The Grange, 1 Ryerson Road Warwick: Celebrating its seventh anniversary, The Grange is a small farm-to-table restaurant focusing on fresh, local ingredients. Its menu changes with the availability of what is in season from surrounding farms. Along with freshly made soups and burgers, The Grange serves gourmet salads, local cheeses, wild caught seafood, grass fed beef and more, all passionately prepared with chef and owner Jim Haurey's signature style. Open Thursday through Monday, 4 - 8 p.m. for outdoor dining only. thegrangewarwick.com
Borland House Inn, 130 Clinton Street, Montgomery: Chef Anna Frumes introduces a unique farm-to-table brunch house restaurant set inside the historical 1789 home of General Borland. Dishes are prepared with ingredients sourced from the Hudson Valley and New England, whenever possible. Open Thursday through Sunday for both outdoor and indoor dining. Theborlandhouse.com
Foundry 42, 42 Front Street, Port Jervis: Historic Downtown Port Jervis's creative workshop and home furnishings retail space now offers an online collection for shoppers featuring beautiful home and garden items, while its delicious items from the store's coffee bar and selection of baked goods are available for carry out and pickup only. f42home.com
As the world reopens, Orange County, N.Y., invites residents and visitors to escape, enjoy and explore its wide-open spaces. For a full list of attractions, lodging and dining options available at this time, please visit OrangeTourism.org/summer. Additionally, a new fun, free, 56-page travel guide is available for digital download or by request at OrangeTourism.org/travel-guide.
About Orange County Tourism
Orange County Tourism, based in Goshen, N.Y., is the county's tourism headquarters and a participant in the I LOVE NY program. A comprehensive listing of area attractions, lodging and events can be found at OrangeTourism.org. Like Orange County Tourism on Facebook for the latest news on local happenings.
###
Photo features: Angry Orchard, located at 2241 Albany Post Road in New Windsor, N.Y.
For more information, contact:
J.P. McGuirk
Focus Media, Inc.
845-576-2212