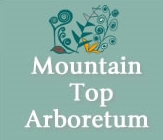 The Garden Fair gathers Mountaintop region gardeners for a festive day of fun and collaboration on 6/11
Tannersville N.Y. – Regional gardeners and horticulture enthusiasts will gather for the 10th Annual Garden Fair at the Mountain Top Arboretum on June 11th, from 10 a.m. to 3 p.m. The fair is an opportunity for local growers to share trade secrets and purchase hardy, native trees and shrubs to adorn their gardens. In addition, expert gardeners will be on hand to offer sage advice to curious guests. The pavilion-style event will take place rain or shine. Refreshments will be available and admission is free.
At elevations of over 2,400 feet, the Mountaintop region is a unique environment for growing. The Garden Fair offers guests the ability to interact with local gardeners who have a wealth of experience, and develop a better understanding of the nuances of the area. Swapping stories and opinions provides an invaluable trove of information to aid planters in their horticultural quests.
Visitors can purchase trees, shrubs, and perennials suitable of local growing conditions. Mountain Laurels are a big favorite, and often sell out quickly. All are supplied by regional growers, including Catskill Native Nursery, which specializes in North American plants. Hot dogs and sausages from Smokehouse of the Catskills, in addition to an assortment of baked goods, will be available for purchase.
About the Mountain Top Arboretum
The Mountain Top Arboretum has twenty three acres of trees and shrub collections as well as native woodlands and wetlands. Its mission is to engage in the applied science of horticulture, promote stewardship of the environment, and offer a diversity of programs for the education and pleasure of the public. The Arboretum is open every day of the year and admission is free. Visit online at MTArboretum.org.
###
For more information call 518-589-3903