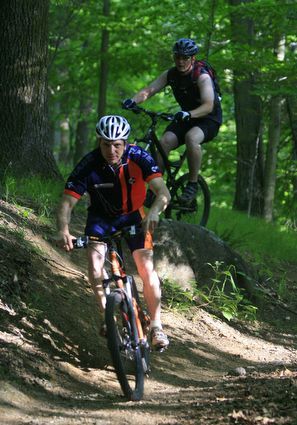 Westchester Hotel Association and Westchester County Tourism kick off major tourism initiative
White Plains, N.Y.  -  The Westchester Hotel Association and Westchester County Tourism announced that 11 Westchester hotels have joined forces to promote the county and its world renowned parks system as a major tourism destination this spring and summer.
The hotels will be offering "Fit and Active" hotel packages designed to help visitors explore Westchester's great outdoors this spring and summer. The new tourism campaign was announced Sunday, May 2 at the opening of Westchester County's Bicycle Sundays, which opens the Bronx River Parkway to cyclists, walkers and runners on select Sundays in spring, summer and fall.
As part of the Fit and Active hotel package, the hotels will offer visitors attractive rates and arrange for a full itinerary of outdoor recreational activities for people or all ages - from hiking, biking and kayaking to golf and tennis.
 "With the spectacular Hudson River, beautiful parks and unique historic venues, Westchester is already an attractive destination for visitors,' said Joe Santore, President of the Westchester Hotel Association and Vice President and General Manager of the Tarrytown House Estate and Conference Center. "Through the Fit and Active package, hotels in Westchester are working together to make Westchester an even more attractive place to get away and relax. 
Kim Sinistore, Director of Westchester County Tourism, said, "Westchester County Tourism is pleased to partner with the Westchester Hotel Association this summer. Westchester is a great place to get fit and active. We invite everyone to take advantage of our outdoor adventures including hiking, biking, kayaking, swimming, fishing, visiting Playland, our nature centers and gardens.  Bring your bikes, boots and binoculars - enjoy a getaway, The Westchester Way!" The following hotels are participating in the Fit and Active Hotel Package: Castle on the Hudson, Tarrytown; Comfort Inn and Suites, Hawthorne; Crowne Plaza, White Plains; Doral Arrowwood, Rye Brook; The DoubleTree Hotel, Tarrytown, Hilton Rye Town; Marriott, Tarrytown; Peekskill Inn; The Ritz-Carlton, Westchester; Sheraton Tarrytown Hotel; Tarrytown House Estate and Conference Center. For more information on hotel packages and prices, visit the Westchester County Tourism website at
http://www.westchestertourism.com/
                                                                ###
Contact:
Victoria Hochman
Thompson & Bender
(914) 762-1900
Kim Sinistore
Westchester County Tourism
(914) 995-8502