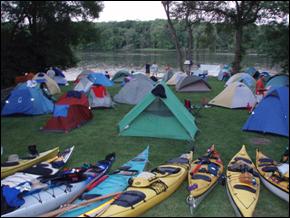 New format will boost ecotourism
Albany, N.Y.  
- The Hudson River Valley Greenway is encouraging residents of the Hudson Valley and beyond to get ready for the
11th Annual Great Hudson River Paddle
, scheduled for July 1-31, 2011
.
The Paddle features 80 paddling events throughout July. More information on paddling events like fireworks tours, "Pirates of Esopus" kayak scavenger hunt, kayaking instruction, and a variety of tours being held throughout the Hudson River Valley can be found on
http://www.greathrpaddle.org/paddleEvents.aspx
. You can also click
here
to watch a video about the GHRP. The Great Hudson River Paddle offers the opportunity for explorations that highlight the significant historical, cultural and natural resources found throughout the Hudson River Valley. Experiencing these resources from the water gives participants a unique and up-close perspective that is not to be missed. "We look forward to getting out on the water with our many partners to build on the success of the Great Hudson River Paddle by connecting even more people with paddling experiences that will allow them to enjoy the beauty of the Hudson River," said Mark Castiglione, Acting Director of the Hudson River Valley Greenway and National Heritage Area.  There are so many groups and outfitters offering adventures for every skill level and I thank them for partnering with us for this event." All Paddle events are led by guides or volunteers from participating groups, which include outfitters, paddling clubs and other water savvy groups. The core idea of GHRP remains to promote the Hudson River Greenway Water Trail and to celebrate and promote the shore towns, villages and cities of the Hudson River Valley.
Events include something for everyone!
In Esopus, Ulster County the
Kingston Paddle Pals
will be holding a "Pirates of Esopus" kayak scavenger hunt featuring Captain Kidd, skeleton guards, treasure maps and the Orange Weed-Eater of Esopus. Collect "pieces of eight" and follow the treasure map to additional pirates' booty. Win medals for speed, and best costume. This free event begins at Freer Park in the Town of Esopus. Outfitters like
Atlantic Kayak Tours
and
Hudson Valley Outfitters
are offering tours exploring areas like the Black Creek, Esopus Island, Mills Mansion, Constitution Marsh, Bannerman's Island and the Hudson Highlands. Or you may enjoy going out at night to view the West Point fireworks display on the fourth of July or, for the more experienced, paddling 31 miles around Manhattan. Up north the
Adirondack Mountain Club
is offering a number of tours of the upper Hudson River, one featuring the opportunity to visit Cooper's Cave, made famous in James Fennimore Cooper's
The Last of Mohicans
. Or maybe a romantic sunset paddle is right for you and that special someone? Join the
City of Kingston's Forsyth Nature Center
staff every Saturday evening in July. After your trip enjoy a quiet dinner on Kingston's Rondout waterfront. The GHRP website
http://www.greathrpaddle.org/
allows partners to directly
upload events
. The site is available for event entries from our partner organizations, and will be the go-to destination for paddling events this July. The Great Hudson River Paddle is sponsored by the
Hudson River Valley Greenway
.
The Hudson River Valley Greenway is a New York State agency within the Executive Department, established by the Greenway Act of 1991.  The 94 site
Hudson River Greenway Water Trail
covers 256 miles from Hadley and Whitehall to Manhattan. Presently, 265 out of the 324 eligible municipalities within the Greenway area have joined the Greenway and over 800 miles of trail have been designated as part of the Hudson River Greenway Trail System.  The Greenway is designed to encourage Hudson River Valley communities, agencies and, not-for-profit partners to work together to develop projects and initiatives related to the criteria of natural and cultural resource protection, regional and local planning, economic development, public access to the Hudson River (as well as other regional and local resources), and heritage and environmental education.  It provides technical assistance and small grants for planning, capital projects, and water trail and land-based trails that reinforce the Greenway Criteria.  In keeping with the New York tradition of home rule, the Greenway program has no regulatory authority.  The participation of municipalities in Greenway programs and projects is entirely voluntary. Media: Download our logo, link to our video or download paddling/kayaking images
here
. Visit
http://www.greathrpaddle.org/
for more information on the Great Hudson River Paddle Visit
http://www.hudsongreenway.ny.gov/
for more information on the Greenway Visit
http://www.hudsonrivervalley.com/
for more information on the Hudson River Valley National Heritage Area
###
Contact:
Mark Castiglione (518) 473-3835