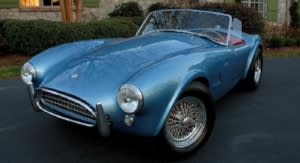 Saratoga Springs, N.Y. – The Saratoga Automobile Museum is the starting point of a Shelby Cobra road tour that will take place from Sunday, June 10 to Thursday, June 14. The cars will be available for viewing at the museum from 10 a.m. to 12 p.m. on Sunday. The tour will be led by Tom Cotter, author of several auto and barn find books, including his most recent "Ford Model-T Coast-to-Coast", which he will be signing at the Museum on Sunday, June 10.
Tom Cotter has been involved in many different sectors of the automotive and racing industries throughout his life. He was a mechanic and auto salesman before he headed the public relations department at Charlotte Motor Speedway. Cotter formed his own racing and automotive public relations and marketing agency, Cotter Group, which represented clients in NASCAR, IndyCar/CART, drag racing and road racing. He has written several books, and is best known for his series of barn find books.
"We are so excited to welcome Tom Cotter to the Saratoga Automobile Museum. He is bringing his expertise and enthusiasm for cars. Rare, authentic Shelby AC Cobras are a rarity and having 15 of them at the Museum is a once in a lifetime opportunity."
- Executive Director Carly Connors
Cotter's most recent book, "Ford Model-T Coast-to-Coast" is a story about the cross-country adventure of two brave drivers as they pilot a century-old Model-T on a 3,000 mile journey from the Atlantic Ocean to the Pacific Coast. Accompanied by evocative photographer Michael Alan Ross, Tom Cotter stops in small towns and meets local people with stories to tell about cars, travel, and life.
Cotter and Ross also explore back roads adjacent to Lincoln Highway, the first transcontinental road. This book examines the possibility of a driverless future, while finding nostalgia in driving along the same roads that a young Edsel Ford traveled in his father's Model T in 1917. In addition to the central road trip, Cotter also visits interesting automotive and transport museums as well as "keepers of the flame" such as Model-T clubs, mechanics, junkyards and collectors across the country. He also records the numerous trials and tribulations in keeping a 100-year-old car operating on a 3,000-mile journey.
###