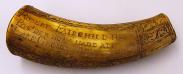 Powder Horn came to Fort Ticonderoga as a result of the Fort's curator's appearance on PBS television series "History Detectives"
Ticonderoga, N.Y.
- A rare French & Indian War powder horn was recently donated to Fort Ticonderoga.  The powder horn originally belonged to Robert Fairchild (1737-1794) of Middletown, CT and was engraved at the British army camp at Lake George in 1756.  The inscription on the horn reads "ROBERT FAIRCHILD HIS POWDER HORN MADE ATT LAKE GEORGE AUGUST THE 27 AD 1756." In 1756 Fairchild served as a private in Major Jehoshaphat Starr's company of Colonel David Wooster's 2
nd
Connecticut Provincial Regiment serving that year between April 8 and December 3.  In 1756 several provincial regiments from New England and New York were stationed at the south end of Lake George helping to maintain a strong military presence on the lake and stem the southward encroachment of French forces occupying Fort Carillon (Ticonderoga).  In addition, the provincials devoted considerable time constructing Fort William Henry. This powder horn came to the museum as a result of the Fort's curator's appearance on the highly-rated PBS television series
History Detectives
in January of this year that featured the investigation of an unrelated powder horn.  The donor of the Fairchild horn, Ms. Tonyia Baldwin, contacted Fort Ticonderoga after the show aired to discuss a powder horn that had belonged to her father.  Feeling that the powder horn needed to be preserved for future generations and made accessible to the public, she proceeded to donate it to Fort Ticonderoga.  Regarding the powder horn Ms. Baldwin said "I felt that it was time for it to go to a museum where it could be preserved and enjoyed by everyone for generations to come, not just sitting on a shelf in our home." Apart from clearly identifying the horn's owner, place and date of carving, the horn is decorated in other interesting decorative and military motifs.  Bordering the cartouche containing Fairchild's name is a simple floral and geometrically carved design.  The back of the horn features a detailed image of one of the British sloops that sailed on Lake George during the war.  A simple depiction of a four-bastion fort carved near the horn's base may represent Fort William Henry under construction while Fairchild was at Lake George.  Around the narrow end of the horn are carved rectangular panels, two of which depict showing cannon mounted on large-wheeled field carriages being fired with smoke billowing out their muzzles and cannonballs flying through the air.  Regarding the decoration on Robert Fairchild's powder horn, Fort Ticonderoga's Curator of Collections, Christopher Fox, stated "The decoration on this powder horn is really quite nice.  The military motifs, including the cannon firing and sloop, undoubtedly speak volumes about Fairchild's experiences at Lake George which appears to have been the first year of his military service during the French & Indian War." Curiously, the powder horn's spout has been cut off and there appears to be evidence that at one time a replacement (now missing) may have been attached.  Exactly when or why this was done is not known.  The powder horn may have seen use during several campaigns as Robert Fairchild is known to have served in militia and provincial regiments in the Lake George region in 1757, 1758, and 1759.
About Fort Ticonderoga's Museum Collections
Fort Ticonderoga's collection of 18
th
-century military objects is celebrated as one of the best of its type in the world.  The collection of engraved powder horns numbers about seventy-six pieces spanning the French & Indian War and American Revolution.  Dozens of engraved powder horns are exhibited in the museum each season and many will be featured in the museum's exhibit
Bullets & Blades: The Weapons of America's Colonial Wars and Revolution
which opened in 2012. Fort Ticonderoga preserves more than 1,250 historic weapons including firearms, edged weapons, artillery, powder horns, and accoutrements; over 1,500 works of art including paintings, prints, and photographs; a research library of 14,000+ printed volumes; over 160 linear feet of 18
th
, 19
th
, and 20
th
-century historical and institutional archival material; and an archaeological collection estimated to number in excess of 500,000 objects.
FORT TICONDEROGA
America's Fort
TM
Located on Lake Champlain in the beautiful 6 million acre Adirondack Park, Fort Ticonderoga is a not-for-profit historic site and museum that ensures that present and future generations learn from the struggles, sacrifices, and victories that shaped the nations of North America and changed world history. Serving the public since 1909, Fort Ticonderoga engages more than 70,000 guests annually and is dedicated to the preservation and interpretation of Fort Ticonderoga's history.  Accredited by the American Association of Museums, Fort Ticonderoga offers programs, historic interpretation, tours, demonstrations, and exhibits throughout the year and is open for daily visitation May 17 through October 20, 2013. The 2013 season features the Fort's newest exhibit
"It would make a heart of stone melt" Sickness, Injury, and Medicine at Fort Ticonderoga
which explores early medical theory, practice, and experience as each relates to the armies that served at Fort Ticonderoga in the 18
th
century.  Visit
www.fortticonderoga.org/
for a full list of ongoing programs or call 518-585-2821. Fort Ticonderoga is located at 100 Fort Ti Road, Ticonderoga, New York.
America's Fort is a registered trademark of the Fort Ticonderoga Association.
Photo Credit:  Robert Fairchild powder horn dated August 27, 1756 was recently donated to Fort Ticonderoga as a result of the "History Detective" program on PBS. Credit Fort Ticonderoga Museum.
Contact:
Beth Hill 518-585-2821
mailto:Hillbhill@fort-ticonderoga.org