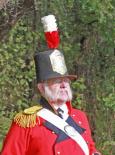 Ogdensburg, N.Y.
- The Fort La Présentation Association's War of 1812 Heritage Talks April 25-26 offer two distinct historical experiences; a traditional fiddle concert Friday evening and a Saturday slate of speakers and exhibits, at the Freight House, 20 Market Street, Ogdensburg, NY. New York Grand Champion Fiddler Don Woodcock performs a wide selection of War of 1812 era jigs, reels and ballads at 7 p.m. Fri., April 25. Children accompanied by an adult enter free to this family friendly concert. Adults of 18 years and older pay the $5 admission at the door. There will be door prizes. The first-rate Sat., April 26 line-up of seven speakers, eight exhibits, two authors and two documentaries has graduated fees; $30 for students, $50 for educators, state historians and Fort Association affiliates, and $60 for the broader public. "This year we strove to broadened our appeal across New York's North Country with the inclusion of three speakers from St. Lawrence County, four exhibits covering Sackets Harbor to Plattsburgh, two local authors and our fiddler," said Barbara O'Keefe, President of the Fort La Présentation Association. "We have incorporated improvements and program suggestions proposed at previous heritage talks, including lower prices." The far-reaching heritage talks also bring speakers from Maryland, Connecticut, Vermont and Ontario, as well as four exhibits from Ontario. The War of 1812 documentaries address New York State battlefield preservation and the devastation along Ontario's Lake Erie shore by U.S. soldiers. The presentations sweep from the St. Lawrence River to the Chesapeake Bay, delve into underwater and land-based archaeology, introduce a Connecticut captain and a St. Lawrence County general, the Upper Canada Militia, American uniforms, and much more. "Many past participants noted the talks gave them a better grasp of the war's episodes as they interlaced through the conflict," said Mrs. O'Keefe. "I am sure some folks may be surprised to learn just how much happened along the St. Lawrence between June 1812 and the end of 1814." Advance registration is requested for Saturday's program. The charges include a continental breakfast and a buffet lunch. Some local motels offer discounts to participants. A comprehensive list of presentations, along with the graduated fees and registrations forms, is at
http://www.fort1749.org/
.              
###
For more information media may contact:
Barbara O'Keefe, President, Fort La Présentation Association 315-393-3315 315-323-2593 (cell)
War of 1812 Heritage Talks Line-up
Freight House Restaurant, 20 Market St., Ogdensburg, NY
April 25-26
Sponsored by the Fort La Présentation Association
Musician
Don Woodcock
from Kendrew Corners, NY holds the title of Grand Champion Fiddler of New York State, having won the state championship three times. In 1987 he was inducted into the New York State Fiddlers Hall of Fame.
Speakers
Dennis McCarthy
(The US Navy Support of the Wilkinson Campaign and the Battle of French Creek) from Cape Vincent, NY is an amateur archaeologist, historian and diver who authored
Shipwrecks of the Thousand Islands
.
David Murray
(The American Infantry Uniform from 1811 to 1815), Morristown, NY, has researched and recreated American military uniforms for more than 20 years. He is an experimental archaeologist, creating then testing the durability of period clothing.
Bryan Thompson
(Lt. Col. Thomas B. Benedict, the Accidental Commander of the St Lawrence County Militia) the municipal historian for the town of DeKalb, NY, received a Hackman research fellowship to study the life of Lt. Col. Benedict.
Ralph Eshelman M.A.
(The British Campaign in the Chesapeake) is a heritage consultant living in Lusby, MD. He is the co-author with Burton K. Kummerow of
In Full Glory Reflected: Discovering the War of 1812 in the Chesapeake
.
Gregory Kloten
M.A.
(Captain George Howard United States Army: The Chronicles of a Connecticut Yankee on the Northern Frontier of the War of 1812) from Wethersfield, CT teaches American and World history at Capital Community College in Hartford.
Horst Dresler
(The Canadian Voltigeurs and the Battle of Chateauguay) a Canadian, resident and business owner in Woodstock, VT is an author, a re-enactor for three decades, and event organizer for more than 10 years.
Richard Feltoe
(The Upper Canada Militia in Peace and War, 1808-1816) from Brampton, Ontario is the Curator and Corporate Archivist for Redpath Sugar Ltd. in Toronto. He is the author of seven books on the War of 1812 and a longtime re-enactor.
Authors
John Austin
St. Lawrence County in the War of 1812 Folly and Mischief.
The book recounts battles and skirmishes, and the fascinating North Country characters which influenced them. St. Lawrence County played a divided role. The region shared the border crossed by close personal and business associations. Mr. Austin is a retired teacher living in DeKalb.
Hope Irvin Marston
Sackets Harbor Powder Monkey: The War of 1812
. Eleven-year-old Rankin McMullin has joined the brig
Oneida
. As a powder monkey his job is to carry gunpowder to the guns. Social Studies teachers will find this book useful in sharing a bit of neglected history with their students. Ms. Marsden from Black River has written a number of books for young readers.
Exhibits
Pike's Cantonment
, a temporary military camp along the Saranac River, housed more than 2,000 American soldiers during the winter of 1812-13. The location remained a mystery until 2011 when archaeology confirmed the presence of the encampment. The cantonment was abandoned in the spring when troops were ordered to Sackets Harbor.
Dr. Tim Abel, Lead Archaeologist
Sackets Harbor
became the center of American naval and military activity for the upper St. Lawrence Valley and Lake Ontario. In an attempt to destroy the American shipyard, a British-Canadian force launched an attack May 29, 1813. The Americans drove off the enemy, but a fire that destroyed their military stores marred their narrow victory.
Constance Barone, Site Manager
St. Lawrence River Historical Foundation Inc.
will have
posters telling the story of underwater archeology activities on the US side of the Thousand Islands. A media player will show slides and video of the archeology projects. Maps, drawings and booklets on display cover subjects from French and Indian War to 19
th
-century commercial sailing. There will be information on Site Registration programs with New York State Historic Preservation Office.
Kathi McCarthy, Amateur Historian
The
Frederic Remington Art Museum
in Ogdensburg houses a comprehensive collection of Remington's paintings, sketches and sculptures. David Parish, an early developer in St. Lawrence County and a prominent player in the shipping and lumber industry, built the main building in 1810. Parish opposed the War of 1812. L
aura Foster, Director/Curator
In
The Age of Sail
the Royal Navy and the American Navy, whether on the oceans or the Great Lakes were almost identically equipped from ship design to armaments to the food and stores. Get the feel of life aboard a fighting vessel without the risk of seasickness.
Fritz Steele, Heritage Interpreter
War of 1812 Re-enactment Photography
is as close
as many people get to the fog of war and the confusion of battle. The captured moments of advancing troops, artillery fire and poignant instances give a certain intimacy to a war and battle. The photographs were shot at re-enactments in the St. Lawrence Valley since 2012.
Helen Mott, Professional Photographer
The Dunvegan Pioneer Museum
is a small village capturing the early years of Ontario's Glengarry County settled by Loyalists and immigrant Scot. The Regiment of Glengarry Fencible Infantry and the Glengarry Militia were active locally and across what is now Ontario and into New York during the War of 1812.
Jim Mullin, Re-enactor
Regency Quilting
is not like your grandmother's crazy and patterned quilts, so well known today.
The Sisters of Perpetual Needling
will be working a period design on a traditional quilting frame with a display of contemporary examples of period fabrics and photos of antique quilts from museums around the world.
Christine Nicholson & Therese Whittaker, Heritage Interpreters
Documentaries
"Losing Ground: The Race to Preserve War of 1812 Battlefields in New York State" produced by WCNY Syracuse, New York, and "A Desert Between Us & Them: Raiders, Traitors, and Refugees in the War of 1812" concerns the American 'scorched earth' of Southwestern Ontario. Produced by the Living History Multimedia Association, Brantford, Ontario. - 30 -
Photo
:   Richard Feltoe from Brampton, Ontario will present a talk on the Upper Canada Militia in peace and war, 1808-1816 at the War of 1812 Heritage Talks April 26 at the Freight House in Ogdensburg, NY. Mr. Feltoe has authored seven books on the War of 1812 and has served as Commanding Officer of the Incorporated Militia of Upper Canada. He is the Curator and Corporate Archivist for the Redpath Sugar Ltd., Canada's oldest sugar company.
Fort La Présentation Association, Box 1749, Ogdensburg 13669
315-394-1749 fort1748@yahoo.com