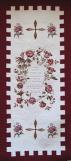 Sackets Harbor, N.Y.
- On March 17 and 18 the New York State 1812 Heritage Community of Sackets Harbor will recreate its claim on history with a unique showcase event - the Great Lakes Seaway Trail National Scenic Byway War of 1812 Bicentennial Quilt Show.   The quilt show includes an exhibit of 1812 period-true quilts newly-made made by individuals, quilting guilds, historical societies, and reenactors from 18 US states and from Canada. Three historic sites and living history interpreters and quilters in period dress will lend the event a historic ambiance.   The former Union Hotel, a three-story limestone structure built in 1817-18 and now the Great Lakes Seaway Trail Discovery Center; the Sackett Mansion built in 1801; and the Samuel F. Hooker House Arts Center, c.1808, will open 10am to 5pm each day with displays of "cot-to-coffin-sized" quilts.   "The "cot-to-coffin-sized" quilts - made to cover a sleeping or deceased soldier - promise a most unique and dramatic display, along with the interpreters in period costume lending to the 1812 authentic atmosphere throughout our 1812 Heritage Community," says Show Manager Lynette Lundy-Beck.   Lundy-Beck is a project manager with Seaway Trail, Inc., the not-for-profit organization promoting quilting as a cultural heritage travel theme along with other theme-based (natural history and birding, architecture, agriculture, water recreation, geocaching. . .) tourism opportunities along the 518 miles of St. Lawrence River and Great Lakes shoreline in New York and Pennsylvania.   The show guidelines for size, fabrics - linsey-woolsey, silk, and fancy cottons, etc., colors, quilt patterns, and embellishments such as broderie perse (Persian embroidery) were developed by Seaway Trail, Inc. in concert with American quilt historian Barbara Brackman of Lawrence, Kansas.   1812 and English Regency period living history interpreters lending atmosphere in the exhibit buildings and on the village streets will include "President James Madison," and members of Forsyth's Rifles with the Fort La Presentation Association of Ogdensburg, NY; MacKay's Militia from Genesee Country Village and Museum, Mumford, NY; and the Sackets Harbor Battlefield Alliance.   Quilters have been invited to also attend in period dress.1812 period reenactor Ted Schofield will exhibit his early 19th century reproduction sewing implements.   The event's youngest quiltmaker is a 12-year-old girl from Himrod, NY.   The living history ladies of Upper Canada Village researched and designed a pictorial quilt with embroidery and appliqué depicting soldiers, Natives, moose, and a sailing ship bordered by a traditional Irish Chain pattern.   DeAnne Rosen of Lawrence, Kansas, has dedicated her quilt to her two great-great-great grandfathers and two great-great-great uncles who fought in the war. Her floral work is based on quilts she saw in the Victoria and Albert Museum in London, England.   A special memorial exhibit of quilts will pay tribute to the late Seaway Trail, Inc. President and CEO Teresa Mitchell, who developed the concept for the Seaway Trail scenic byway and for quilting as a cultural heritage travel theme along that byway.   The event also features quilting demonstrations and vendors.   The $5 show admission benefits the Seaway Trail Foundation. The show is co-sponsored by Orleans County Tourism and the 22-mile Country Barn Quilt Trail loop off the Great Lakes Seaway Trail to barns painted with quilt block patterns.   For more information, call 315-646-1000 x203 or visit the web at
www.seawaytrail.com/quilting
.
# # # Photos available - specify high or low res: ·      E Pluribus Unum eagle centerpiece from Utica area quilters entry ·      Forsyth's Rifle fifer - web res only ·      Fort Drum Going to Pieces guild member's quilt ·      Great Lakes Seaway Trail Discovery Center with cot to coffin quilt on door ·      Kingston, Ontario ·      Lawrence, Kansas - DeAnne Rosen quilt ·      Markham Towne Quilters Guild, Toronto - member quilt entries ·      "President James Madison" standing on the Great Lakes Seaway Trail Discovery Center steps ·      Sackets Harbor Battlefield Alliance quilters ·      Simsbury, CT ·      Upper Canada Village living history ladies ·      Vintage 1812 reproduction sewing implements display Contact: Lynette Lundy-Beck, 315-646-1000 x203, lynette@seawaytrail.com; Photos: see available shots at end of release: Publicist Kara Lynn Dunn, 315-465-7578, karalynn@gisco.net