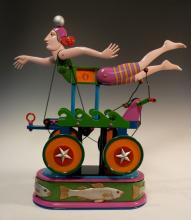 Juried Showcase of American Art & Design Featuring 100 Artists from Across USA
Special 'Meet the Artists' Preview Event & Fundraiser Scheduled
White Plains, N.Y.
- An exciting 
Fusion of Art, Fashion and Interior Design
 will comprise the 19th Annual 
Westchester Fine Craft Show
, taking place October 12, 13, 14, 2012 at the Westchester County Center, 198 Central Avenue in White Plains, New York. More information is available at
http://www.craftsamericashows.com/
or by calling 203-254-0486. The 
Westchester Fine Craft Show
 is a juried showcase of contemporary American art and design by selected artists invited from all over the United States. It offers a sophisticated New York and Connecticut audience an exciting diversity of exceptional creative work as well as the opportunity to meet the especially talented artists. Visitors can spend the day with over 100 artisans who will showcase and sell their works of art for the home, office or wardrobe. Works of art will be presented in wood, metal, glass, paper, leather, decorative fiber, clay, and ceramics and include furniture, unique interior design pieces for tabletop and wall, exquisite jewelry, and unique designer fashion . To participate in Crafts America shows, artists must live and work in the United States and demonstrate masterful technique and original design. All artists must be jury accepted into this show. Two of the artists participating this year were featured in the White House Collection of American Craft in 1993 during the Clinton Administration. Cliff Lee creates exquisitely hand carved fine porcelain pieces with a translucency achieved by meticulously forming very thin walls with beautiful high fired glazes. Peter Petrochko is a highly skilled wood artist making large vessels and sculptures, often geometrically patterned, through skilled techniques in hand carving, lath turning and laminating. Other outstanding artists in the show will include: The husband and wife team of Troy Brook Visions offering one-of-a-kind, free-standing pieces of functional art furniture with custom, hand-applied, hand-rubbed finishes; Shana Kroiz, a leading experimental enamellist producing rich colors on her unique jewelry designs through the primitive use of brush strokes and layering of experimental enamels on a silver base; Hideaki Miyamura, a ceramic artist whose classical forms are enhanced through his experimental creation of unusual and beautiful iridescent glazes that add a 3 dimensional quality; James Eaton, designs sophisticated contemporary interactive metal sculptures that are wondrously whimsical and brightly colored to capture the attention of all that are young-at-heart. "If you enjoy surrounding yourself with unique and beautiful things to wear and use, you will love exploring the 
Westchester Fine Craft Show
," says Elizabeth Kubie, Director of Crafts America Shows. "It has something for everyone, especially those with discriminating tastes. It's where you can discover America's best artists designing couture fashion, jewelry, furniture and decorative accessories for the home or office- all in one place, for one special weekend." Crafts America LLC, a top independent presenter of fine craft shows nationally since 1987, is recognized for both the quality of artists exhibiting and the appealing ambiance of its shows. These shows are geared to knowledgeable collectors as well as discriminating shoppers who appreciate high quality and original design. They present an opportunity to meet the artists and purchase from their most recent body of work. Each year a new panel of distinguished judges assesses the highly competitive pool of applicants on the basis of technical skill, quality of workmanship, and originality of design. Artists selected show their work at three prestigious venues: the Washington Craft Show at the Washington Convention Center, the
Westchester Fine Craft Show
 at the Westchester County Center in White Plains, NY, and the Palm Beach Fine Craft Show at the Palm Beach County Convention Center in West Palm Beach, FL. Crafts America LLC is headquartered in Greens Farms, CT. Artists are represented in important corporate and private collections,
as well as in major museums such as: Boston's Museum of Fine Arts, The Renwick Gallery of the Smithsonian American Art Museum, New York's Museum of Art and Design, and The Corning Museum of Glass and more. For information visit
http://www.craftsamericashows.com/
. Admission is $12 at the door, $11 for seniors, children under 12 are free. Special group discounts are also available for ten or more people.
SPECIAL PREVIEW EVENT AND FUNDRAISER
There will be a special "Meet the Artists" show preview event from 8:30am - 10:00am on Friday October 12
th
 where attendees can speak with the artists, view and purchase work ahead of the opening of the show; an ideal opportunity for collectors of fine American crafts. The event is a fundraiser for the 
Art Therapy Program
 at the 
Maria Fareri Children's Hospital at Westchester Medical Center.
 Tickets, $40 each, can be purchased in advance at
http://www.craftsamericashows.com/
. Everyone in attendance will be eligible for fabulous door prizes from many sponsors including Eileen Fisher and Morton's The Steakhouse.  The event is sponsored by the Kurth and Santangelo Families, the Westchester Wag magazine and Patch.com.
Note to Media:
Photos, interviews, on-site coverage and additional information is available by contacting: Risa Hoag, GMG PR, 845-627-3000,
risa@gmgpr.com
# # #