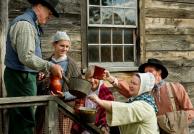 Mumford, N.Y.
- First came the butchering, then the smoking, salting and curing meats, enough to last through the coming winter. That was followed by the rendering of lard or tallow from the animal fat for making soap and candles.  Then, after the root cellar was finally stocked, was it time to cook, bake and decorate for the holiday feast. This 19th-century family endeavor is revived on Saturday, Nov. 24, at Genesee Country Village & Museum in its village-wide program Preparing for the Holidays-the 19th-Century Way.  Visitors can see and, at times, participate in, the activities that will fill the historic village, everything from brewing beer to stacking firewood.  Included will be butchering of a pig as well as the tasting of some of the food being prepared for the holiday meal.  One of the village smoke houses will be in operation. Other activities abound in the village, including a separate program-Crafts at Christmas-that gives the entire family the opportunity to create some of the same items that will decorate the historic homes-pomander balls, popcorn-and-cranberry garlands, sweet bags, button rosettes and Victorian Christmas Cards. Cost of the craft program is $4 per craft, or five for $15. New and special this year is Breakfast with St, Nick, a hot kid-delicious breakfast shared with the 19th-century jolly old elf himself that's a wonderful photo-taking opportunity. Cost is $12 per person and reservations are required.  Call (585) 294-8218. The historic village will be open 10 a.m.to 4 p.m. on Nov. 24. General admission is $8.50/$6.50 for youth 4-16 and free to those 3 and under. For more information call (585) 538-6822 or visit
http://www.gcv.org/
. Genesee Country Village & Museum is the largest living history museum in New York State and the largest collection of historic buildings in the Northeast. The museum with its John L. Wehle Art Gallery, is open May-October, and located in Mumford, N.Y., 20 miles southwest of Rochester and 45 miles east of Buffalo. Except for special programs, it is now closed for the season. For more information, visit www.gcv.org or call (585) 538-6822.
PHOTO
:  Villagers gather at the Genesee Country Village brewery to fill their containers, as the historic village is busy Preparing for the Holidays-the 19th-Century Way on Nov. 24.
Contact
: Judy Markham (585) 538-6822
jmarkham@gcv.org