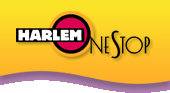 Harlem One Stop
promotes
Gay Pride Uptown!
HarlemOneStop.org
presents information on leisure-time events and attractions-historical tours, music, dance, theatre, fairs, festivals, outdoor activities, dining, shopping and more-for the Upper Manhattan area (Central Harlem, El Barrio, Morningside Heights, Washington Heights/Inwood, and West Harlem/Hamilton Heights/Sugar Hill). Harlem One Stop's
"Gay & Lesbian"
feature page lists all the businesses, special events and exciting LGBT friendly activities in Harlem, East Harlem and Washington Heights/Inwood
.
The LGBT community
reliance and ongoing visitations to the page and its listings has made it one of the most trafficked features on the website. This viewership reflects not only Manhattan's uptown residents but also followers across New York, the United States and internationally. Harlem One Stop is pleased to have this opportunity to launch Gay Pride Uptown! This year in support of New York City's
"Rainbow Pilgrimage"
campaign to promote the 40
th
Anniversary of the Stonewall Riots!  We encourage you to visit the Harlem One Stop website to explore all the exciting uptown activities planned for this June's Gay Pride Month and beyond. For your convenience Harlem One Stop has attached the full schedule of Pride Uptown activities, which we encourage you to use when  developing your online calendar listings, travel and tourism activities or  when exploring outings for visitors, business associates or your own leisure enjoyment. If you've not visited Harlem, East Harlem or Washington Heights/Inwood before, then this June's schedule is a perfect time to discover the colorful "rainbow" that composes the people, culture and wonderfully rich opportunities to be had uptown!
PROMOTIONAL LAUNCH RECEPTION:  2009 Gay Pride Uptown!
Reception:   Saturday, June 13, 2009 - 3:00 PM Location:     Casa Frela Gallery, 47 West 119
th
Street, NYC Event:          Harlem One Stop hosts a reception celebrating the launch of
2009 Gay Pride Uptown!
, and the opening of                    
Fairy Tales: Personal Legend, Urban Myth, Gay Art Exhibition
for Press, Participating Partners, Artists       and sponsors at one of Harlem's most celebrated art venues, the Casa Frela Gallery. RSVP:          Shona Lewis: (212) 939-9201 or email
slewis@harlemonestop.org
HIGHLIGHTS: 2009 Gay Pride Uptown!
See
Harlem
One Stop's full calendar of Gay Pride Uptown! information and events attached.
Throughout June, Uptown LGBT Party Nights! - El Morocco, No Parking, Skyline Lounge, Fibe Bistro & more!
STAUNCH!:The Ultimate Grey Gardens Festival / Maysles Cinema - Celebrating a Gay Fashion Icon
Mt Morris Park House Tour
Uptown Trolley Tours/Harlem One Stop - leaving from mid-town!
Fairy Tales: Personal Legend, Urban Myth, Gay Art Exhibition / Casa Frela Gallery
Homo Harlem: A Film Retrospective / Maysles Cinema
Homo Harlem: Walking Tours with Michael Henry Adams
Spirit of Pride: A Service of Thanksgiving & Celebration / Cathedral of St John the Divine
Harlem One Stop
is a cultural tourism initiative of the community based 501-c3 not-for-profit Hamilton Heights West Harlem Community Preservation Organization (CPO).
CONTACT
: John Reddick  (212) 939-9201 or Shona Lewis, 212-939-9201
slewis@harlemonestop.org
Harlem One Stop Harlemonestop.org