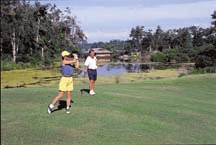 May 11
- The Great Lakes Seaway Trail, a federally-designated National Recreation Trail, is home to high profile golf events and superior courses. Its own 15th Annual Great Lakes Seaway Trail Foundation Vincent Dee Sr. Memorial Golf Tournament will be held June 18 at the Highland Meadows Golf Club in Watertown, NY. The 18-hole course was built in 1996 and offers a fun and challenging golf experience. The Dee Memorial Tournament is a co-ed Captain and Crew, shotgun start competition that includes prizes for the top three teams, top ladies' team, Mens' and Ladies' Longest Drives and Closest to the Pin; a raffle; and silent auction, and golfers' awards dinner. The event is named in memory of the Great Lakes Seaway Trail byway founder and visionary Dr. Vincent J. Dee, Sr. To play or join the dinner event, contact Tournament Coordinator Phyllis Gardner at 315-646-1000 x201,
/wp-admin/phyllis@seawaytrail.com
. You do not need to register as a foursome; individuals will be joined to form teams. Golfers register from throughout the 518-mile byway region.
Golfing the Byway a Diverse Experience
Some of the world's best female golfers test the links in the Wegmans Rochester LPGA event at Locust Hill Country Club in Rochester June 22-28. The week-long event includes a Children's Success Fund fundraiser. C-Way Golf Club & Restaurant in Clayton is a past host of the Great Lakes Seaway Trail tournament. After 18 holes, enjoy dining at Natali's Restaurant overlooking the practice greens and first tee, or the pool and air-conditioned rooms at C-Way Motel. For a quick round of 9 holes, try Bay Breeze Golf Links that opened in Chaumont in 1999 or Bedford Creek Golf Course not far from the Great Lakes Seaway Trail Discovery Center, shopping, and marvelous dining opportunities on the waterfront in Sackets Harbor. The historic (late 1800s) Thousand Islands Country Club & Marina on Wellesley Island has 36 spectacular holes of golf set alongside marine, pool, tennis courts, villa and suite lodging, and the 1000 Islands. As you travel west along this 518-mile America's Byways, an overnight stay at Battle Island Inn Bed & Breakfast in Fulton puts you right across the road from the Battle Island State Park Golf Course, designed by Frederick Emerick in 1936. Peek'n Peak Resort and Spa offers golf packages that include rounds of 18 holes on Upper and/or Lower Courses. Golf Digest gives the par 72 Upper Course a 4½ star rating; the Lower Course with abundant bunkers and hazards has earned 3½ stars. Learn more about the diverse recreational opportunities to be found on the Great Lakes Seaway Trail at www.seawaytrail.com or call 315-646-1000.
# # #
Contact:
Phyllis Gardner, Seaway Trail, Inc., 315-646-1000, x201