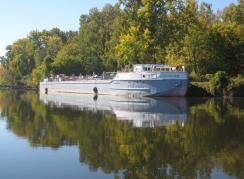 Canal motorship Day Peckinpaugh joined by other historic vessels in Whitehall, Fort Edward, and Schuylerville
Waterford, NY
- The historic canal motorship Day Peckinpaugh travels the Champlain Canal from 8/21/09 through 8/29/09 on its 500-mile Quadricentennial Legacy Voyage from Lake Champlain to New York Harbor. The 259-foot canal boat, built in 1921, will be joined by the 1901 Tug Urger and both vessels will be open to the public for free tours at Skenesborough Harbor Park in Whitehall on Friday, August 21, at the Canal Maintenance Facility in Fort Edward on Sunday, August 23, and at the Hudson Crossing Fest on Lock 5 Island in Schuylerville on Saturday, August 29 (see tour schedule below for hours and details). The Legacy Tour commemorates 400 years of maritime progress in the Empire State-from early exploration to ship innovation to canal building to the continued use and enjoyment of Champlain and Hudson waterways. "This extraordinary vessel is a very big, very real reminder that our canals and rivers and lakes are connected - physically and historically - and that they are vitality important to all New Yorkers," said Erie Canalway Executive Director Beth Sciumeca. The Day Peckinpaugh was the first canal motorship ever built and is the only one that remains. Rescued from the scrap yard in 2005, it is now the largest single item in the collection of the New York State Museum. The tour marks its first voyage in its new role as a traveling museum. The voyage is organized by the Erie Canalway National Heritage Corridor, in conjunction with Saratoga National Historical Park, the New York State Museum, the New York State Canal Corporation, and tour community partners.
Tour Schedule
Friday, August 21
Whitehall, Skenesborough Harbor Park
Free tours: 2 - 7 pm Tour the Day Peckinpaugh and Tug Urger. Evening concert with the Willie Playmore Band from 7 to 9 pm at the bandstand in Riverside Park just a short walk from the motorship. Other area attractions include: Skenesborough Museum, which showcases over 4,000 historical artifacts in a 1917 canal terminal, and Skene Manor, built in 1874. Sunday, August 23
Fort Edward, Canal Corp. Maintenance Facility above Lock C-7
Free tours: 10 am - 6 pm New Stewardship for an Old Waterway- Get an inside view of the world's largest environmental dredge project and find out what you can do to keep New York's waterways clean and healthy for all. Tug Urger joins the Day Peckinpaugh at the Canal Maintenance Facility for this one-day opening. Saturday, August 29
Schuylerville, Lock 5 Island
Free tours: 10 am - 6 pm Tour historic vessels including the Day Peckinpaugh, canal schooner Lois McClure, tug Urger, and Dutch sailing barge Golden Re'Al at the 5th Annual Hudson Crossing Festival. Live music, wagon rides, kids' nature activities, hot air balloons, community exhibits and much more! For more information and schedule of events at fourteen ports of call, visit:
http://www.eriecanalway.org/
. ###
QUICK FACTS ABOUT THE DAY PECKINPAUGH
Pronounced
: "Day Peck-in-paw"
What
: The
Day Peckinpaugh
is a 1921 historic canal motorship.  The
Peckinpaugh
is owned by the New York State Museum and interprets New York's Canal History as a traveling museum and classroom.
Rescued
from the scrap yard in 2005, the
Day Peckinpaugh's
restoration is a joint effort including the NYS Museum, Erie Canalway National Heritage Corridor, New York State Canal Corporation, Canal Society of NYS, and the New York State Office of Parks, Recreation and Historic Preservation.
Carrying capacity
: 1650 tons, five times larger than the largest wooden mule-towed boats of the 1800s.
Dimensions
: 259 feet long and 36 feet wide; 14 foot depth of hold; among the largest boats to operate on New York's canal system (maximum area available for vessels in a lock on the canal is 300 feet long by 43.5 feet wide)
First and Last
: First of five vessels designed specifically for the dimensions of the Barge Canal and the last surviving vessel of her kind. The boat was designed to navigate both the open waters of the Great Lakes and the NYS Barge Canal System.
Maximum Speed
: 6-8 miles per hour
Power
: diesel, originally two 4-cylinder Scandia engines, now a pair of GM 6-110s
Cargo
: wheat, flax seed, rye, sugar, coal and pig iron (early years), dry cement (1958-94)
Transportation Corridor
: Great Lakes to New York Harbor
Military Service
: Drafted into service of the U.S. Merchant Marine during World War II to carry coal and refuel cargo ships along the eastern seaboard
Names
: Originally launched as the Interwaterways Line 101 (I.W.I. 101) renamed
Richard J. Barnes
in 1922 for the man who originally commissioned the ship. The final name,
Day Peckinpaugh,
was bestowed on the ship upon its transfer of ownership in 1958. The name is in honor of Day Peckinpaugh, a well-known freight-forwarder and coal shipper in the Great Lakes Region.  Day's brother was Roger Peckinpaugh, one-time New York Yankees interim manager and the youngest manager/player in the history of major league baseball. Listed on the National Register of Historic Places, 2005
For more information:
Jean Mackay Director of Communications and Outreach Erie Canalway National Heritage Corridor P.O. Box 219 Waterford, NY 12188 (518) 237-7000, extension 222 jean_mackay@partner.nps.gov www.eriecanalway.org