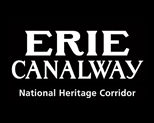 Events announced for Ports-of-Call for Canal Motorship Day Peckinpaugh
Waterford, NY
- Celebrate New York's Hudson-Fulton-Champlain Quadricentennial with the
Day Peckinpaugh
. The 259-foot-long historic canal motorship will travel 500 miles along the Champlain and Hudson Corridor in August and September 2009 visiting ports from Burlington, VT, to New York Harbor. Events and free tours are planned at each port-of-call.  The voyage commemorates the Empire State's singularly compelling tale of 400 years of maritime progress-from early exploration to ship innovation to canal building to recreational transformation. The
Day Peckinpaugh
will be joined by other historic vessels at ports along the way. The Quadricentennial Voyage of the
Day Peckinpaugh
is organized by the Erie Canalway National Heritage Corridor, in conjunction with Saratoga National Historical Park, the NYS Museum, the NYS Canal Corporation, and tour community partners.
Come Aboard!
The public is invited to join the festivities at these ports-of-call:
Saturday & Sunday, August 1-2
Cohoes, Matton Shipyard, Peebles Island State Park
Free tours: 10 am-6 pm Kick off the 2009 Quadricentennial Voyage at Matton Shipyard. For nearly 90 years, Matton Shipyard built, repaired, and operated barges and tugboats on the canal. The shipyard is now part of Peebles Island State Park and is open to the public on a limited basis while restoration is underway. Make your visit complete with a side trip to the Waterford Flight, Cohoes Falls, Peebles Island, and a stroll through Waterford and Cohoes. Wednesday, August 5
Mechanicville, City Dock, Terminal Street
Free tours: 11 am - 7 pm Like many cities across New York, Mechanicville grew from its access to major transportation routes, including the Hudson River and Champlain Canal, and Delaware and Hudson Railroad. The city dock is a short walk from Main Street. Also consider a visit to Lock 4 Canal Park, just north of Mechanicville, which offers nice views and an easy hike along the river and canal.   Saturday, August 8
Whitehall, Skenesborough Harbor Park
Free tours: 10 am-6 pm Commemorate Whitehall's 250th Anniversary as the Day Peckinpaugh prepares for its journey to Lake Champlain. Also at Harbor Park: Native Americans and non-native American people come together to dance, sing, socialize, and honor American Indian culture at the First Nations Intertribal Pow Wow.   Tuesday-Wednesday, August 11-12
Plattsburg, Wilcox Dock
Free tours: 11 am - 7 pm Experience the breadth of maritime history on display with vessels including the canal schooner Lois McClure, Tug Urger, and the Day Peckinpaugh together on the dock at Plattsburgh. These vessels offer a window into the traditions and heritage of Lake Champlain and the Hudson River. Enjoy music and food on shore throughout the day. Saturday & Sunday, August 15-16
Burlington, Burlington Waterfront
Free tours: 10 am-6 pm
Lake Champlain Maritime Festival!
Celebrate Vermont's own "great lake" and Burlington's vibrant waterfront as the city commemorates 400 years of boating on Lake Champlain. Learn about the history of Lake Champlain boating from the 1600s to the present. Nine waterfront venues provide a jam-packed schedule of historical, educational and performing arts events for everyone. Boat Parade on Saturday, 8/15.   Wednesday, August 19
Crown Point, Crown Point Pier
Free tours: 11 am-7 pm Join the festivities as the Day Peckinpaugh is welcomed to the newly refurbished Crown Point Pier at the DEC campground in Crown Point. The Champlain Memorial Lighthouse also invites visitors to explore its recently renewed sculpture and structure. A climb to the top offers breathtaking scenic vistas. Friday, August 21
Whitehall, Skenesborough Harbor Park
Free tours: 11 am-7 pm; Concert 7-9 pm Tour the Day Peckinpaugh and Tug Urger. Evening concert with the Willie Playmore Band from 7 to 9 pm at the bandstand in Riverside Park just a short walk from the motorship. Other area attractions include: Skenesborough Museum, which showcases over 4,000 historical artifacts in a 1917 canal terminal, and Skene Manor, built in 1874. Sunday, August 23
Fort Edward, Canal Corp. Maintenance Facility above Lock C-7
Free tours: 10-6 pm
New Stewardship for an Old Waterway
- Get an inside view of the world's largest environmental dredge project and find out what you can do to keep New York's waterways clean and healthy for all. Tug Urger joins the Day Peckinpaugh at the Canal Maintenance Facility for this one-day opening. Saturday, August 29
Schuylerville, Lock 5 Island
Free tours: 10-6 pm
5th Annual Hudson Crossing Festival
- Live music, wagon rides, kids nature activities, hot air balloons, community exhibits and much more! Tour historic vessels including the Day Peckinpaugh, Canal Schooner Lois McClure, Tug Urger, and Golden Re'Al. Hudson Corridor events for September, including stops in New York City, Kingston, Hudson, Albany, Troy, and Cohoes, will be released in August. Contact for information on all events: 518-237-7000, ext. 222. Event updates and information about the canal motorship are listed at
http://www.eriecanalway.org/
####
Contact
: Jean Mackay 518-237-7000, ext 222 or
jean_mackay@partner.nps.gov