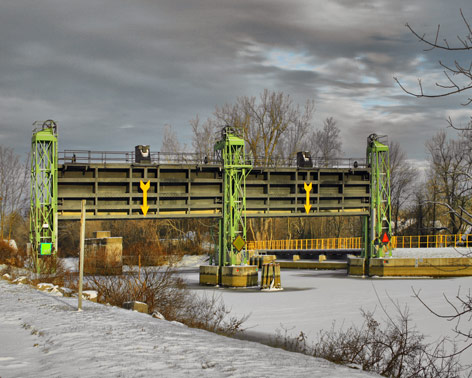 Winning images to be featured in 2011 calendar
Waterford, N.Y. -
Twelve images that capture the distinctive sights and scenes of the Erie Canalway National Heritage Corridor have been selected as winners of the 2010 Erie Canalway Photo Contest. Winning images can be viewed at
www.eriecanalway.org/gallery.htm
and will be featured in the Erie Canalway National Heritage Corridor 2011 Calendar.
(See also attached list of winners.)
"These outstanding images show us the beauty and character of the canal corridor and remind us of what makes it a unique place to celebrate and preserve," said Beth Sciumeca, Executive Director of the Erie Canalway National Heritage Corridor. Judges selected twelve winners from 445 entries submitted by 169 photographers. First, second and third place photographs were chosen in each of four contest categories: Bridges, Buildings, and Locks; On the Water; For the Fun of It; and The Nature of the Canal. In addition, twelve photographs received an honorable mention. The free 2011 Erie Canalway calendars will be distributed later this fall throughout upstate New York. Locations where the calendars will be made available to the public will be posted at:
www.eriecanalway.org
in November.
2010 Erie Canalway Photo Contest Winners
Buildings Bridges & Locks
1st        Springdale Guard Gate (Pittsford), Carl Crumley, Pittsford, NY 2nd        Lockport Bridges (Lockport), Brad Frederick, Lockport, NY 3rd        On the Banks of the Mohawk (Scotia), Brenda Sutherland, San Jose, CA
On the Water
                1st        Tug at Albion (Albion), Stephen Drew, Rochester, NY 2nd        Urger's Wheelhouse (Waterford), Katrina Van Tassel, Malta, NY 3rd        Tug Syracuse in Lock 27 (Lyons), Mark DeCracker, Lyons, NY
For the Fun of It
1st        Pond Hockey Tournament (Fairport), Keith Boas, Fairport, NY 2nd        Lilac Ladies, Cardboard Boat Race (Schuylerville), Jim McKnight, Schuylerville, NY 3rd        International BBQ Fest at Night (N. Tonawanda), Karen Lis, Tonawanda, NY
Nature of the Canal                       
1st        Reflecting on the Erie (Little Falls), Bart Carrig, Little Falls, NY 2nd        Autumn on the Cayuga-Seneca Canal (Seneca Falls), Lois Ann Matteson, Penfield, NY 3rd        Early Morning, Camillus Erie Canal Park (Camillus), Frederic Cossick, Baldwinsville, NY
Honorable Mention Recipients
Boat House Row (North Tonawanda), John LaHood, North Tonawanda, NY
Farm Overlooking Camillus Erie Canal Park, Frederic Cossick, Baldwinsville, NY
Flowing Granite (Waterford), Eileen Haldeman, Waterford
Winter at Sims Store (Camillus), Candace O'Brien, Syracuse, NY
Operating the Lock (Waterford), Brenda Sutherland, San Jose, CA
"The Works" at Lock 18 (Herkimer/Little Falls), Bart Carrig, Little Falls, NY
Pride of Baltimore II (Oswego), Jon Vermilye, Oswego, NY
Reinactor Time Out (Schenectady), Susan St. Louis, Addison, NY
Canal Path Bridge (Pittsford), Tony Scalise, Fairport, NY
Waiting on the Lock (Waterford), Tina Baxter, Clifton Park, NY
Moonrise Over Schoen Place (Pittsford), Carl Crumley, Pittsford, NY
Harmony Mills from Peebles Island (Cohoes), Dale Evva Gelfand, Melrose, NY
###
Photo Caption: 1st place winner, Springdale Guard Gate (Pittsford), by Carl Crumley, Pittsford, NY 
Contact Jean Mackay 518-237-7000, ext 222
jean_mackay@partner.nps.gov