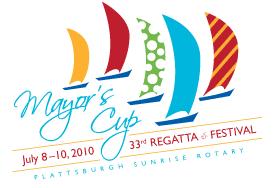 Plattsburgh, N.Y.
- In honor of the late Mayor John Ianelli, co-founder and first mayor to launch the Mayor's Cup Regatta, organizers will initiate a new "Spirit" Award in 2010.  This award will be bestowed upon one individual - sailor or landlubber - who represents, in their own way, a "community does matter" spirit and attitude...the same spirit that inspired our former Mayor to help bring Mayor's Cup to our community; the same spirit that has empowered our lake community to thrive, not only on race day, but everyday.    Recipient of the award will be determined each year by the current City of Plattsburgh Mayor and Organizing official of the Mayor's Cup Regatta.  In 2010, the awardee will be determined by Mayor Donald Kasprzak and Dr Kjell Dahlen, and presented at the 33rd Annual Mayor's Cup Regatta awards ceremony, Saturday, July 10, at the Naked Turtle Tent, downtown Plattsburgh.  Awards presentations start at 6:00pm immediately following the BBQ.  BBQ is open to the public.  BBQ Tickets may be purchased at the Regatta registration table, until 4:00p on Saturday, July 10th.
Contact
: Mayor Donald Kasprzak or Kjell Dahlen Ianelli Spirit Award Nominating Committee 518-563-7701
publicrelations@mayorscup.com
# # #
PRESS OPPORTUNITY:
SUNRISE ROTARY SCHEDULES MEDIA NIGHT FOR MAYORS CUP REGATTA Sunrise Rotary of Plattsburgh has scheduled a Mayor's Cup Media Night for 5:00pm on Wednesday, June 23rd, at the Plattsburgh Boat Basin Marina.  Media Night provides an opportunity for the media to take to the water for close-up photos and video of an actual sailing race, and interview members of the crew prior to the 33rd Annual Mayor's Cup Regatta on July 10th. Space is limited for this media opportunity.  Interested media representatives are asked to RSVP to
publicrelations@mayorscup.com
no later than Monday, June 23, to reserve your seat.
CONTACT
: Gail Recore Mayor's Cup PR Coordinator (518) 561-8790
publicrelations@mayorscup.com
# # #