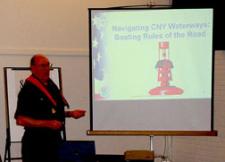 Syracuse, N.Y.
-- The 2011 Central NY Boat Show lineup of educational programs at the NYS Fairgrounds includes presentations on everything from Asian carp to Zebra mussels plus the annual opportunity to earn your New York State boater safety certification. The programs are free with show admission, and include:   Wednesday, February 16 Freshwater Angling with Capt. Tony Buffa Captain Tony shares 35 years of experience as a charter boat captain fishing for walleye and other popular freshwater fish, 6:30pm, Center of Progress   Thursday, February 17 and Saturday, February 19 New York State Boating Safety Training with the US Coast Guard Auxiliary Free, Thursday, Feb. 17, 6pm to 8:30pm AND Saturday, Feb. 19, 9am to 2:30pm; Horticulture Building Seminar Room. Pre-registration required: contact New York Sea Grant at 312-342-3042,
/wp-admin/slm22@cornell.edu
  New York Sea Grant Invasive Species Info Series Friday, February 18 Protect Your Boat, Protect Our Waters: You Can Stop Aquatic Hitchers - Learn how to be an invasives-free boater with New York Sea Grant Coastal Recreation and Tourism Specialist Dave White, 6:30pm, Horticulture Building Seminar Room   Saturday, February 19 The Phenomenon That is Asian Carp - New York Sea Grant Fisheries Specialist Dave MacNeill will talk about these fascinating and threatening species, 3-4pm, Horticulture Building Seminar Room   Sunday, February 20 "The Top 10 Most Wanted" - New York Sea Grant Great Lakes Coastal Education Specialist Helen Domske offers a family-friendly program on the most destructive aquatic invasive species that threaten Lake Ontario and other New York waters, 2-3pm program, Horticulture Building Seminar Room.   The Central New York Boat Show and Sale is New York's largest and oldest boat show. The show is held in three buildings: Center of Progress, Toyota Building and Horticulture Building at the New York State Fairgrounds, Syracuse, NY. More than 500 new power and sail boats, yachts, water recreation equipment & marine accessories fill more than 250,000 sq. ft. of exhibit space. The 2011 CNY Boat Show hours are 1-9 pm on Wednesday, February 16; Thursday, February 17; and Friday, February 18; 10am to 9pm on Saturday, February 19, 2011; and 10am to 5pm on Sunday, February 20, 2011. Show admission: is $10 for adults; children 13 & younger enter free. Parking and shuttle service are free. Find more information online at
http://www.cnyboatshow.com/
.
### Contacts: Dave White, NY Sea Grant, 315-312-3042 Drew Wickham, CNY Boat Show Manager, 585-526-5460