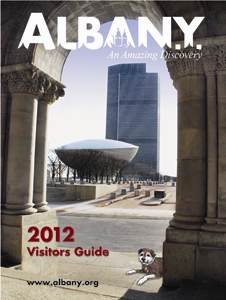 Popular Albany Dog, Owney, is the "First Class Tour Guide," conveying theme of "Linking the Past with the Present"
Albany, N.Y. -
This week, the
Albany County Convention & Visitors Bureau
(ACCVB) distributed the new 2012 Albany Visitors Guide to area attractions, hotels, and community partners. The 2012 Visitors Guide is a full-color, glossy magazine that features illustrations of Owney, Albany's Rail Mail Dog who was made famous in the late 1800s by the United States Postal Service, and was brought back to life in July 2011 when the USPS honored Owney as a Forever Postage Stamp. He serves as the "First Class Tour Guide of Albany" throughout the Visitors Guide, leading visitors to his favorite spots around town and whimsically telling the Story of Albany through his eyes. Jeanne Benas of the
Jeanne A. Benas Art Studio
in Latham, NY, illustrated Owney for the ACCVB for use in the Visitors Guide. The cover photo, by
Kim Stock Photography
, features the stately Nelson A. Rockefeller Empire State Plaza, framed by the ornate stone carvings of the New York State Capitol, resembling the theme of "Linking the Past with the Present." The Albany Visitors Guide is the main brochure sent to travelers seeking information about Albany.  It is also the primary source of information that is made available to meeting and convention attendees. 125,000 copies of the Visitors Guide will be distributed throughout the year. In addition to the print guide, an interactive Online Guide is available through
http://www.discoveralbany.org/
, containing features such as searchable content, easily downloadable information and print function, editorial content available in over 35 languages, and active advertiser links. The Guide was published by
Martinelli Slocum Publishing
, with graphic design by Hinterland Design of Coxsackie. For more information, or to request a shipment of Visitors Guides, please contact Schuyler Bull, Marketing Manager, at 518-434-1217, ext. 203, or
sbull@albany.org
.
About the ACCVB:
The Albany County Convention & Visitors Bureau, Inc. was established in 1976 to promote the civic and commercial progress of the community through increased development of conventions and tourism. ACCVB currently represents more than 300 member businesses and assists each year in hundreds of regional meetings. ACCVB also operates the Albany Heritage Area Visitors Center, Henry Hudson Planetarium, and the Albany International Airport Information Center. For more information, call 518-434-1217 or 800-258-3582 or visit
http://www.albany.org/
.
###
Contact:
Schuyler Bull, Marketing Manager Albany County Convention & Visitors Bureau Phone: 518-434-1217 x 203 Email:
sbull@albany.org